'In the Round:' a new angle for approaching ancient art
September 21, 2018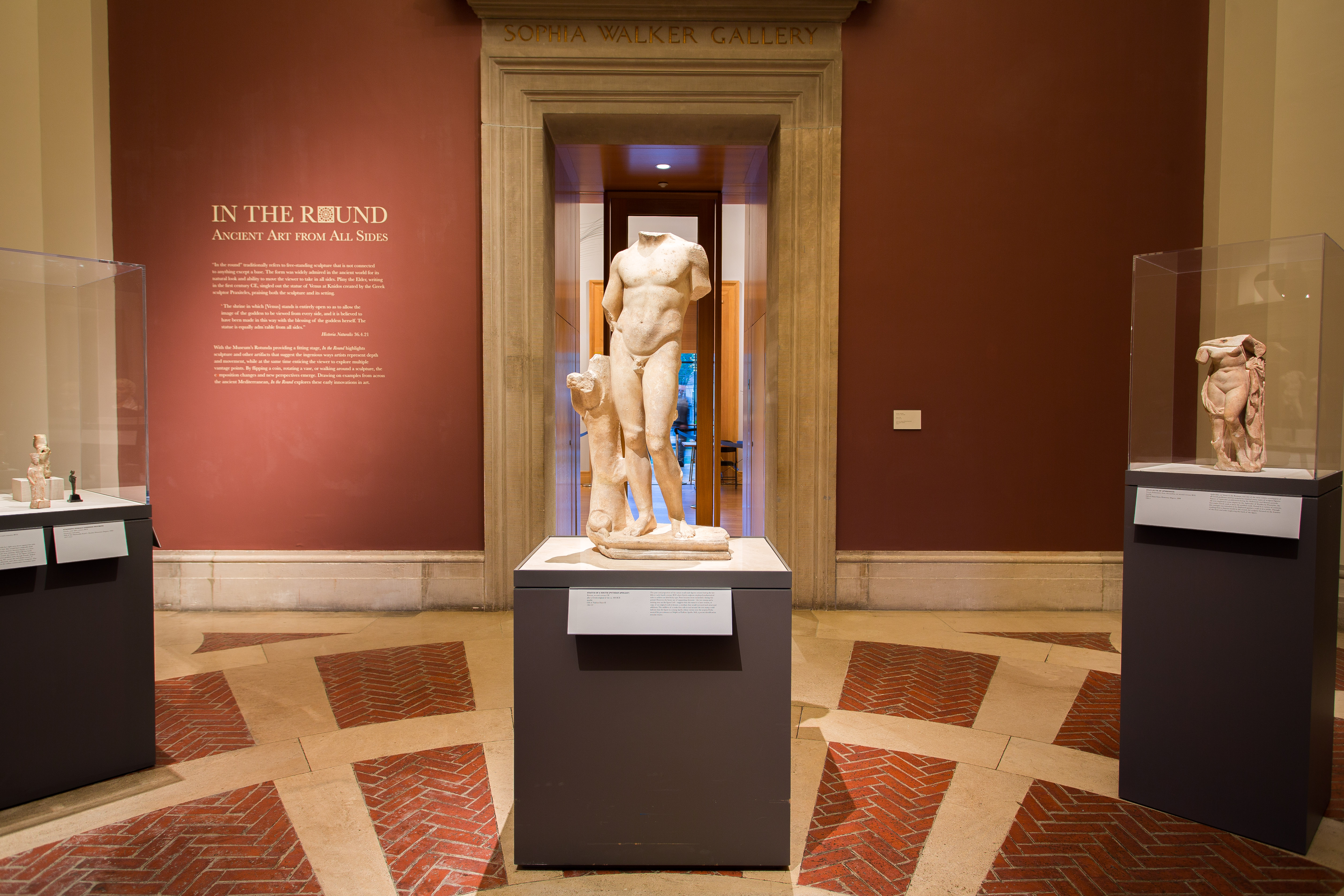 When we think of art museums, an image of lonesome paintings hanging on pristine, white walls often comes to mind. However, Associate Professor of Classics and Curator for the Ancient Collection James Higginbotham challenges this conventional approach in the new exhibit on display at the Bowdoin College Museum of Art, "In the Round."
"We have a tendency in the modern era to relegate art to the walls. Art is meant, in many cases, to be seen from multiple perspectives, so it must be set away from the wall," said Higginbotham.
An expert in art of the ancient Mediterranean, Higginbotham curates a selection of ancient objects such as statues, coins and vases about once a year. These collections are not only used in classes at the College, but also by a host of other local schools.
"[We use] collections for classes," he said. "[For example] art history, archeology, classics and history, as well as local school groups in Maine and New England [who] come all the way here to do their ancient art segments."
For this exhibition, Higginbotham has pulled together a display that highlights the three-dimensional qualities of art. He describes how the collection encourages the viewer to take a tour and experience art from all angles. The exhibition is currently on display in the museum rotunda, a perfect space for this intended interaction.
"We took advantage of the circular plan of this room," said Higginbotham. "The use of the dome, the floor with concentric circles and even the brickwork imitates that of Rome."
To him, the significance of the physical space is often overlooked, as are the multiple perspectives from which one can view an object. The display encourages viewers to investigate alternative ways of looking at these pieces.
"[One can] look at the stance or pose of a figure and how that changes as one moves around. Being able to appreciate a work of art from different angles allows one to understand how it was put together," said Higginbotham.
He furthers his studies by observing how visitors respond to the art in the exhibition.
"You can watch on the security cameras [the] people in the gallery," he said. "It is very interesting information … What you see is people literally going around everything and walking in circles. They are seeing something new from every vantage point."
In contrast to what one may assume, "In the Round" is not just comprised of sculptures. Higginbotham pointed to a particular vase to illustrate his point.
"I included artifacts that have stories to tell. Some people may say, 'Oh look, a vase. That's nice,' and move on, but if you look closely, there are circles, and you can actually see the place where the artist put the compass. We don't have compasses used very much before 1000 BCE, but we have [this] one vase that is very close to that date," Higginbotham explained.
The goal of this exhibition, in his eyes, is to encourage viewers to "dig deeper." There are certain structural elements in the artwork, such as a hole in the back of a hollow statue, that people often overlook but are essential to the creation process.
"[This exhibition highlights] simple things we take for granted," he said. "It is just about opening one's eyes to see something new."