Bowdoin creates space for a new kind of George Lopez Show
September 14, 2018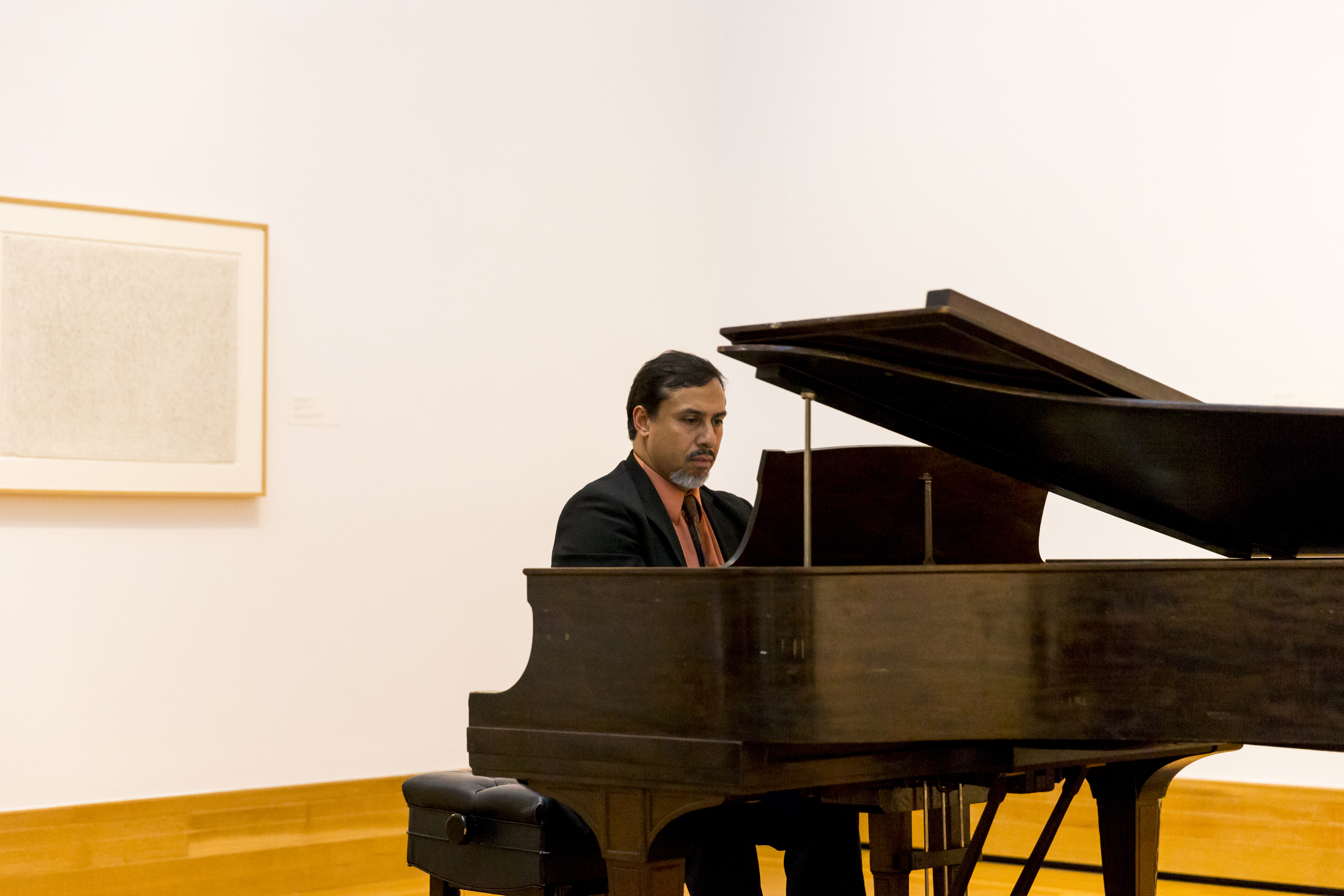 You'd never guess it from looking at him now—sitting comfortably, a smile spreading across his face as he describes his orchestra, voice bouncing and echoing across the recital hall—but  George Lopez, Beckwith artist-in-residence and director of the Bowdoin orchestra, never wanted to be a musician.
"I am a reluctant musician," Lopez said. "I was an athlete when I was young. I played baseball quite seriously. My mother didn't really want that kind of culture for me."
After his mother consulted their pastor, Lopez began lessons with the church's keyboard player. It quickly became clear that he had an aptitude for music. Lopez swapped his baseball glove for his grandmother's beat-up, upright piano and began his musical journey.
He went on to attend the Hartt School of Music in Connecticut and studied in Paris and Holland, where he evolved as a musician, playing in venues across the globe.
"I had intended to stay [in Europe], but my luck ran out so I came back to the U.S.," Lopez said.
Upon returning to the United States, Lopez began teaching music, which he considered the next logical step in his work as a musician. At first, he focused on the social aspect of music, then the artistic, and finally the ability to share his passion and inspire future generations to not only create and appreciate art, but also to experience it. This quality sets him apart from many other conductors who take a more serious, structured approach.
"George is about the passion that we feel in playing [music]," said orchestra member Gillian Raley '21. "He helps us find whatever is within us that enriches the music itself. He's not just there to help us play the music, he's there to help us feel the music in a different way."
When he moved to New Hampshire for a teaching job, Lopez met the then-chairperson of the Bowdoin Music Department who mentioned the opportunity of Bowdoin's Artist-in-Residence program. After he came to Bowdoin to play a recital, the College hired him and Lopez accepted the university-level job he had always wanted.
"At the time I thought I was going to have a life as a freelancer, and I was putting together a business plan to do historical keyboard concerts at large venues all over the country and all over the world," Lopez said. "It was a pretty good plan too, but then the Bowdoin opportunity came and it created a level of excitement and security that I couldn't pass up."
Under Lopez's direction and enthusiasm, the Bowdoin Chamber Orchestra—once comprised of about 25 students—has grown to nearly 70 members and is now known as the Bowdoin Symphony Orchestra.
"Every year the Orchestra gets bigger, the repertoire they play gets complicated and interesting and there seems to be a big energy and vitality about it, and a lot of that is the enthusiasm that George brings to it," said Professor of music Vineet Shende, chair of the music department.
The Orchestra's success can also be attributed to Lopez's unwavering effort to incorporate student opinion into the Orchestra, allowing it to "own itself." An eight-member committee comprised of students meets regularly to give feedback and make decisions about scheduling practices and events. This willingness to work with students sets Lopez apart from other conductors, students say.
"Some conductors take a top-down approach. George is not that way," said orchestra manager and member Benjamin Ratner '19. "He's always listening and trying to understand the student experience rather than trying to create the student experience, which is one of the reasons why I think a lot of people in the orchestra really respect George."
For Lopez, the Orchestra program is as much about the music as it is about the community and ensuring that students feel comfortable. In order to prevent the Orchestra from feeling like an additional class, Lopez implements snack time and retreats so that students have time to socialize, relax and make connections with one another.
"He's someone who is a world-class player but also really cares about developing the program and imparting what he knows to students and trying to get them to have more of a sense of musicality in the way that they're playing things and to really take ownership of the music," Shende said. "We're lucky to have George here."