After eight years at Bowdoin, Berliner '13 leaves in a bus
September 7, 2018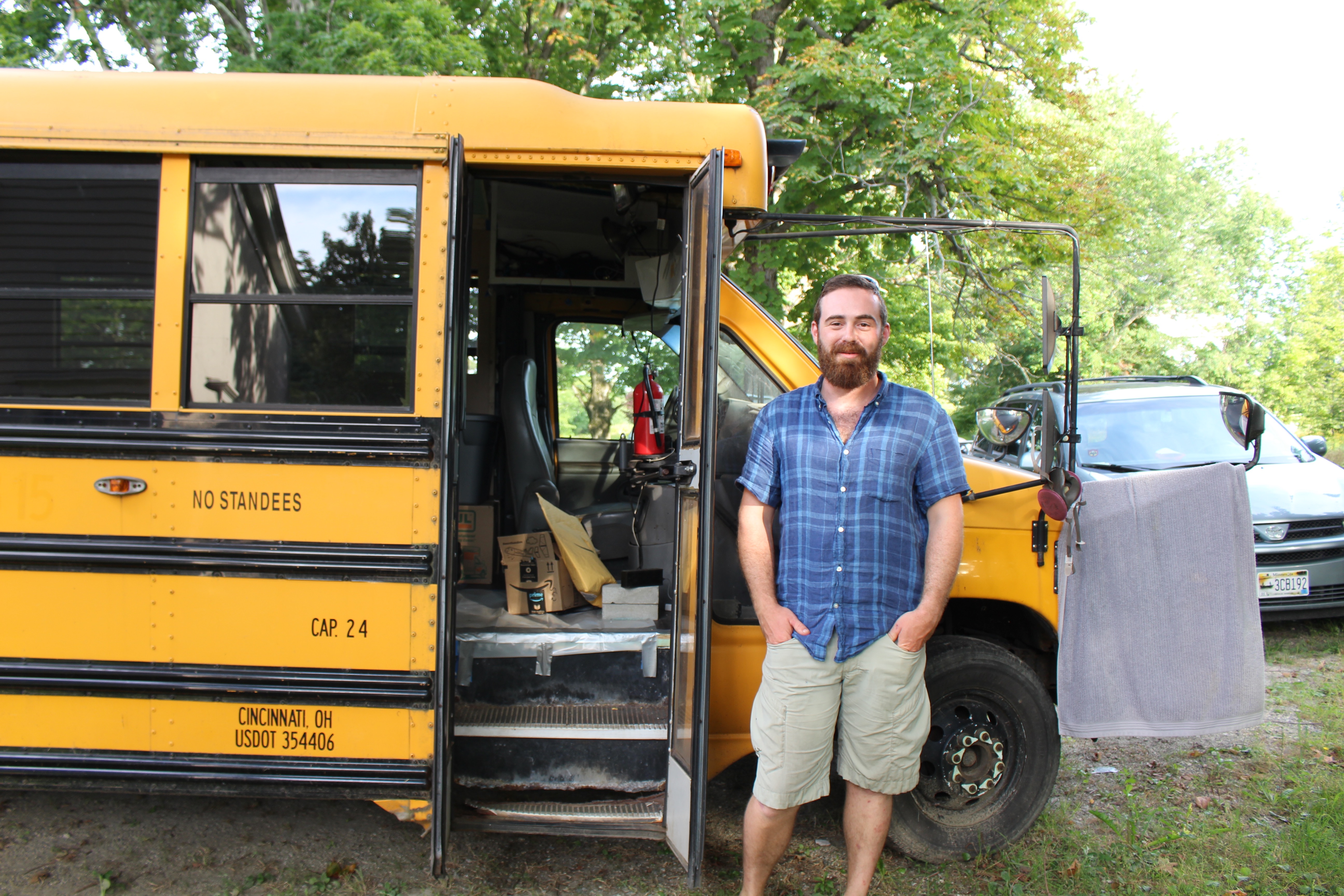 When he permanently leaves Brunswick in a few months, Adam Berliner '13 will do so in a small, yellow school bus. No longer used to transport students but to support a life on the road, the bus will be Berliner's home for the near future.
"I bought this bus in April," he said. "I've had this vision for a long time that I'm gonna take off from here and go do NOLS. Last January I was like this is my next step, I had this vision. It's a very nomadic lifestyle, you pretty much have to go where the work is, which is mostly in the western United States."
After a collective eight years as a student, employee and mentor on campus, Berliner will leave Bowdoin and his current position as assistant director of the Bowdoin Outing Club (BOC) this Sunday.
With the exception of a nine-month hiatus from campus in between graduation and the start of his employment at Bowdoin, Berliner has spent the past eight years as a steadfast presence in the BOC. He participated in leadership training (LT) during the spring of his first year and went on to lead the climbing and winter mountaineering programs as an employee. He accepted the position of assistant director and became one of only two people to hold the position for four years.
These extra years afforded Berliner the opportunity to see a class move through all four years at Bowdoin. "I got to see them all the way through to graduation," he said of the class of 2018. "I got to see how they grew up. It was cool to see those transformations."
A former philosophy major and education minor, Berliner pursued his interest in non-traditional classroom teaching through his role at the BOC, learning from Outing Club Director Mike Woodruff '87 how to instruct outdoor activities such as whitewater paddling and the telemark ski class. After his third year, he realized his growing pull toward whitewater instruction and decided to take on a fourth year at the BOC in order to commit to his development as a teacher and to eventually apply to work as an instructor at the National Outdoor Leadership School (NOLS).
"I'm definitely not leaving because I don't like this job anymore," he said. "This is the dream job. Having a steady year-round salaried position where you get to work with college students who aren't forced to be here, who want to be here? No one gets to have all of those things together, so it wasn't an easy choice to walk away from this. Especially because this is my community, this is where I've lived for forever."
His role has required the balancing of field work, administrative work, student interface and instruction. Berliner has worn "many hats."
"I'm always learning, but there's a marginal return after a certain point of what I'm still learning versus what I'm giving, and I feel like I have a lot more to learn as an outdoor leader and person. I want to see what I can learn in other places," he said.
While he finishes work Sunday, Berliner will stay in Brunswick for a little over two months, working to complete his school bus conversion project. The bus-turned-tiny-house will provide him a vehicle and home for the next few years as he travels the continent instructing in and experiencing the outdoors.
Berliner hopes to begin traveling and living in the bus after New Year's, leaving first for Revelstoke, a ski town in British Columbia. From there, he plans to follow the storms and ski, or "chase powder" around the Rocky Mountains.
With the intention to move into the bus full-time, Berliner has had to plan for all four seasons in what is, in its essence, a small steel box on wheels. It has required meticulous planning to fit his entire life into the short school bus with budgets of both money and physical space.
So far, Berliner has completely gutted the bus, rewired it to include a sound system, insulated the steel interior and paneled it with wood. Before hitting the road, he will add in a full kitchen with running water, a cast iron stove with an attachable chimney and solar panels on the roof—meaning the bus will be off-the-grid capable. He also plans to install a fridge and freezer system, a metal roof rack and deck, a storage unit underneath a full-size bed and another collapsible bed for guests and extra seating.
For guidance, Berliner has looked to the wealth of material from the "skoolie" community on the internet—a world of people who commit to low-cost, low-carbon-footprint lifestyles in converted school buses.
"A lot that I've learned, especially in the demolition process: YouTube. I've watched probably hundreds of hours of conversion videos. Everyone's got opinions and advice, literally down to what kind of silicone I should use to goop the outside of the windows that's going to hold up the best in cold weather," said Berliner.
Beyond the interior workings of the vehicle, Berliner has put careful thought into its exterior. Paying homage to his home of the past nine years, a homage to the Maine pines painted by his father will stretch around the bus.
"It's going to be a wrap-around mural driving piece of art," said Berliner. "It will definitely turn some heads."