'A Handled History:' five centuries displayed through medals
September 14, 2018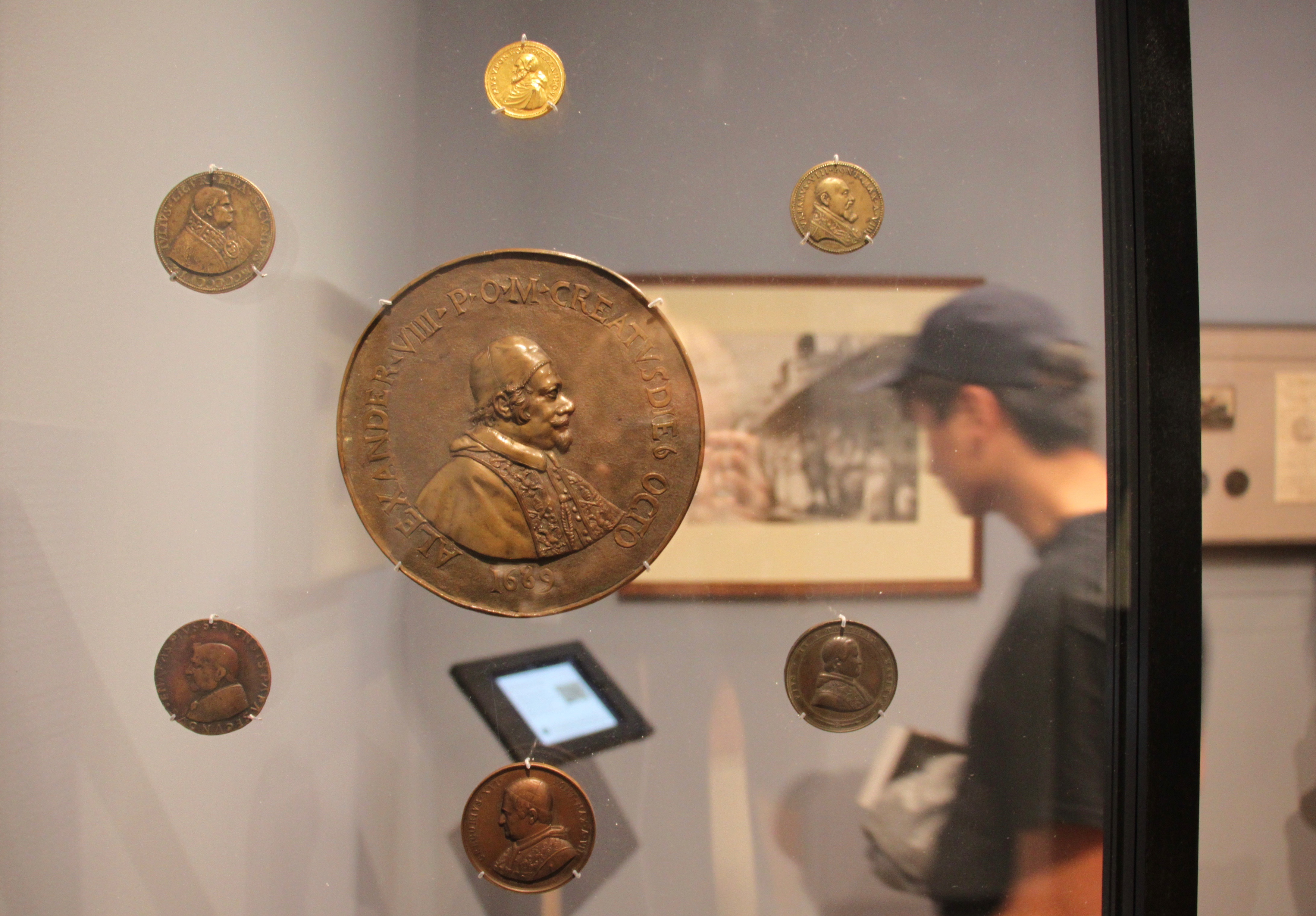 Political propaganda, classical tales and five centuries of history are on view at the student-curated exhibition "A Handled History," showcasing the prestigious Molinari medals collection. Not to be underestimated for their intimate scale, the selection on display is a compact cultural testament to object-collecting and materiality.
Amber Orosco '19, Stephen Pastoriza '19 and Benjamin Wu '18 organized the exhibition in thematic groupings. Housed in cases specifically designed by the Frick Collection in New York City, the medals can be viewed both from the front and back, a display designed to evoke for modern viewers the same intimate relationship the medals' original owners might have experienced.
"Back in the day people would just have these in their bedroom desks and would pull them out of drawers. So that's kind of how we tried to mimic it," said Wu.
Within the Markell Gallery, furniture and display elements are deliberately orchestrated to complement the experience. In addition to an old wooden desk sitting in the left corner of the gallery, Wu noted an array of displayed books, which came with the medal collection, and old catalogues from previous exhibitions.
"One of the goals of the exhibition is to expose the broader community and audience to the medallic art form and explain how medals were designed, created and shared," Pastoriza said.
Collected by Cesare and Amanda Molinari during their travels and donated to the College in 1966, the unique collection houses over 1,500 medals ranging in size, material and time period— from 1484 all the way up to Marcel Duchamp's 1968 addition. Their enduring popularity is indeed fascinating.
"In addition to their application as portraiture, medals offer viewers slices of history, from revolutionary political figures to important battles and wars," said Pastoriza.
Aside from aggrandizing statements of personal ambitions and identity, a rare gem in the collection, Orosco noted, also comments on the role of women in the 15th century.
"This is Laura Bassi. She was the first female professor at the University of Begonia of physics and philosophy," Orosco said about a medal. "She wasn't allowed to teach physics in the university and so she had to teach physics in her basement … as far as we know, it's very rare for something like that to be made and for a woman to be celebrated."
The curators are also working to launch an online scholarly catalogue that would provide the public with access to the entire collection, making use of the medals' educational value.
"We developed with David Francis … an app, so you would just scan this QR code," Wu said. "You'd be brought to a webpage and you're able to search each individual medal."
"Those medals have continued to inspire many generations of Bowdoin students, and I think it is in large part because of the inspiration of those physical objects … We're really grateful that this is possible and that we've had three extraordinarily talented students take this project on," said Anne Goodyear, co-director of the Bowdoin College Museum of Art.
The exhibition is as much about constructing the medals' historical significance as connecting objects of the Antiquity to modern life; indeed, the combination of imagery and accompanying caption remains a popular form of self-expression in the present day, in particular with the use of social media.
"[The medals are] a very similar format [to] choosing like a profile picture," Orosco said. "Like how someone would choose the front or averse of one of these pieces. Then there's an inscription like a caption and then the back is an allegory: [a] symbolic message, which is like your cover photo. So it's like a very much reminiscent of social media."
"Medals emerged in the early Renaissance … [They] responded, I think, to a desire for pictures of people who we admired and wanted information about, and it's really interesting to me that this scale is not dissimilar from now," said Goodyear.