Fort of the Future
Room by room, an old textile factory is reimagined
May 9, 2018
Fort Andross as it exists today is the result of 32 years of investment from Coleman Burke, a New York-based lawyer and real-estate investor who purchased the mill in 1986. "My wife came from Maine, near Falmouth, [so] I decided to look in Maine. It was a natural," Burke explained. Fort Andross is one of three mills in Maine that Burke owns through his company Waterfront Maine. Waterfront Properties, an affiliate of Waterfront Maine, was founded in 1983 by Burke when he purchased his first mill of 1,200,000 square feet in New York City.
"I've found the real estate business so exciting. It goes back to the old adage—'They're not making any more of it.' And, when you get a mill that's going to be there 500 years from now, you keep it."
Burke recognizes the longevity of Fort Andross as an iconic structure, one that must be ready to adapt as demand changes.
Fort Andross was previously known as the Cabot Mill, a textile manufacturing factory, which at its height, employed over 1000 workers in the early 20th century. The building is broken into sections, Mills One, Two and Three, referencing their previous lives as an industrial hub. The hardwood floors and staggered interior columns survive as a reminder of the past—a remnant of the once-open floors, covered with steel plates and lined with machinery.
When Burke acquired the building in the 1980s, it was in desperate need of repair. The ground had broken boards, the walls were dirty and the roof leaked. "The windows were falling out regularly," Burke recalled.
In 1993, Burke was joined by Anthony "Tony" Gatti, the current landlord of Fort Andross and Managing Partner of Waterfront Maine. While Burke is regularly located at his New York office, Gatti is the man behind the scenes in Brunswick, overseeing the Fort on a daily basis. 
On an average day, Gatti is responsible for finding tenants and ensuring that current tenants are cared for. "We have people calling for a new space and we tell them we have a waiting list," Gatti explains. "We're always walking through the building looking for improvements."
"There were years when it was two steps forward, three steps back. Over the last five years, it's been two forward, one back."
Back in the 1980s, Burke and Gatti struggled to find long-term tenants to invest in the space, resulting in piecemeal development. "When I came along, I would just build one art studio at a time on an open floor," Gatti noted. John Bisbee, a former Bowdoin professor, was the first artist to rent a studio space in the Fort. "It wasn't really built perfectly. It was built only because we didn't have a lot of money to get started. We'd get a tenant and just build it. If we could do it all again, we'd really engineer it correctly."
That's when Burke started Cumberland Self-Storage, the first "tenant" in the building. Burke and Gatti also started the Cabot Mill Antique Mall and the weekend Flea Market. These three businesses occupy prime real estate, which only emphasizes their unique role in a constantly changing building.
"If we plopped this in Portland, it would be full of large businesses," Gatti explained. Pierce Atwood, the mill that Waterfront Maine owns in Portland, is fully occupied by fewer than ten tenants. Fort Andross has over 100 tenants, which is indicative of the role it plays in the Brunswick economy. "But, because it's in Brunswick, and it is what it is, it's mixed use. It has weathered different storms of the economy."
Piecing together the Fort, repair by repair, one tenant at a time, over the course of three decades has allowed Fort Andross to become the eclectic beehive it is today.
"We began with 100,000 square foot office space and people thought we were crazy to do that much office space in Brunswick. But, we survived. We were lean and mean in those days," Burke recalled.
Over time, they replaced the leaking roof, put in new hardwood floors, installed new windows and fixed up the boilers. The improvements needed over time have become much more manageable.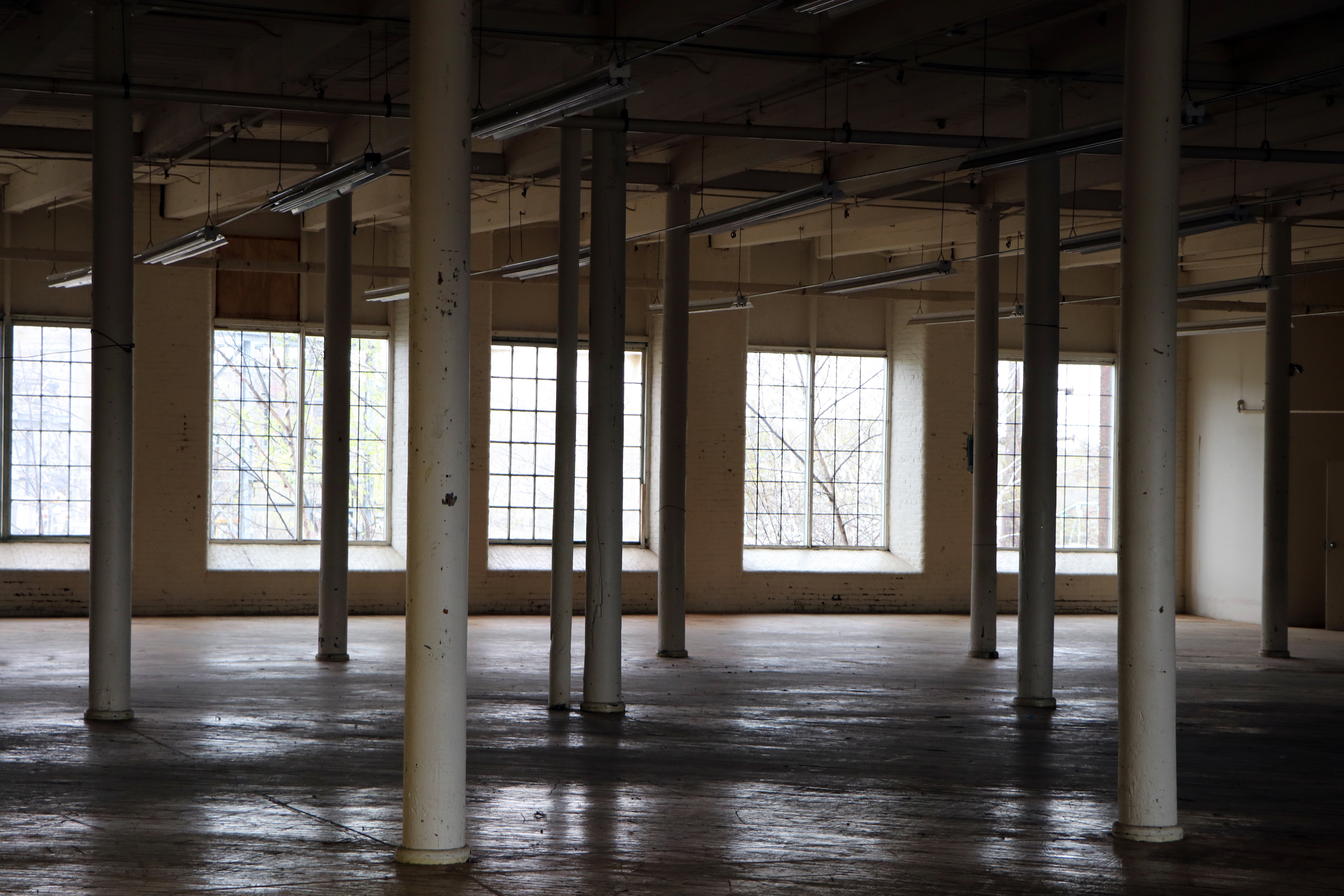 "It wasn't free but it definitely came with somebody who had the heart to want to dig in and do a slow approach like we've been doing. I wouldn't say it's the best way to do it, the way we limped along, but when you finally see the light at the end of the tunnel and you finally get there, it's such a reward."
On Saturday mornings, during the lively commotion of the morning gathering at the farmers' market, one might notice the open floorplan: a taste of what the entire building might have felt like in its former role. The old service elevator creaks as one swings open the wide doors, pulling down the metal gate behind them. These artifacts are reminders of the Fort's longstanding history.
"It will go on to greater days," Burke declared.
The future of the Fort is reliant on the building's continued ability to foster change.
The investment put in by Burke and Gatti in the last thirty years has preserved an otherwise obsolete building; in the future, this investment might take form as apartments.
Inititally hesitant to create residential spaces in the Fort, Burke and Gatti are now considering the prospect. Adding apartments would give the once industrial space a residential quality, not unlike the converted loft spaces that have become popular luxury rentals in many larger cities, including Portland.
Since Burke and Gatti were involved in acquiring a mill in Waterville in 2017, which houses 67 loft apartments, they have considered the possibility of building apartments in Fort Andross.
"I think there's room for apartments and I think they will rent," Gatti speculated. "I think if we built them, we'd rent every one of them and they'll stay full. It's just going to require a master plan and lots of money."
"We'll do that very carefully, if at all," Burke noted.
Even if this were to happen, Gatti says the Fort will always remain mixed-use.
"For this much square footage, I don't think it could ever be any one thing. I don't think it could even be apartments," Gatti added.
After all, the eclecticism of the Fort is what makes it unique. Its piece-by-piece construction has allowed it to adapt over time, weathering each storm it encounters.
"I think we're finally at that home stretch where the mill is becoming complete. And, we'll just continue to do improvements as we go."