BSG candidates run on institutional reform, sexual violence, mental health
April 13, 2018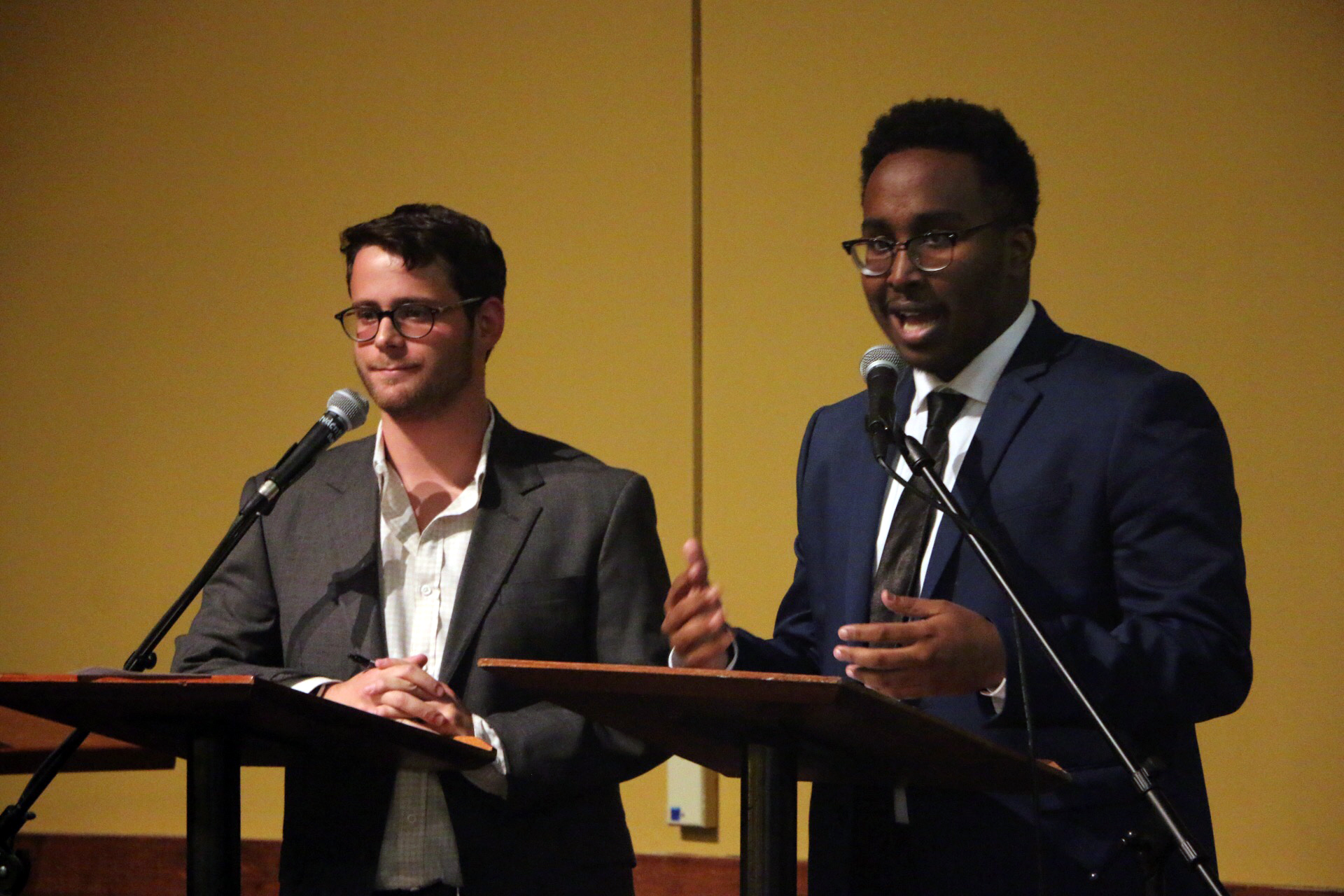 Candidates for the 2018-19 president and vice president of Bowdoin Student Government (BSG) faced off at a debate on Tuesday night in preparation for this weekend's election. Mohamed Nur '19 and Ben Painter '19 are running for president, while Amber Rock '19 and Nate DeMoranville '20 are running for vice president. Candidates' platforms vary from broad goals to shift campus culture to demands for more specific institutional reforms.
Though Painter and Rock are running on a joint platform—their faces appear together on posters across campus—students are not required to vote for both of them. DeMoranville critiqued joint campaigns at Tuesday's debate, saying that it was a way to effectively double their campaign spending money.
Nur centered his platform around creating comprehensive financial aid, re-evaluating curricular policies such as the Exploring Social Differences (ESD) and International Perspectives (IP) requirements and increasing community forums. He also hopes to make the admissions process need-blind for international students who qualify for aid and improve pre-major advising and training for faculty members.
Nur focuses more on specific programs and resources rather than larger cultural trends, promising to "create programs and events to engage across difference," by, for example, connecting class councils with the Brunswick Police Department "to foster better relations between us and them. And to recreate events like the Teach In to build community."
In Painter and Rock's joint platform, Painter focuses on mental health awareness and Rock takes the lead on sexual assault prevention.
At the debate on Tuesday, Painter proposed establishing a working group to "consider institutional reform around how to handle issues such as medical leave, demand for counseling and other services for students."
Rock seeks to establish specific orientation programming around sexual assault awareness and prevention and ensure that all students are informed of their Title IX rights and of the available resources for survivors. They will work to hold students accountable for sexual assault just as they would for plagiarism.
"We have to institutionalize the campus resources and prevention education so that we can give students the tools to counter sexual assault," said Rock. "We need to reinforce how students view our social code and [take] responsibility for how students view our campus culture."
For his platform, DeMoranville discussed BSG accessibility, election reform and programming. He hopes to bring back Food for Thought discussions, host more student panels and encourage more students to participate in BSG, both by running for positions and by attending meetings.
"I have a simple goal of increasing student engagement and satisfaction in student government," said DeMoranville. "BSG will come to you. We will hold meetings where students are naturally—places like 24 College and Kanbar—not always Daggett Lounge."
A lack of student participation in BSG affairs has been previously noted. When BSG asked the student body to vote on its new constitution earlier this semester, just 25 percent of students participated in the vote.
Throughout Tuesday's debate, candidates answered questions about bringing conservative speakers to campus, the divide between athletes and non-athletes, forseen difficulties on BSG and previous experience as leaders on campus. Most candidates shared similar views on these topics.
Both Painter and Nur advocated for mandatory events for students around challenging issues such as race relations, sexual assault and differences of identity, so as to ensure that all students engage in these discussions. Rock and DeMoranville agreed that the administration should take caution when inviting conservative speakers on campus and should focus on allowing student opinions across the political spectrum to be heard.
Voting opens online at 8 a.m. today and closes on Sunday, April 15 at 8 p.m. Campaigning for the chairs of the BSG Executive Team begins next Monday and Class Council campaign will commence the week of April 30.