A home of one's own: forging a Lone Star inheritance
March 30, 2018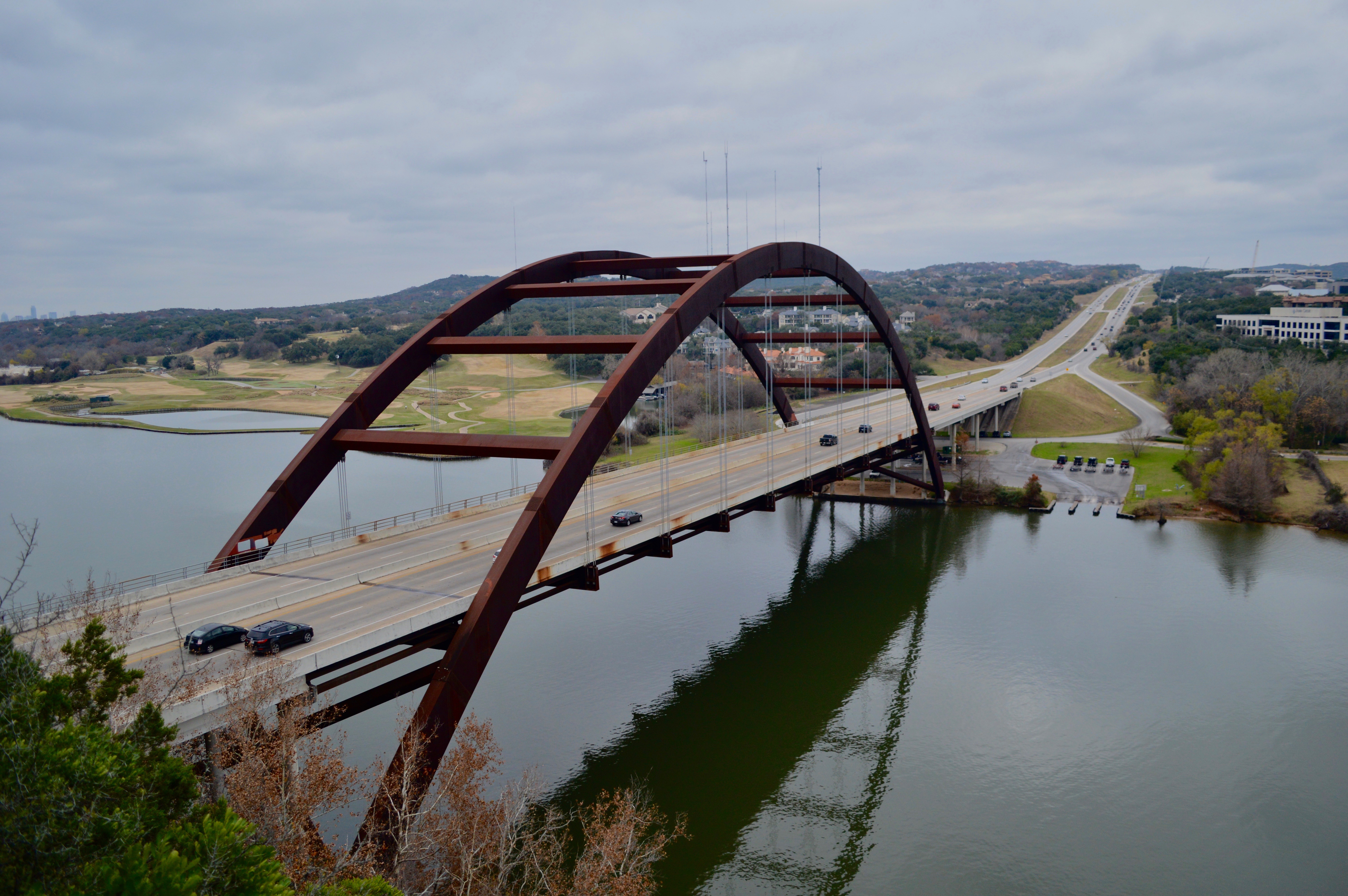 Irfan Alam '18 isn't sure how to pronounce his first name. The confusion stems from the varied intonations of his friends at Bowdoin (air-fawn), his family (air-fawn) and his friends from his largely white private high school in Austin, Texas (urr-fawn).
Austin, Texas is a city blanketed by rolling juniper hills and limestone balconies. For many, it's a political and cultural oasis, a small blue dot whose liberal core finds respite within a largely red state. Despite its relative tolerance, Austin is a city divided—by the snaking Colorado river, a popular destination of the city's nearly one million residents, and the goliath Interstate Highway 35, which has served as the city's unspoken racial boundary since 1928.
Like Austin, Irfan resists easy categorization. Raised by his grandma—whom he calls Nanoo—in an affluent Pakistani, Sunni Muslim, immigrant family, he is both Pakistani and Indian, a comical cultural schism that he says has always collapsed into one unitary "brown" identity when immersed in predominantly white populations, such as Bowdoin or his Episcopal high school.
Caught between many worlds, Irfan remembers growing up with Nanoo and his parents, who worked often and were active members of what he calls the "brown community"—a group of Pakistani, Sunni Muslim families who reside primarily in South-Central Austin. This world existed entirely apart from that of his school, a K-12 oasis whose iconographic coat of arms accompanies its mascot, the crusader. Irfan remembers one other Muslim peer.
The common denominator was his Nanoo, who drove Irfan and his brother to and from school and packed their boxed lunches—always filled with some "super cultured" South Asian cuisine, not, as Irfan wished at the time, a fruit rollup and turkey sandwich.
When I meet Irfan in Austin, he tells me to meet him by "the cows"—a grouping of marble cows in a wooded cove overlooking highway 360, the road on which Irfan will travel home after we speak. Adjacent to an Amy's Ice Cream and the city's largest Barnes & Noble Booksellers, the cows are a popular weekend destination for families and the stuff of elementary school suburban dreams.
"My Nanoo used to take me here as a kid," he says. Then he tells me that he's currently worried that a member of the brown community might happen to see us; upon his departure his mom questioned him, "What if one of my desi friends sees you guys?" He references the Hindi phrase "log kya kahenge," which translates to the rhetorical question, "What will people think?"
"It's a classic phrase that's everywhere in the brown community. Mom says it, Grandma says it: what will the community think." Irfan says it as a statement, though the phrase operates as a question in and of itself. "'You're going to Bowdoin, no one will know Bowdoin'—that's a classic example. My decisions I make are always compared to the community."
It's a story that feels familiar. I think about my mom and her journey from Mumbai to Austin and the insularity of our home life: idli on the skillet, no phone calls after 9:30 in the evening and my mother's fondness for old Bollywood flicks that remind her of my grandfather, a sound recordist and freedom fighter for Indian independence.
Sitting on the cows, I tell Irfan about my first 'not-a-date' date in this same place; the way I told my mom I was just browsing books and how the boy who I had snuck away to see had similarly fibbed to his father, the patriarch of a strict Hindu home. Irfan can relate, and we tie together the similarities between our upbringings: the inextricable bond between home and family, the longing to resurrect a homeland that is oceans away and the pressure: to make sure that this life, removed from that of our heritage, is worth the costs of assimilation.
Irfan pauses. This is not an emblematic portrait of American adolescence, nor of growing up in Austin. Known for Texas football, South by Southwest and all that the city does to "Keep Austin Weird," Austin captivates the modern urban imagination in the way it evades classification; neither the deep South nor the Wild West, it is part rancher, part genteel. But it is also heavily entrepreneurial, innovative in a way that has precipitated a boom of immigrant communities like that of Irfan's family.
The Asian Pacific Islander community, which the state census uses as an umbrella category to include South Asians, is Austin's fastest growing demographic, comprising eight percent of the current population. Within that, Indian Americans comprise the largest Asian-ethnic group in the city. It's a demographic that will likely exceed the city's African American population in coming years, according to the City of Austin.
"I don't actually feel like I experienced the city of Austin until after I left for Bowdoin," Irfan said. "[Growing up] I was always confused about why that was the case—why classmates of mine were always into new 'Austin' places and did fun 'Austin' things while I didn't."
As Irfan lists all of the "Austin" events that he's found in college, the city that he splutters to describe crystallizes. As an adjective, the idea of "Austin" is recognizable to anyone from the city or the surrounding area. Not marked by the city's museums, geographic location or even world-class institutions, it's a lifestyle, as well as a type of aesthetic ideal, one that's tethered to an ever-rotating spectacle of kite festivals, live music shows, barbecue and seasonable weather.
Instead of hanging around after basketball games in middle school like most of his friends and their families did, Irfan remembers spending time at home with Nanoo, talking in the kitchen, listening to her stories about life in Pakistan and blasting Bollywood music on the way to school.
"Her whole life story is all about sacrifice. She sacrificed everything. All of her interests, everything, always for my grandfather, my mom and her siblings, basically raising me and my brother. That level of sacrifice—that kind of keeping it in—I could never emulate that. I've been raised to fight for what I want and to go after what I want. And she just put everything behind her, getting and education and all those things—that was never in her life plan."
"It's hard for her to rationalize why I left to Bowdoin, it's hard for her to rationalize why I'm leaving to Boston. Because part of the immigrant mentality is to stay with your family and to stay united as a family. For Pakistani people in our community, I was the only person ever, I feel, to actually have left Austin for college. Everyone else went to UT Austin or tried to ultimately get to UT Austin."
In May, Irfan will graduate as Bowdoin Student Government President. In August, he will move to Boston to start his job at a healthcare consulting firm. When asked what he will miss the most about his hometown, Irfan allows the question to hang in the air.
"Austin? Ah, I don't know. I don't think I'll ever really have an answer … I do love being here. When I come back from Bowdoin on vacation, I get this sick pleasure from just driving on 360 Bridge. And I'm just like—I'm home. But it's not South Congress or Sixth Street or Zilker Park. I don't know what it is."
Finally, almost defeatedly, he arrives at the answer he's known all along. "My relationship to Austin is directly impacted by my relationship to home—my relationship to my family," he says. "It is only because of that sacrifice that I was able to become the person I am, and I will forever be grateful for that."
Speaking with Irfan, I can't help but think about Bowdoin's core value of connection to place. I wonder about how those connections change within an immigrant family, when the place you call home is worlds apart from your cultural home—Irfan's and my mom's shared homelands across the ocean. Driving home from the cows, I experience Irfan's sick joy: the thrill of a body moving across a landscape that our families, in their own particular ways, have made our own. For the first time since leaving, it feels enough to call these rolling hills and soaring highways home.