Aquaponics farmer Kenkel '18 receives $1.6 million investment
February 9, 2018
Aquaponic farming pioneer Trevor Kenkel '18, founder and chairman of Springworks Farm, announced that he has received $1.6 million in capital to finance the expansion of his system in Lisbon, Maine.
Located about 30 minutes from Bowdoin's campus, Springworks Farm uses aquaponics to grow organic lettuce. Fish housed in recirculating tanks produce waste that is used to fertilize plants above. As the growing plants consume the fertilizer, the water below is kept clean. The farm is the largest aquaponic system in New England, which puts it at around the third largest in the country, according to Kenkel.
Growing produce using this method uses about 90 percent less water than traditional farming methods. It also allows year-round farming in non-traditional growing climates.
This is the second round of funds that Kenkel's company has received since its inception in 2014.
"In this round, we were able to connect with a network of angel investors from across the country, rather than going after more institutional forms of capital, which really brings a diverse set of insights into the business," said Kenkel.
Angel investors are private individuals, as opposed to venture capital firms, who provide initial funding to fledging businesses.
"Especially as a young founder, having that type of experience invested in our team is really valuable," said Kenkel.
This funding round sourced capital from approximately 20 investors, many who learned of Springworks through summer visits to Maine.
"A big part of it is, being in operation for about three years now, you meet people who are interested in what you're doing along the way," said Kenkel. "We were able to create and maintain those connections and from there find a network of people who are really passionate about what Springworks is doing."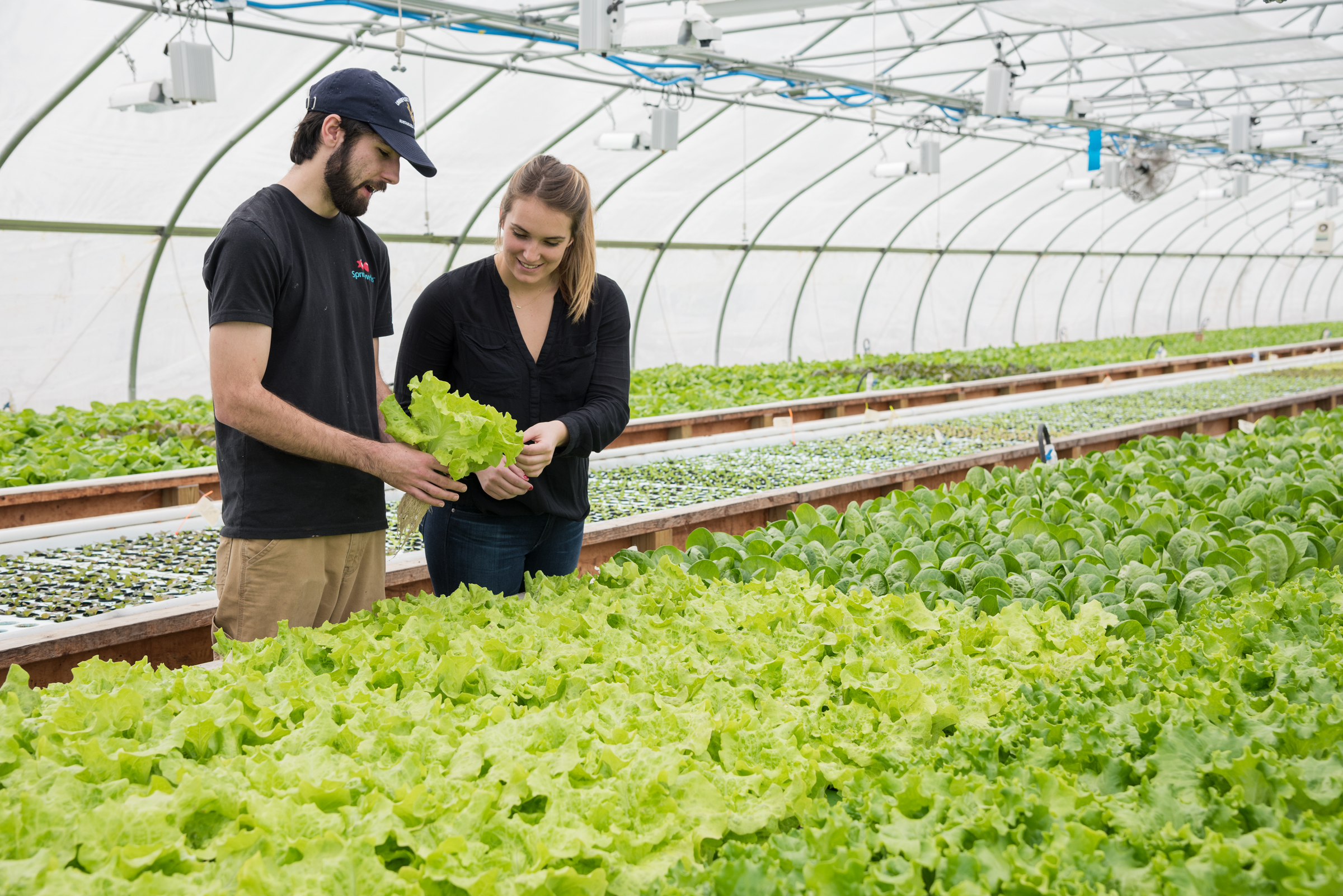 In junior high, Kenkel started a small organic garden in his hometown in Montana. Frustrated by Montana's short growing season, Kenkel learned about aquaponic farming online and began to build his own system with money from a summer job.
He continued to expand his first system and began to create a business plan for the company. Though he was recruited to play football at Bowdoin, Kenkel instead pursued his interest in sustainable agriculture, buying land near campus in Lisbon to allow him to continue to build the company while at school.
He now sells his lettuce to 30 individual customers and a number of distributors who transport his produce across New England. For now, Kenkel only grows lettuce, a choice designed to maximize the efficiency of the operation. Although lettuce is a $3 billion industry in America, most of it is grown in the southwest.
"About 97 percent of America's lettuce production is in Southern California and Arizona. That has typically a very negative impact, especially when you consider water stress in that area. This is a way to make the supply chain a lot more efficient," explained Kenkel.
After taking last year off to focus on the business, he plans to graduate in 2019 and keep working on the company.
"The plan is to keep growing Springworks. The opportunities in our market are huge right now as system designs like this allow for localized production in an economical way all year, in places that typically can only have local product once out of the year," said Kenkel.
"We are designing this system so that it's scaleable and can really make a big impact."
Aside from the commercial part of the business, Kenkel also works to educate others about aquaponic technology. He has installed a miniaturized version of his system, called a "Microfarm," in about 60 schools.
As the company continues to bloom, Kenkel also must maintain his academics at Bowdoin as a biology major and economics minor, although it has not been an easy balance.
"It is definitely tough," he said. "I guess it is for all Bowdoin students."
He credited his advisor, Professor of Biology Barry Logan, for helping him to hone some specific aspects of the farm's operation.
"I've had the opportunity alongside him to work on getting to the finer details of parts of the farm's operation that otherwise I wouldn't have the equipment to do—things like CO2 exchange and somewhat hidden aspects of the farm that really are the some of the underlying foundation for how our plants grow."
Despite receiving a million-dollar investment, Kenkel remains humble about his success.
"It's really like a little kid's dream come true, you know. When I started working on systems in junior high, I don't think I could have imagined systems this size."