Art exhibit illustrates varied forms of protest
January 26, 2018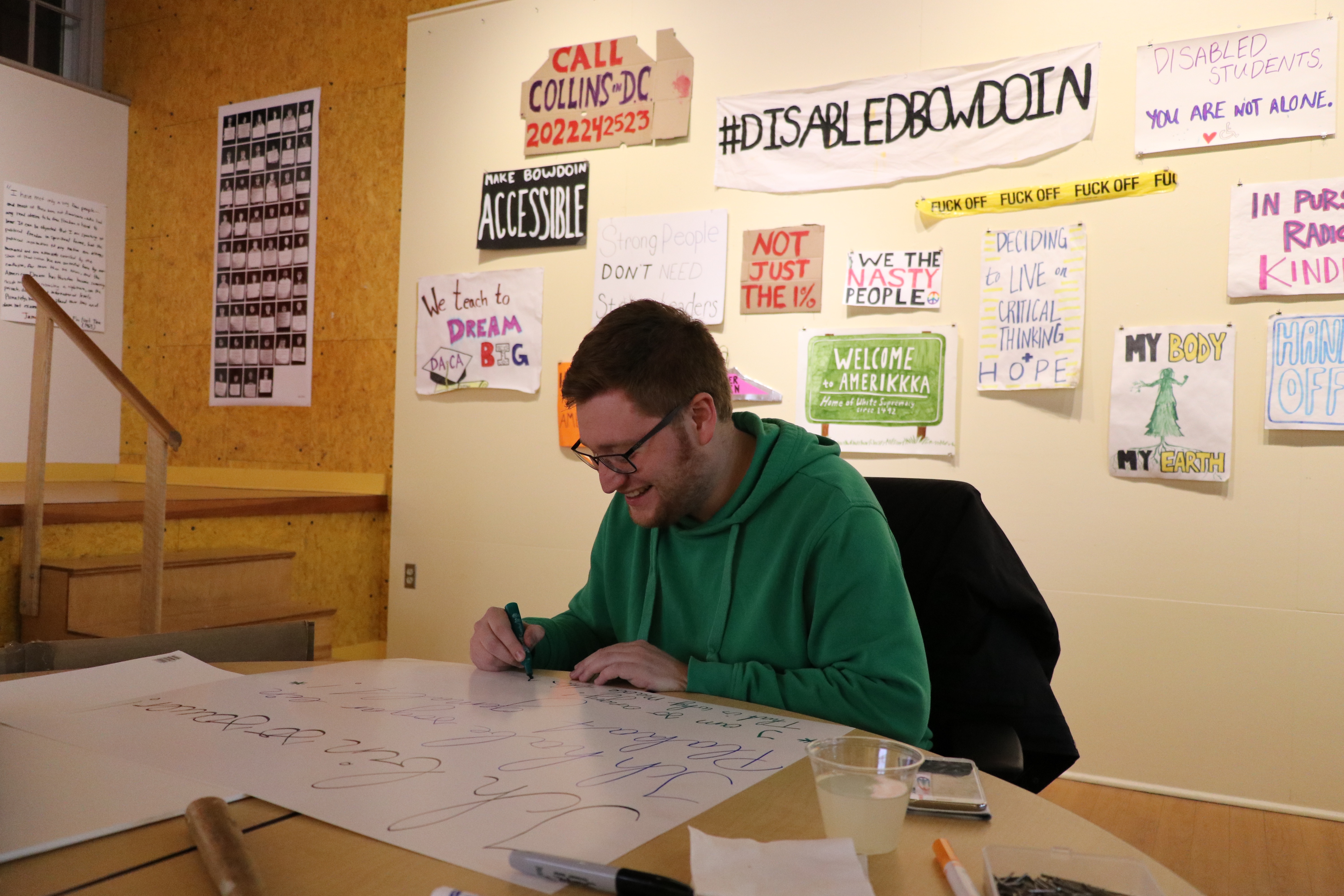 Seeking to highlight the role of protest in the 21st century, seniors Eliza Goodpasture and Jenny Ibsen unveiled an art show entitled "PROTEST" in the Lamarche Gallery of David Saul Smith Union on Wednesday night. The exhibit features physical and digital forms of protest collected from members of the Bowdoin community.
Goodpasture hopes that the exhibit will highlight the significance of protest and encourage visitors to think about what really constitutes protest and why people do it. She was initially inspired by the Women's March last year.
"I think that was kind of a watershed protest moment… It made the idea of protesting in the old-fashioned way feel really accessible. For me, [that created] a big shift in my thinking about the importance of protesting."
In addition to physical posters, banners and flags, "PROTEST" features forms of protest that were posted online. These included a poster with every photograph from the Asian Students Association's #thisis2016 campaign, which challenged stereotypes about Asian and Asian American students, and a protest video created by Laura Griffee '17.
"We've been thinking a lot about the broadening definition of protest and how people protest," said Goodpasture.
As well as showing forms of protest from a range of Bowdoin students, "PROTEST" also showcases forms of protest as an artistic medium.
"I think [it is really important to] exhibit visual creations by Bowdoin students that we don't always think of as art," said Goodpasture.
The art of "PROTEST" addresses a wide range of social issues from Bowdoin Climate Action's sit in at Senator Susan Collins's office in Portland to DACA, the Women's March, and local Maine issues. Some signs are broader in theme, simply encouraging resistance and engagement—a large orange banner across the far wall of the exhibit reads, "Whose side are YOU on?"
"I think people talk a lot about how Bowdoin isn't politically engaged enough," Goodpasture said. "I'm definitely guilty of not being as politically engaged as I should be. I certainly hope that this helps people realize that there are Bowdoin students who are really politically engaged because there are. And so I hope that that makes all of us feel like we could be too."
Editor's Note: Jenny Ibsen is the Orient's Creative Director.