Women's basketball extends winning streak
December 8, 2017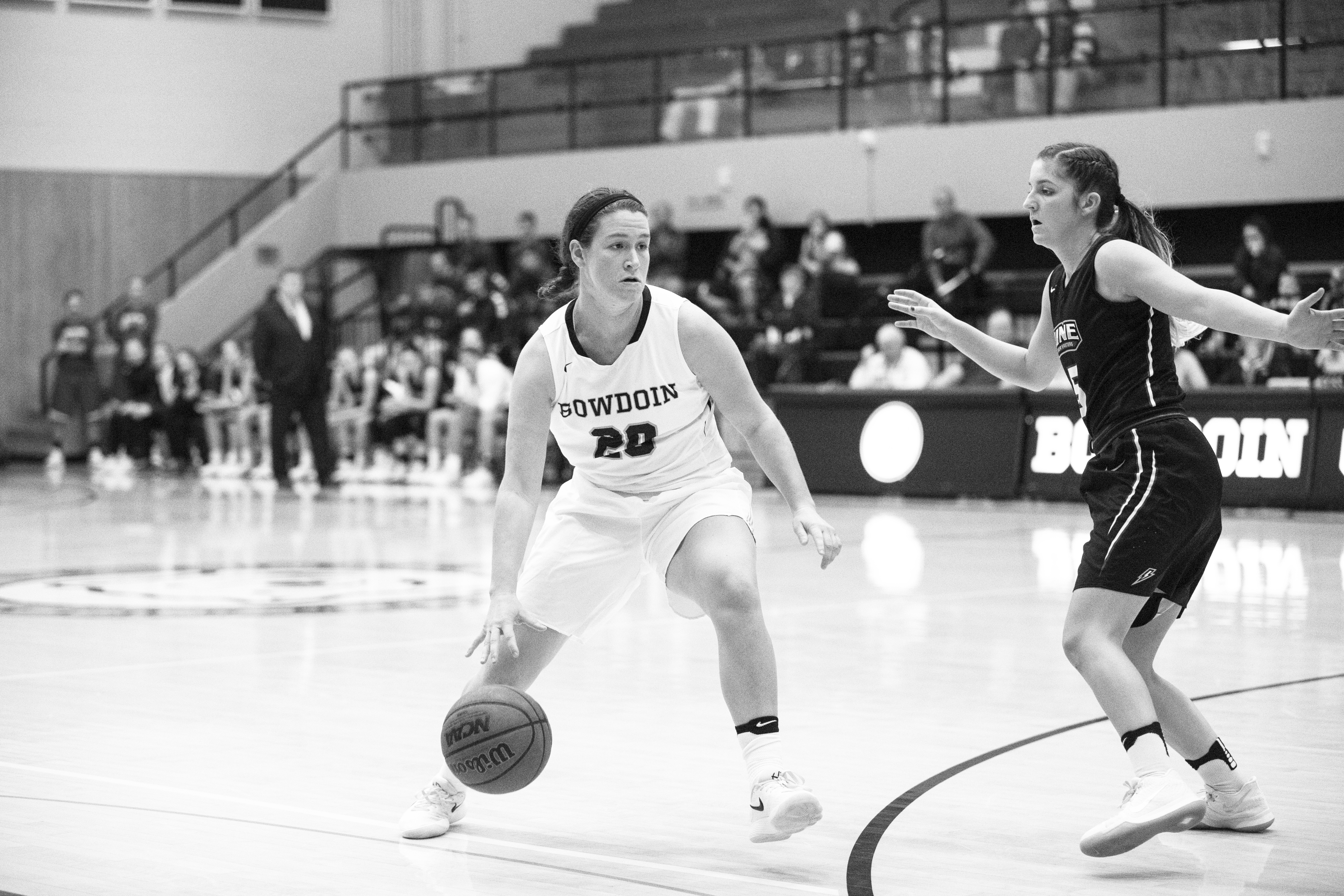 This Wednesday, the women's basketball team dominated University of Maine-Farmington 109-24, extending its undefeated record to 8-0.
The team scored 60 points in just the first half of the game, setting a new program record for points in a single half. Bowdoin's bench played a huge role in the game, scoring 82 out of the total 109 points for the Polar Bears. Abby Kelly '19 led the Bowdoin offense by contributing 14 points off of the bench.
The Saturday preceding the UMaine Farmington game, the Polar Bears played their first conference game against NESCAC rival Colby College. Bowdoin was once again victorious, winning 79-45.
The game began as a tight matchup, when both teams were tied 9-9 with just 3:50 remaining in the first quarter. However, Bowdoin pulled away from Colby in a 16-0 run to finish the quarter with a 25-9 lead. The team was able to take advantage of the momentum gained from the end of the quarter, continuing to widen the score margin in the remaining three quarters of the game.
These two games have been just the tail end of a spectacular start to the team's season. The Polar Bears' 8-0 record has earned them national recognition. D3Hoops.com ranks Bowdoin 14th in the country. In November they defeated St. Thomas (Minn.), who is ranked 11th on D3Hoops.com. St. Thomas has defeated every other team it has played.
The players and coaches attribute their success to their loose, confident offense combined with their focused and disciplined defense.
"We have a lot of threats behind the arc this year, and that makes it hard for people to defend us," said Lauren Petit '18. "We also have post players that are becoming stronger down low so our in-and-out game has gotten better."
"Our defense applies a lot of pressure which causes turnovers and gets us transition points," Petit added.
The team has additionally benefited from its newly hired assistant coach, Megan Phelps '15, who was a two-season team captain as a member on the basketball team. During Phelps' four years as a player at Bowdoin, the team made three NCAA appearances.
"[Phelps] has brought a little more toughness and grit to the floor this season," said Kate Kerrigan '18.
Though the Polar Bears have experienced a successful start to their season, they are determined to avoid taking teams lightly and to use every game as an opportunity to learn and improve.
"I think there is pressure to win, but there's pressure to be our best selves every day. Every day we try to get one percent better," said Kerrigan.
It is not always easy staying focused and disciplined when the team has defeated its opponents by an average of 37 points per game. To get the most out of every game, Head Coach Adrienne Shibles creates short-term goals for the team going into every quarter to keep her players constantly focused on improving and playing their best.
"The message is that we have to keep getting that one percent every day, and each opponent presents a new challenge so we need to continue to rise," Shibles said. "Complacency is a killer, so we want no part of that."
This Saturday, Bowdoin will play its second NESCAC game against Bates College in Lewiston. The Bobcats have had a rocky start to this season, winning only two of their first seven games. However, Shibles and the rest of the team plan on bringing the same relentless attitude to Bates that they have brought to their previous games.
"Bates is a young fast team and their gym is an equalizer in some ways. We have a nice big floor, which allows us to use our speed and depth to our advantage. They have a smaller gym so it takes away what we like to do best," said Shibles. "So that will be a good challenge for us."