Swim team looks towards first home meet
December 1, 2017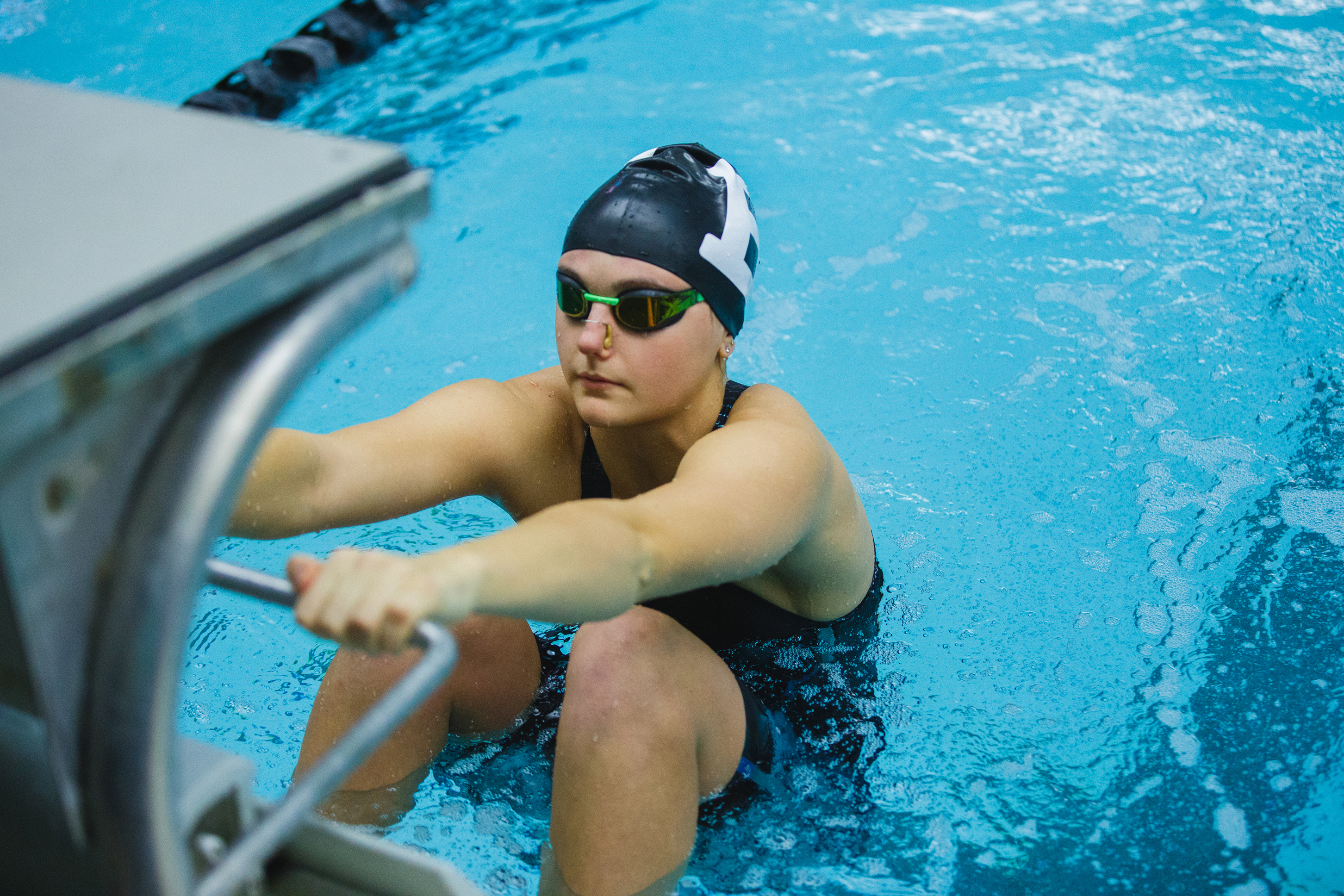 Both the men's and women's swim teams performed well in their inaugural meet of the 2017-18 season on November 18, with outstanding individual performances, such as the one from Marshall Lowery '20, named NESCAC swimmer of the week.
Both teams competed against Worcester Polytechnic Institute (WPI) and Massachusetts Institute of Technology (MIT). The women defeated WPI, but lost to MIT while the men lost to both teams.
Lowery won the 100 backstroke with a time of 58.45 and the 200 backstroke with a time of 2:09.19. These times are building off a successful first season for Lowery, in which she set the school record for both events.
Captain Matthew Peknay '18 was satisfied with the team's first meet despite their lack of training time.
"Those meets are always a little challenging because we are only two weeks into our season when it happens and MIT and WPI are about a month into theirs, so they have a bit of a head start on training," said Peknay. "But it was good to see where everyone is on our team, and it was a good start."
Captain Linnea Patterson '18 also expressed excitement regarding the women's performance last weekend.
"We had a lot of people do hard events, and they really brought it for everyone, and it was really encouraging to see," Patterson said. "Especially at the first meet we don't rest for it, so you are always sore and doing eight practices a week and lifting and then racing. But we did well."
Captain Mariah Rawding '18 believes the underclassmen are already making big contributions on the team.
"All of the incoming freshman class are going to be a huge help," Rawding said. "Last year we had a few seniors graduate, and so it is really encouraging to see such a strong freshman class as well as the sophomore class. We have some really great athletes."
Both the men's and women's teams are focused on setting goals and meeting their expectations for this season.
"We just had a meeting where we went over expectations and goal setting," Patterson said. "I think we expect our teammates to hold us up and motivate us. I need those women in the training groups to look over and say, 'You got this, we are going faster.' I think it is important to build a culture where it is not about you."
According to Peknay, the Maine State Meet, which starts today and will conclude tomorrow, will be a good test of where the team is at going into conference meets.
"Expectations are hopefully to be a little faster because we have had a little more training now," Peknay said. "[We're] seeing where we are before we get into our winter training which is usually where we really start focusing because there are no classes or distractions, so this is a good final meet before that."
Although swimming can be seen as an individual sport, keeping a team mentality is crucial during practice and meets, according to the captains.
"Sometimes you have to swim the race for other people. In some of those really tough races, you quite literally do not want to finish that race, but you aren't just accountable for your swim in swimming—you are accountable for other people's," Patterson said. "You have to keep thinking of the teammates when you are in the lane."
Rawding said her teammates help her make it through two hours of practice each day.
"During practice the only reason that I can swim for two hours every day is because there are other people around me, and I believe that is so important," Rawding said. "Having people that are supportive and motivating is huge."
The teams will compete in the Maine State Meet today and tomorrow, hosting Bates, Colby and University of Maine.