Artist Tatana Kellner urges political engagement through art
October 27, 2017
"What happened last October?" Tatana Kellner asked students gathered at the popup show for her printmaking installation "Please Exit, Doors are Closing" on Tuesday in the Edwards Center for Art and Dance. Answer: the 2016 presidential debates, a time during which Kellner was working and reflecting on questions surrounding immigration policy in America.
Kellner visited Bowdoin to teach printmaking classes and to discuss the use of text in artwork and propaganda in the media. The artist's work is largely an expression of her understanding of political and social issues, as well as an effort to inspire an awareness of such contemporary topics in her audience.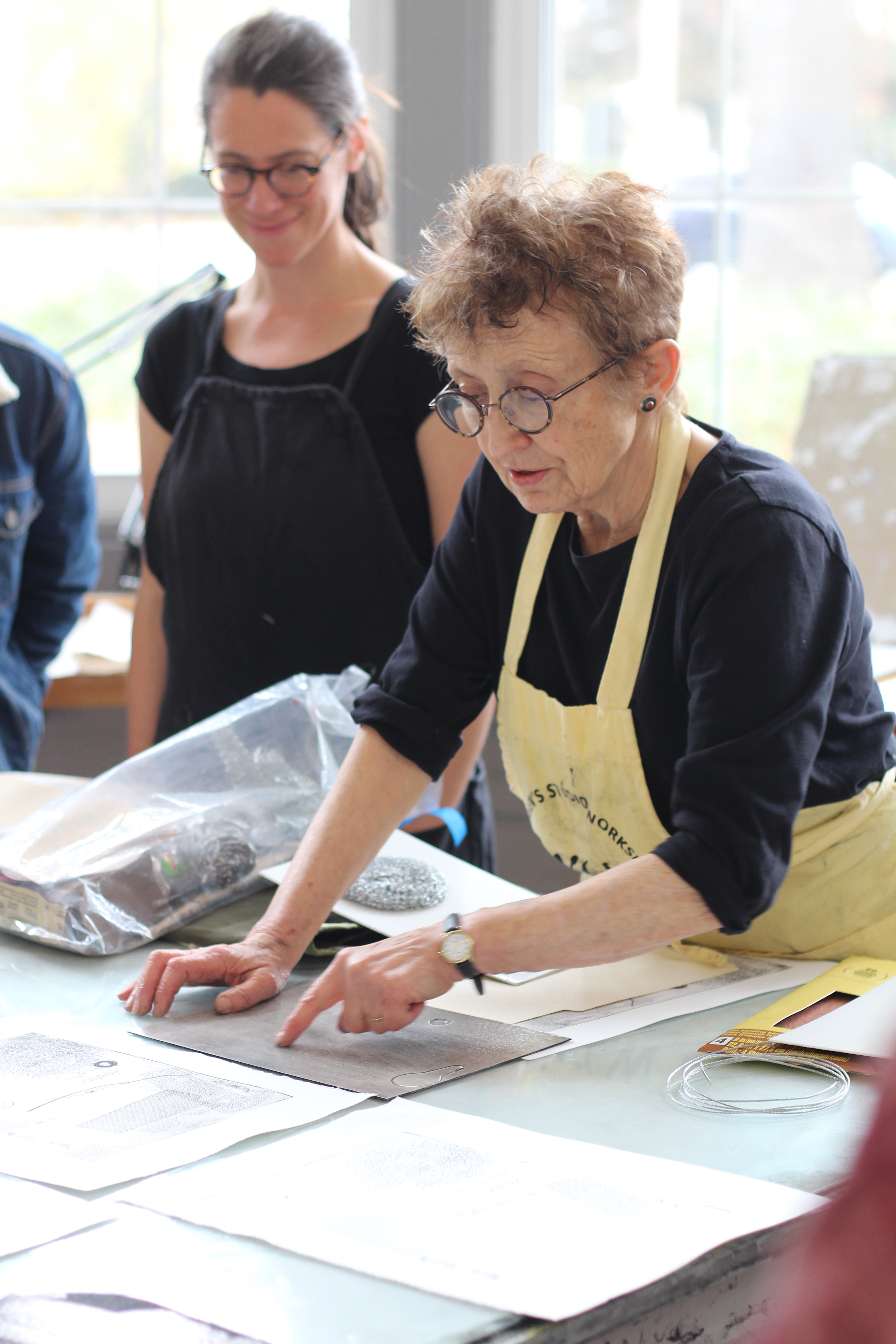 "This body of work is about issues of immigration which were being discussed even before the election," Kellner said, noting that she is a first-generation immigrant. "This country is a country of immigrants even if you've been here for ten generations—unless you are a Native American—so this work addresses those issues…who gets to go, who stay[s] behind and what are the consequences."
Although Kellner's art is frequently in response to the world, it would be an injustice to simply label her a reactionary.
In times of political upheaval or tragedy, Kellner moves away from what she describes as a self-indulgent artistic process, instead choosing to create art with a political, environmental or social message.
"Art does not change anything," said Kellner. "I think it would be naive to assume that it does. As an artist, [my] role is to make people aware of what's happening around them. We're all global citizens and even though we are very self-involved with our own thing, those choices we make as a society have a global impact. You try to create work which is meaningful to you as a person and then hope that it reaches beyond that."
According to students in attendance, Kellner's art helped to bring current events inside the Bowdoin Bubble.
"While all these things are going on we're enclosed in our own bubble-kind-of-world," said Luis Guerrero '20, who attended the popup exhibit. "We're focused on academics and social life here, but we're also trying to keep a keen eye on the world around us. So [Kellner] being here and showing her art is a big step for us as a community [to remember] the events that [have] happened."
"I work in two very distinct ways," said Kellner. "One is idea driven and that's the kind of work I'll be showing. The other way I work, which I will not be showing here, is a quieter studio practice. I just go to the studio and work with materials to see what emerges. It's a much more intuitive way of working and it's driven by the process and not the specific idea."
Kellner, the child of Holocaust survivors, has drawn on this aspect of her identity through her artwork. In her 1992 artist book titled "50 Years of Silence," Kellner juxtaposes her father's handwritten account of his Holocaust experience with her own translation of his Czech narrative. A papier-mache cast of her father's arm, marked by a tattooed identification number, pierces through the entirety of the book, visible through each flip of a page.
A copy of the book, one of only 40 made, was recently acquired by Special Collections & Archives. An art history department seminar titled "Art and Catastrophe: Visual Responses to Trauma" has already used the book as an object of study this semester in relation to its discussions of memory and the transmission of trauma.
Kellner's works on display in other galleries nationwide include "Iron," an installation featuring an automated iron that reveals hidden ink on a white collared shirt and "Bushspeak," handkerchiefs with George W. Bush's quotations and mouth emblazoned across them.
"I think whimsy, using humor or unexpected points of view [in art], [is] always easier in terms of getting your message across because it is less threatening," said Kellner. "As a culture, we are not very visually sophisticated because people don't know how to read images or what's being said. In a digital age, we don't have the patience to sustain the kind of look [needed]."
Artists create work to evoke a particular emotion, but sometimes, Kellner relies on the viewer's experiences to shape the pieces she creates.
"We have different readings of the work and how the work changes with time depending on what is happening with culture," said Kellner. "The art may take quite a different meaning if something else has happened which influences how work is read by succeeding generations."