Workshop focuses on film production
October 20, 2017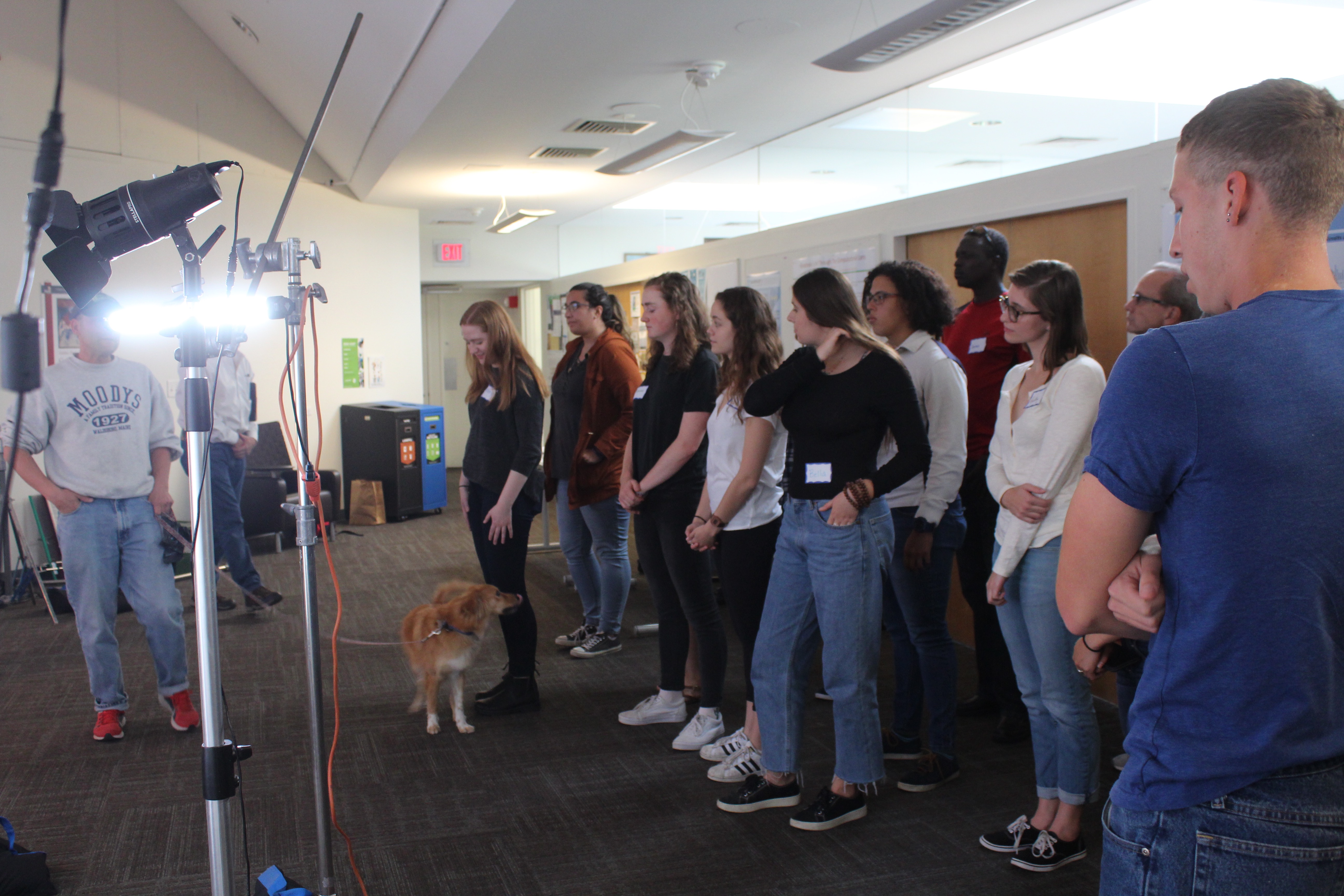 Last Saturday, CLIO Award winning producer and director of photography Matt Siegel, along with a few other cinematographers, led an introductory workshop in digital film production for Bowdoin students.
Because Bowdoin's Cinema Studies program focuses heavily on history and theory, the workshop aimed to fill a gap in students' education about the technical aspects of filmmaking.
"It's really important to have access to the people and the technology and the idea of workflow and production," said Siegel. "What we're trying to do here at Bowdoin is to introduce these methodologies and systems."
Siegel started out as a still photographer, working as a photojournalist, before attending film school. He worked in the feature film industry for some years, which allowed him to travel around the world. He said that in these years he worked with many other cinematographers who served as mentors to him and ultimately inspired him to teach young filmmakers.
He has since transitioned to more television, commercials and branded content, but he occasionally creates shorter features.
In the workshop, Siegel wanted to the emphasize the importance of group dynamics in the process of filmmaking and working with a creative team.
"If you surround yourself with good people and they're creative, you could be following the dog around for an hour and it would be fun," he said.
Nevan Swanson '18, who co-leads the Bowdoin Film Society, said that the amount of interest in the event was encouraging. He hopes to organize similar events at Bowdoin in the future.
"We're hoping to bring opportunities for more production-oriented things to the school and encourage people to start making their own films and working collaboratively," said Swanson.
Assistant Professor of Romance Languages and Literatures and Cinema Studies Allison Cooper, who helped organize the event, said the workshop complements the cinema studies curriculum at Bowdoin. The program doesn't usually offer courses on film production, but visiting faculty have taught these kinds of courses in the past.
"Ideally we could do something like that every semester," said Cooper. "When we can't, if there's a way to give students the opportunity to learn more about production we're happy to offer it to them."
Cooper is also a board member of the Maine Film Association. The goal of the association is to promote Maine as a place for filmmakers, and to help those in the state who are interested in film. She said that the association has been working to become more involved with students in Maine.
"The idea would be just to provide students with exposure to filmmakers who actually live and work in Maine as much as possible, and then students who are ambitious can pursue those relationships," said Cooper.
Mauricio Handler, cinematographer and a member of the Maine Film Association, also helped with the event. He specializes in wildlife film, and has worked with National Geographic and the Discovery Channel. In the past few months he has filmed sperm whales in the Azores and wolves and grizzly cubs in Wyoming.
"You have to know the system technically, you have to know the animals best you can, and more importantly you have to have the patience to wait," said Handler.
The workshop will continue next week and the following week in Portland. According to Cooper, it will focus on some more technical aspects of lighting and camera work, and it is open to all students.