Women's Tennis team hopes to maintain success in the spring
October 20, 2017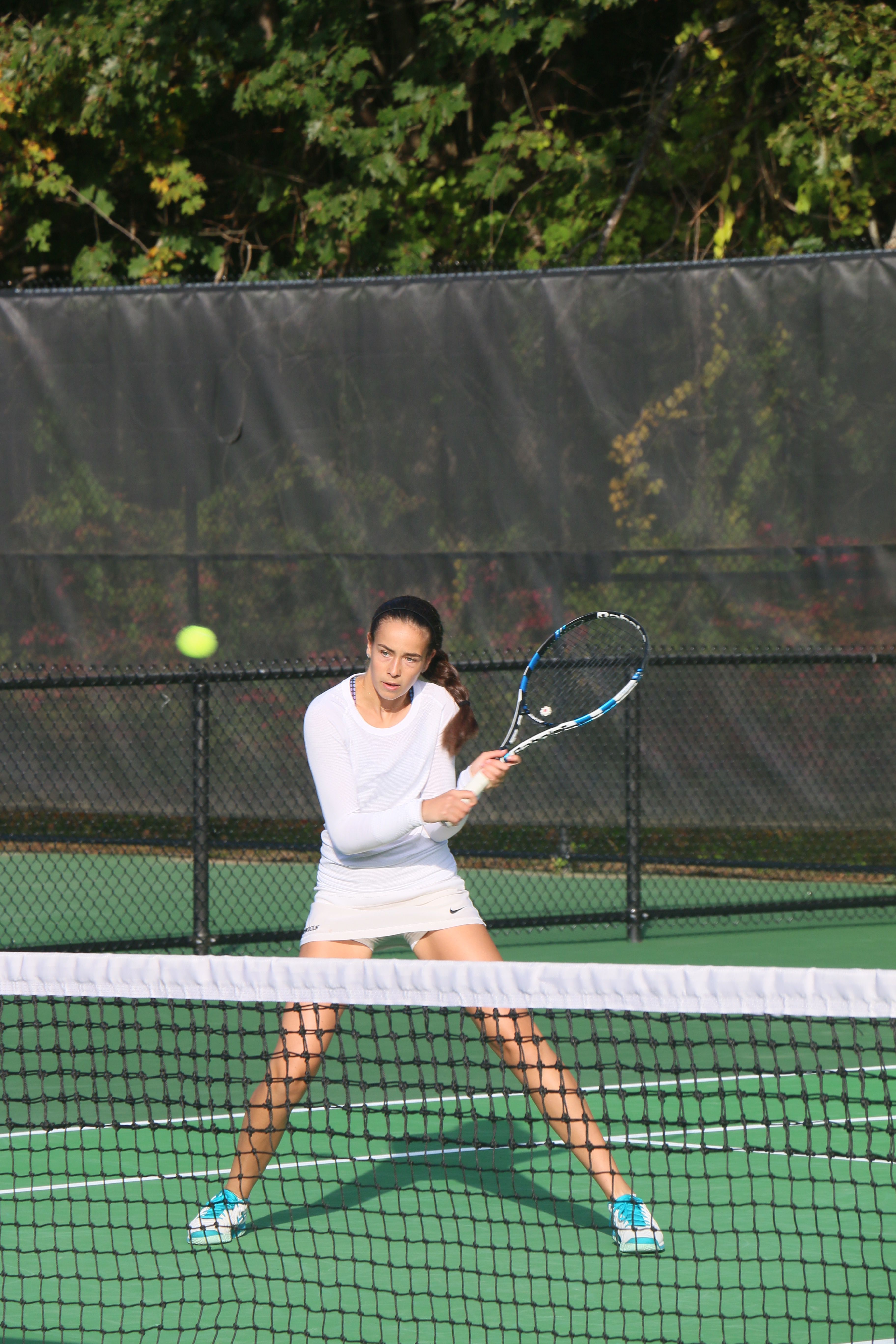 The women's tennis team had a strong preseason run, ending Friday and Saturday's Bowdoin Invitational 25-4 and then beating Skidmore the next day 6-3.
As the team only has eight members—three first years, two sophomores, two juniors and one senior—all members had the opportunity to play in the Invitational.
"The great thing about this is we get to play tons of matches, match after match. Everyone gets to play a ton, which is very helpful," said Captain Tess Trinka '18.  "I was pleased with how everyone did, especially the first years, who have shown so much progress in the past few weeks. It makes me really excited for the spring season. To see people so invested and getting better is really exciting."
The team's fall preseason lasts for seven weeks and is comprised of two major tournaments: the Bowdoin Invitational and the Intercollegiate Tennis Association (ITA) New England Regionals. This non-conference season is significantly shorter than the team's main spring season and allows first years to understand what being on a college tennis team means, bond with the team and build trust and teamwork.
"High school tennis is really individual. Coming here to Bowdoin to play tennis is a whole different type of atmosphere. Our coach puts a lot of emphasis on the team," said Trinka
"If we only had a spring season, it would be harder for the freshmen to get to know the upperclassmen," added Tasha Christ '20.
As one of the five returning team members, Christ thinks she has been taking on a bigger role than in previous years.
"This year as a young team, I really had to step up and be a leader and help the freshmen," said Christ. "We only have one senior, so she can't run the team on her own. I think all the upperclassmen … have been stepping up and taking on a bigger role than we did the previous year, which I think led to our success in the fall."
This success was also apparent in the ITA Regionals held on October 1 at Williams College. Trinka advanced to the third round in the singles competition, and Trinka and Christ made it to the quarterfinals in doubles, losing to a Williams duo who eventually won the whole tournament.
Before the spring season, everyone in the team will get individual suggestions from the coach to work on specific aspects of their technique that will help them stand out. For example, Trinka is focused on improving her forehand and pushing the team into a more competitive mood during practices. Christ wants to work on doubles and fitness.
Ultimately, the team is focused on building a foundation that will translate to a successful spring season.
"It will be about finding a way to build the foundation, the trust and really come together as a team, as close as we can as a team and as strong as we can as a unit, before the spring season starts," said Trinka.