Alam '18 elected BSG President
April 27, 2017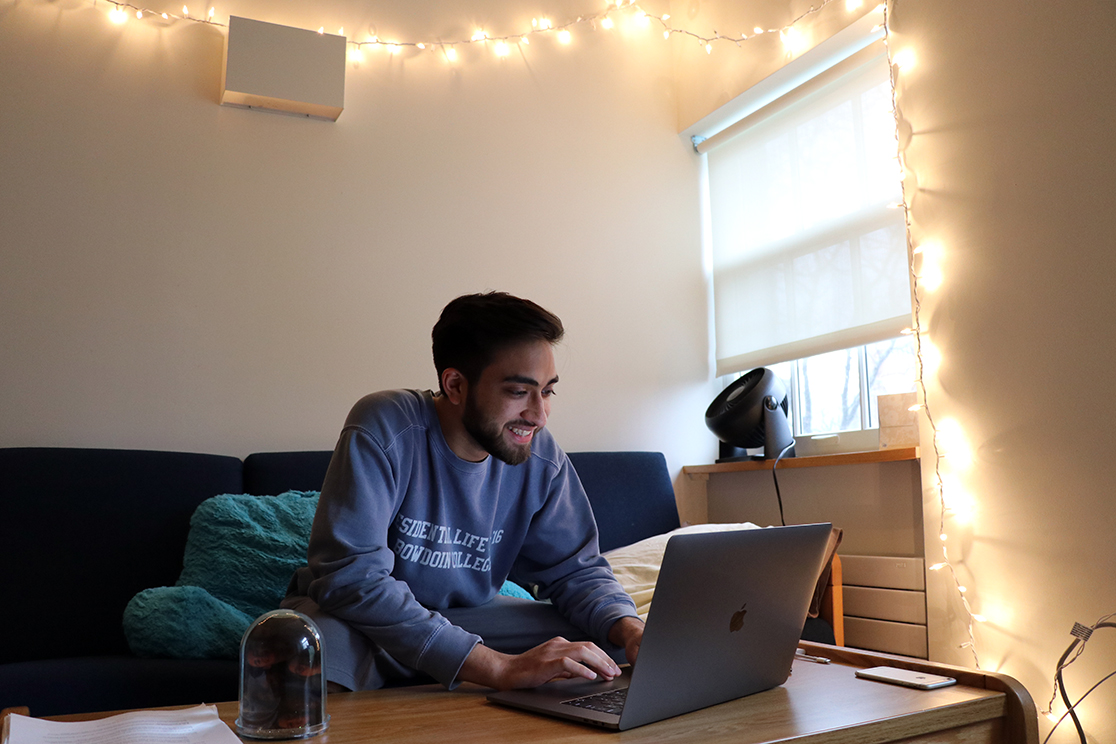 After being announced as winners in the Bowdoin Student Government (BSG) elections on Sunday, BSG President-elect Irfan Alam '18 and Vice President-elect (VP) for BSG Affairs Ben Painter '19 are looking forward to enacting their vision for a better Bowdoin.
Alam and Painter decided to run on an unofficial ticket in this year's election while working together on the current BSG Executive Committee. Their platform focuses on improvement of upperclassman housing, revision of social policies and changes to the structure of BSG.
"The College—and the administration in particular—is thinking about the social spaces and living spaces on campus already," said Painter. "So part of my vision is just to be at that conversation, to really advocate for improving on-campus housing. There [are] also working groups thinking about alcohol and party policies in relation to the spread off campus, and a big part of my vision is to work to loosen some of those restrictions so on-campus living is more attractive and the party policies are kind of more common-sense, the way I see it."
Alam and Painter will be joined by newly elected committee members VP for Student Affairs Salim Salim '20, VP for Academic Affairs Mohamed Nur '19, VP for Student Organizations Leah Matari '20, VP for the Treasury Ben Hopkins '20 and VP for Facilities and Sustainability Ana Timoney-Gomez '18.
This year, Alam served as VP for the Treasury, while Painter was VP for Student Affairs. The pair hopes to meaningfully alter BSG's structure in the coming year.
"One of the changes that we're looking to do is work throughout next year with different multicultural leaders and multicultural coalition department heads to think about the best way we can further create voice on [the Executive Committee] for issues of diversity and inclusion," said Alam. "It's going to take a year-long process … But I think that putting that voice [in the Committee], which is where a lot of the decisions for the student government are made, is really really critical."
In addition, Alam is considering refining the role of at-large representatives in order to differentiate the position from that of class representatives.
He also envisions a change in the way BSG communicates with the rest of campus.
"I think that a lot of this year we were trying to find a way to get people to come to BSG," said Alam. "I think moving forward, using the connections that the [Executive Committee] has across campus, we want to work directly [with] and go and directly talk to multicultural leaders, club leaders, faculty, administration, and just have casual meetings with them and say like, 'What's on your mind? What's going on? What do you think about campus climate? And what can we do to help?'"
The election had an added significance for Alam, who is believed to be the first Muslim BSG president, although BSG does not keep records of past presidents' religious beliefs.
"I hope that becoming the first Muslim president only serves to echo, as Muslims, our unwillingness to be silenced and be marginalized, and to say that we do belong here," Alam said.