Acceptance rate lowest ever, two-thirds waive fee
March 31, 2017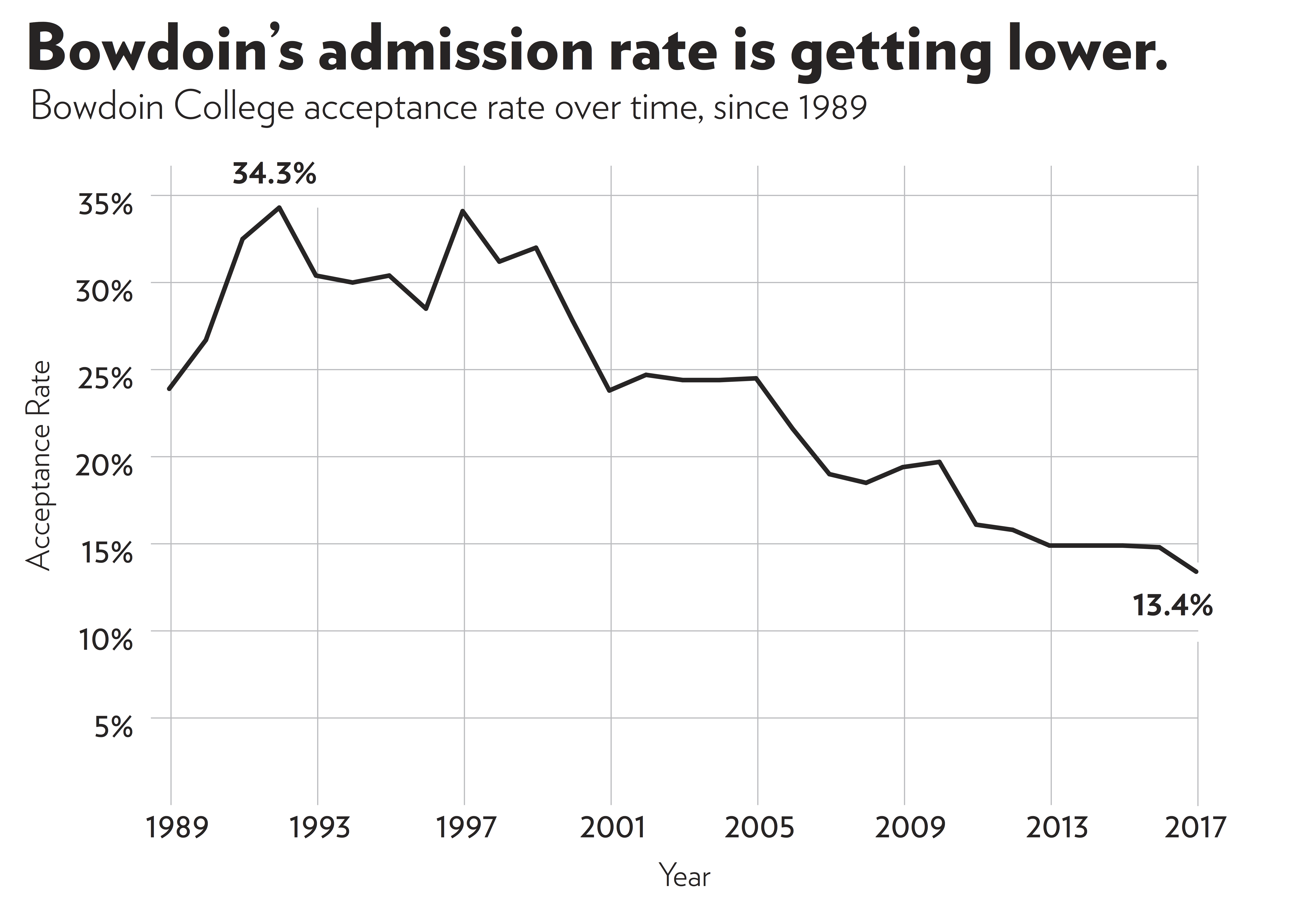 The Office of Admissions accepted 13.4 percent of applicants to the class of 2021, marking the lowest acceptance rate on record. On March 17, 719 high school students received Regular Decision acceptance letters. The College received a total of 7,251 applications, a seven percent increase from last year.
Dean of Admissions and Financial Aid Whitney Soule said that while choosing from a large field of highly qualified candidates was challenging, she is excited by this year's statistics. This was Soule's first admissions cycle as dean.
"The good news is that the College is really popular," Soule said. "Every way you could cross-cut we saw an increase [in applicants], which was great."
For the Class of 2021, 244 students were accepted during early decision, a slight increase from previous years. Eleven students joined the class through the QuestBridge scholarship program, which helps high-achieving, low-income students access higher education. This number is also slightly larger than is typical for the College.
In September, the Office of Admissions announced that the College would waive the $65 application fee for students applying for financial aid and first-generation applicants.
Soule estimated that approximately two thirds of the applicants qualified for a fee waiver. The number of applicants who applied for financial aid increased by nine percent compared to last year, which Soule believes is a direct result of the policy.
"I'm excited that it brought in other students who might not have otherwise felt that they could have applied and that we had these great applications that might otherwise have been shut out," Soule said.
Soule praised the strength of this year's applicant pool and reported that it represented a greater geographic diversity than the pool from many recent years.
"We just read hundreds more applications this year from students who are really interesting and coming from really interesting places," she said. "Because we read them so individually and students took really different approaches to the questions, there was never a dull moment."
About a quarter of students who applied early decision were accepted. Students accepted early decision typically make up between 42 and 49 percent of the incoming first-year class.
"One of my personal goals as a dean is to try to de-emphasize what is perceived to be an advantage through early decision," Soule said. "A 25 percent admit rate is much greater than the regular decision rate, but it's still not easy to get in."
With the task of reading applications now complete, Admissions must wait until May 1—the date by which students must respond to their offer from the College—to get a sense of the Class of 2021.
"I'm just curious to see who says yes, where they come from and what they look like [as a class]," Soule said.