Portrait of an Artist: Vin Shende
October 20, 2023
Vin Shende doesn't quite understand writer's block.
"I always have a bunch of different kinds of avenues to explore," he said. "Before I write a single note of music, I pretty much have it planned out in terms of where it's going to go."
Shende, now a seasoned composer and professor of music at the College, might always know what his next note will be, but he had not always planned on a career in composition. Entering Grinnell College, Shende planned to pursue a pre-med track but found himself enthralled by a music theory class he took his first semester.
"I didn't realize that there was an internal grammar and logic that was going to all the harmonies," Shende said. "It's this kind of secret language that really got me hooked."
The Chicago native never looked back, changing his major to music and earning graduate degrees in music at Butler University's Jordan College of the Arts and Cornell University before arriving at Bowdoin.
Having studied or taught at liberal arts colleges, a fine arts conservatory and a major university, Shende said he decidedly prefers learning and teaching music in the close-knit environments he found at Grinnell and Bowdoin. He added that teaching at a smaller institution enables him to pursue more creative methods of instruction while also pursuing his own work as a composer.
"In a lot of places, especially in music theory, [music] is taught almost like it's low level math as opposed to … what it should be, which is, 'why does this sound make us feel a certain way?' I feel that at a place like [Bowdoin], I'm able to teach music in that way," Shende said.
He added that music students at Bowdoin are able to work with professional musicians and receive personal attention on their compositions from professors in ways that students at conservatories do not.
In addition to a full slate of teaching duties at the College, Shende is a prolific composer, primarily of chamber music, in addition to some theater pieces and film scores. Shende is influenced by Western classical styles, Indian and Japanese musical traditions and his lifelong attachment to rock 'n' roll; an eight-year-old Shende was first drawn to music by his dream of wanting to play guitar in a rock band.
Shende said that he incorporates more complexity into his compositions by melding different musical traditions. In contrast to the Western system of major and minor keys, Shende described the 72 individual base scales present in South Indian musical structures.
"[The South Indian tradition] is a much more complex system of note relationships," Shende said.
In Shende's celebrated "12 Carnatic Preludes, after J.S. Bach," he reimagines a set of preludes from Baroque composer Johann Sebastian Bach's "Well-Tempered Clavier," imagining that Bach had been from the city of Chennai in South India rather than Germany.
"[The preludes] are reinterpreted through the musical concepts and structures that you find in Indian music and taking basic modes that you find in Bach," Shende said.
In addition to offering new systems of note organization, Shende noted that non-Western music often prioritizes rhythm—rather than harmony—as its organizing principle, an emphasis that he embraces in his work.
Shende was commissioned by the College to compose two pieces for President Safa Zaki's inauguration this past Saturday and took the opportunity to add a signature touch to the compositions.
In "Fanfare for a New Day," the inauguration's processional, Shende borrowed German and Arabic musical notations as well as the traditional English to create a motive that spelled out the name "Safa Zaki." Incorporating the melody into the piece for brass ensemble, percussion and the carillon bells in the Chapel, Shende said that the short melody brought with it a sense of hope and optimism.
"Zephyr," Shende's second contribution to the inauguration, was an interlude featuring flutist Anya Workman '25 accompanied by Beckwith Artist-in-Residence George Lopez. Shende said he was inspired by an outing before the start of the fall semester with Associate Professor of Romance Languages and Literatures and Cinema Studies Allison Cooper and Associate Professor of English Aaron Kitch in the couple's Boston Whaler in Middle Bay off the Harpswell coast.
"[A new semester] is always an exciting time because you're meeting new students who are eager to learn," Shende said. "And that that sense of optimism was further augmented by this idea that we have this new president and the sense of hope for the new directions that she might take the College and so just having that night [with Cooper and Kitch] there, it just seemed to capture that idea perfectly."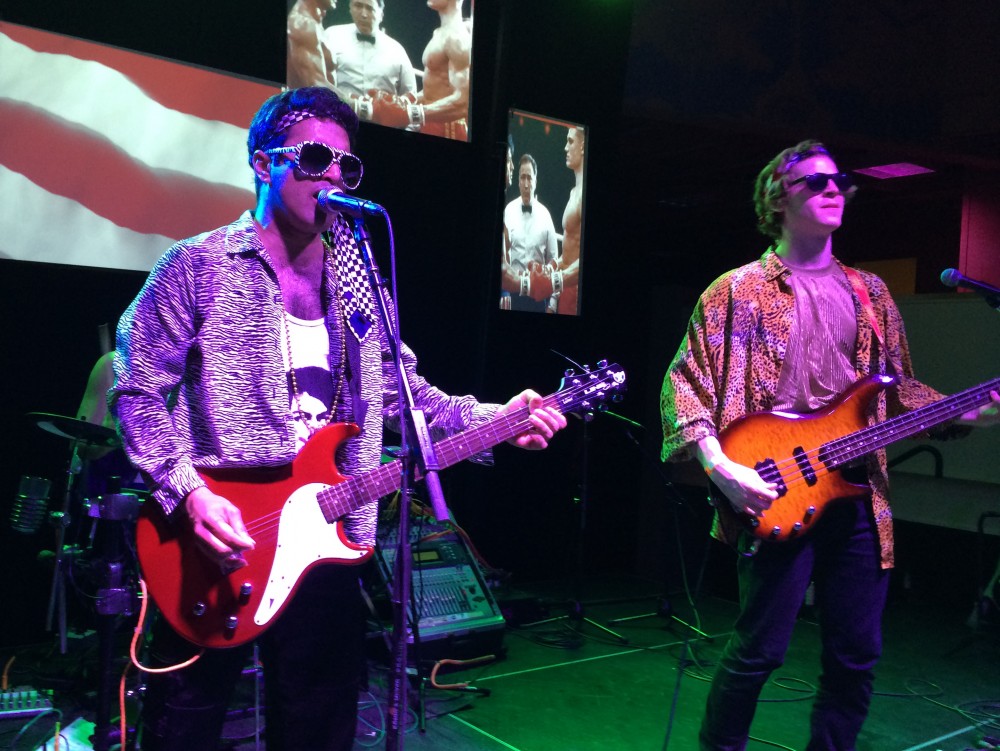 In addition to his duties at the College, Shende continues to play piano, sitar and guitar—prominently in '80s cover band Racer X, which includes Shende on guitar and vocals and Kitch on keyboard. The band played frequently at Ivies and other gigs on campus in the late 2000s and early 2010s. According to Shende, while he and Kitch have aged since the band's formation, the group is still available for on-campus events.
Despite his lifelong love for rock 'n' roll, Shende remains a composer and teacher at heart and has no plans to slow down.
"I really do enjoy teaching," Shende said. "I really love the students here."