Women's squash looks to NESCAC Championships
February 10, 2023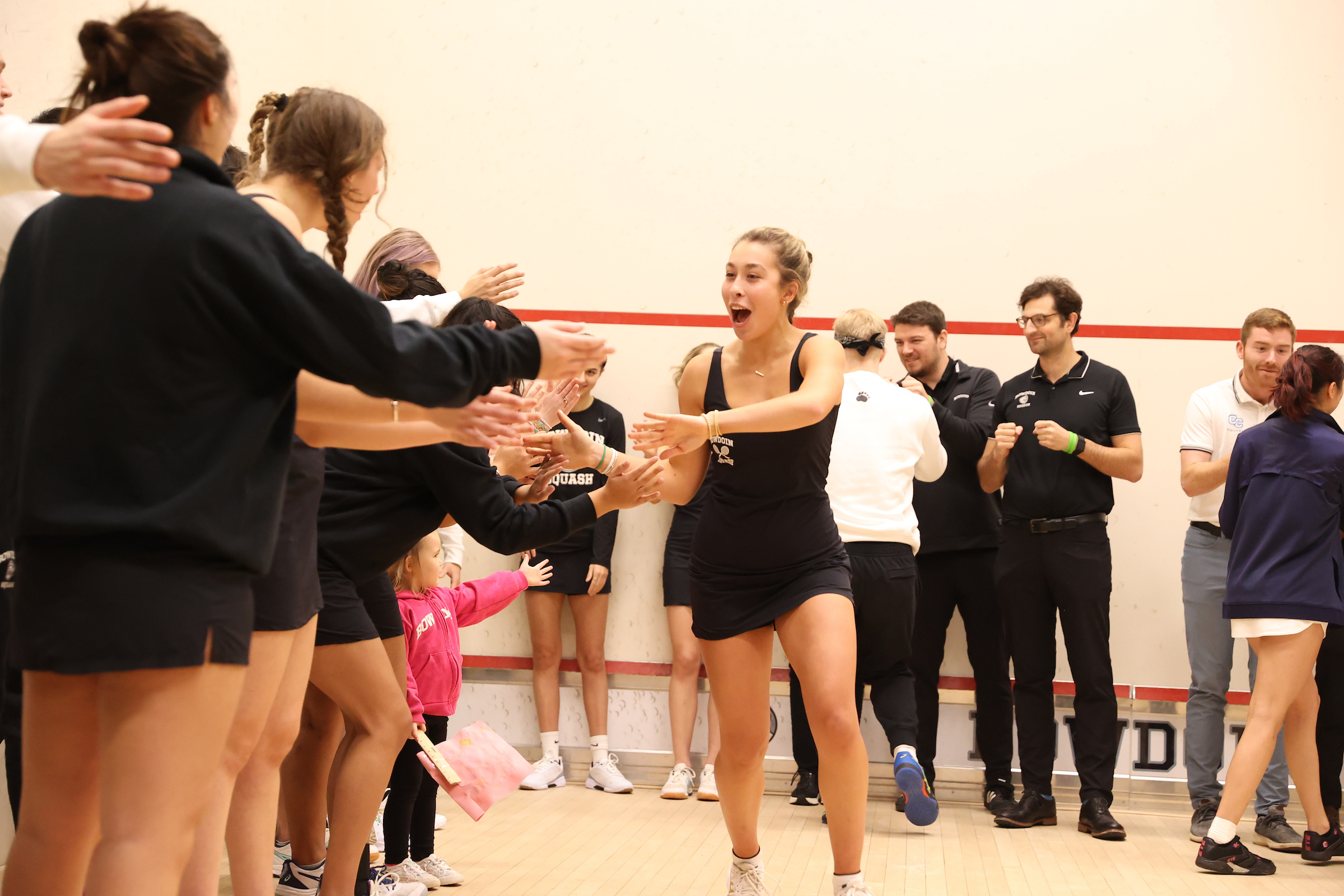 This weekend, the women's squash team (12–7; 5–5 NESCAC) will compete in the NESCAC championships held at Williams College. Bowdoin is seeded sixth in the league and will face No. 3 Williams (11–7; 7–1 NESCAC) in the first round of the single-elimination tournament. Last year, Williams edged out Bowdoin during the semi-finals by a score of 5–4. Earlier this year, Bowdoin lost 2–7 against Williams. Despite their record, the Polar Bears are excited for the match up.
"[Williams] is definitely a matchup we wanted.… They practice hard, they work hard, but we've got a special energy about Bowdoin's team, and you never know what's gonna happen," Assistant Coach Brendan McClintick said. "Williams, as a team, we can upset."
Captain Clio Bersani '22 added that injuries played a factor in the previous match-up.
"Our number two player was out with an injury for a little while, but she's back now," Bersani  said. "Hopefully, we'll surprise them."
Coming in as the lower seed in the tournament is actually helping to boost player morale.
"In some ways, we are the underdogs and that powers us to really push for each other … knowing that we are undervalued in the league and trying to prove a point that we're here to make a statement," Bersani said.
Looking to capitalize on their current winning streak, Bowdoin is coming off of a 7–2 victory against Colby College (7–10; 4–5 NESCAC) last weekend.
"We came out of that Colby match knowing we played some really good squash and beat a really good team. If we can beat Colby at Colby, why can't we beat Williams at Williams?" McClintick said.
Regardless of the weekend's results, the team is proud of its efforts this season. Its .500 NESCAC record is  the highest it has been since the 2015–2016 season. Head Coach Theo Woodward attributes much of the success to how Bowdoin has been practicing.
"We have also listened to our team and implemented feedback—extra music at practices especially for warm ups, more technical coaching and some non-squash practices," Woodward said. "We are a strong and close team of coaches, and there is a very positive energy at practice with a lot of smiles and laughter."
Woodward became the head coach of both the women's and men's squash programs in 2019. Bersani said she immediately knew he would be a great fit for Bowdoin.
"I interviewed [Woodward] when he was looking to come to Bowdoin … He's totally transformed our program," Bersani said. "The coaches have been great. They listen to us. They respect us. They value our opinions."
Although squash is an individual racquet sport, playing at the collegiate level requires strong team-building skills by the coaches.
"Our coach loves to say 'play green,' which means playing for each other. Because you're playing your individual match out there, it can be easy to think it's just you," Darcy Weber '26 said. "But remembering you have teammates counting on you and teammates who you want to make proud, that's been one of their strong messages. It provides us all with a lot of motivation."
Weber thinks this team dynamic has contributed to Bowdoin's results on the court.
"Our season has been going pretty well, and I think that can definitely be attributed to the women's team having such a positive atmosphere and inclusive atmosphere," Weber said.
After the NESCAC tournament, the Polar Bears will play in the Collegiate Squash Association  Championships on February 17.