Toshi Reagon performance features unity and change
October 28, 2022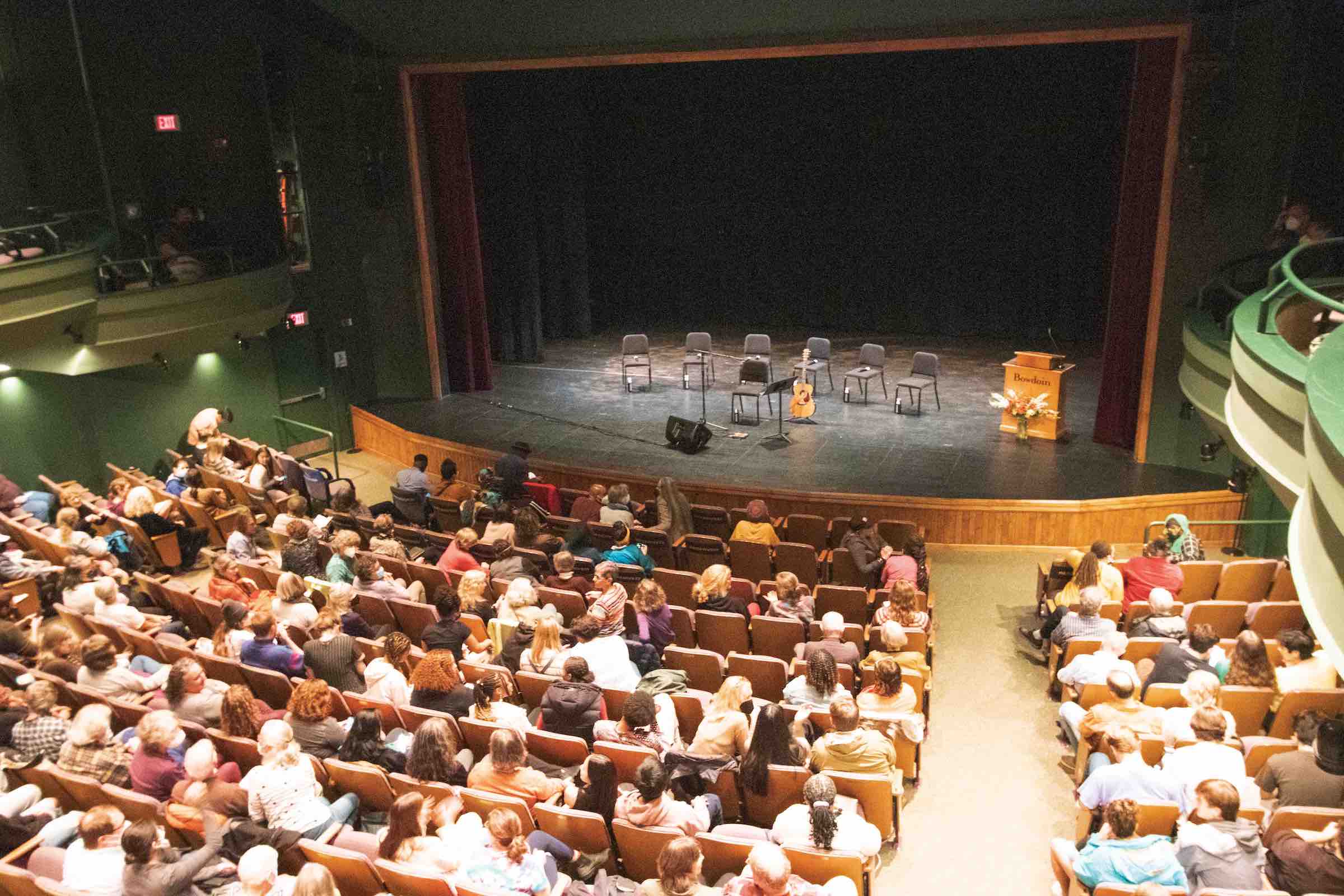 On Wednesday evening, 2022-23 Joseph McKeen Visiting Fellow Toshi Reagon performed original work in Pickard Theater that featured music and conversation steeped in themes of unity. The acclaimed creator was accompanied by a panel of professors, fellow artists and community activists.
Reagon's performance consisted of selections from her opera based on Octavia E. Butler's landmark novel, "Parable of the Sower." The project was a collaboration between Reagon and her mother Bernice Johnson Reagon—musician, scholar, activist and founder of the singing group Sweet Honey in the Rock. The opera echoes Butler's themes of climate change, political division and mobilizing social change.
Geoffrey Canada Associate Professor of Africana Studies Judith Casselberry began organizing Wednesday night's event in 2018. A musician herself, and member of Toshi Reagon's band, BIGLovely, Casselberry has shared the stage with Reagon and her mother on multiple occasions. She marries their work with her own professional focus on music, gender and race in social movements. Casselberry mobilized support from the College and community partnerships, including the Indigo Arts Alliance and the Maine Humanities Council. The event embodied a spirit of unity from the start with Professor Casselburry's opening remarks.
"Toshi tells us, 'Your condition tomorrow is happening today. What steps are we taking today? What does it mean to be in the right relationship with each other, with the planet, with the universe?'" Casselbury said. "Join Toshi and get on the Parable Path."
From Reagon's first strum of her guitar, the audience was captivated. Reagon performed pieces written both by herself and by her mother, weaving in calls for freedom, change and belonging throughout the performance. With every song, Reagon called for the audience to engage in call-and-response, at one point teaching the audience a two-part harmony.
"I've tried to get you to sing on every song I did tonight and you still feel like you need an invitation to participate?" Reagon said. "I love you! Sing with me in this room!"
McKeen Center Antiracism Programming Assistant and Women of Color Coalition President Ereny Morcos '24 was drawn to Reagon's Parable Path because its mission aligned with her own work in advocacy for underrepresented communities. Morcos was struck most by Reagon's sonic power.
"I was instantly drawn to the words she used—to her voice, to her ability to engage and captivate an audience," Morcos wrote in an email to the Orient. "The event was incredibly insightful and brought a greater appreciation for music and storytelling than I had before."
Reagon's interjections between songs invited the audience into her thought process by explaining the interplay between Butler's writing and the songs in the opera. Reagon specifically emphasized the necessity of unity for change.
"If we grew up in a culture that would actually be a part of the entire planet instead of the specific space we are on, we would say these things are happening to us," Reagon said. "There's no water in this place. There's a place we don't have water. Are we going to a place without water? No! There is a place bombs are being dropped. Bombs are being dropped on us!"
Reagon's calls for unity carried onto the panel discussion that followed her performance. The conversation included Director of Maine Humanities Council Samaa Abdurraqib, co-founder and Artistic Director of Indigo Arts Alliance and artist Daniel Minter, Professor Judith Casselberry Assistant Professor of English Samia Rahimtoola and community activist and McKeen Center Anti-Racism Fellow Ladi Nzeyimana '24. The panelists discussed how their identities intersect with the labels of artist and academic, and their own understandings of their fundamental rights.
"I only just recently started calling myself an artist because I did not believe that the definition of an artist was the mold that I was trying to fit myself into," Minter said. "I realized that I can define it myself. I may not be the same artist that you are, but this is what I do when I'm being an artist."
Minter elaborated on his artistic identity in response to an audience question about persevering in the face of challenges to self-worth.
"Your work is a result of you existing and that's enough. You don't have to convince anyone of anything in that respect," Minter said.
Minter's words demonstrated how even students' role models are constantly engaged in artistic exploration. Professor Rahimtoola appreciated the immediate impact of the panel's diversity.
"I've already had students email me after last night's performance telling me that they felt like a whole person in that room for the first time since coming to campus in September," Rahimtoola said. "It was really moving and important for students to have artists of color as role models present at Bowdoin—to know that there's a whole world in which those conversations can happen and that you will find your people."
Nzeyimana '24 echoed this sentiment, describing the sweeping power of Reagon's voice.
"I was very nervous. And then [Reagon] started singing and the songs were so powerful that I was like 'Hey, I got this.' Most of [what] she was touching on was hope and there I was thinking, 'This is me. There's no reason to be nervous,'" Nzeyimana said.
If you missed Wednesday's event, there will be many more opportunities to connect with Reagon throughout her fellowship.
"I hope that many more people come to these events and get the pleasure of experiencing what we're hoping to do, which is develop deeper relationships with each other so that we can have a really strong community, not just in rhetoric but for real," Casselberry said.
Reagon and the panelists prompted audience members to face whatever needs to change in the world with unity.
"If everything is changing, where is your part in that? What could you activate? If you feel something, what could you do about it other than just feel it?" Reagon said.