Michael Kolster discusses influence and inspiration at "Paris Park Photographs" book launch
October 21, 2022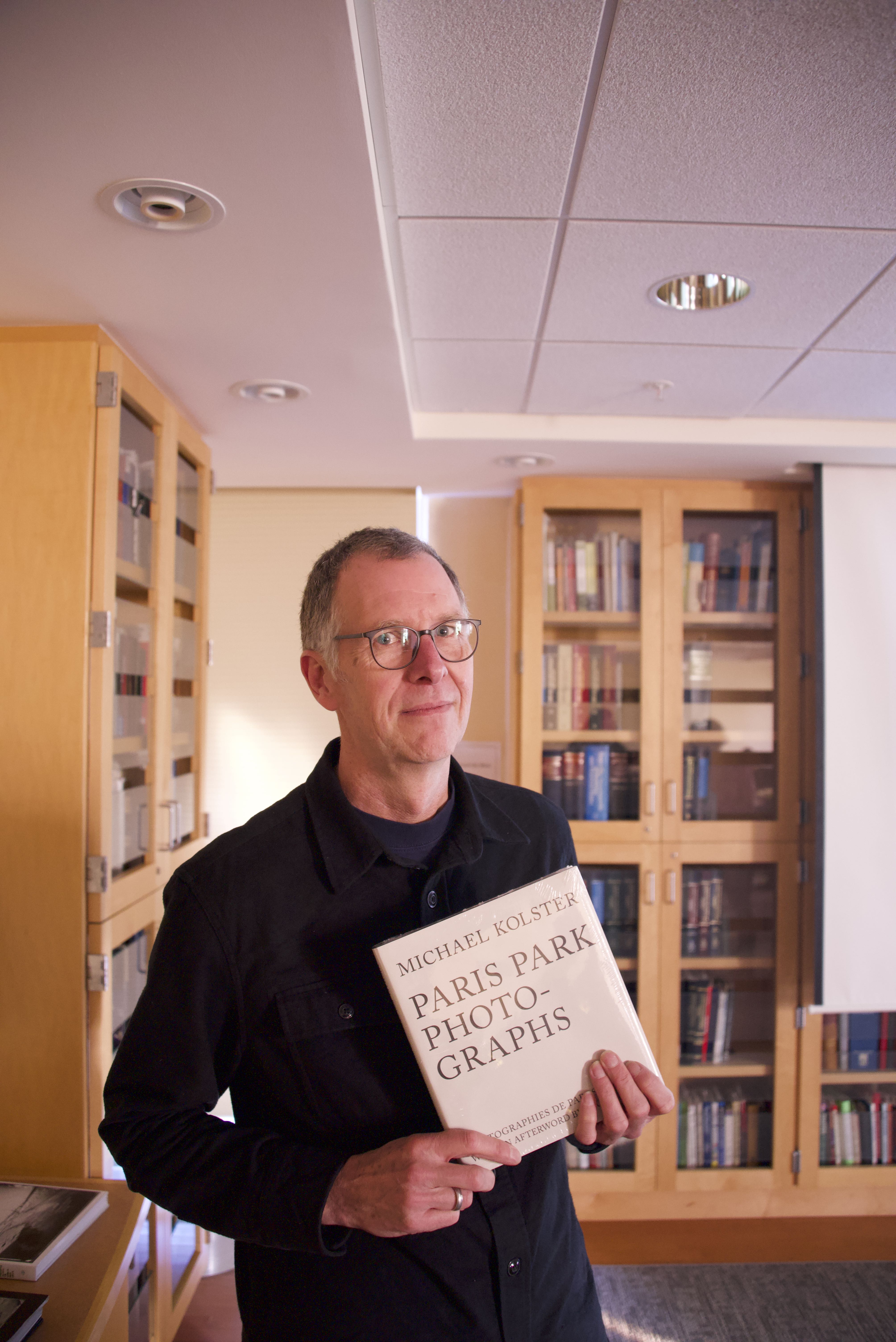 Editor's note 10/21/2022 at 3:13 p.m. EDT: A previous version of this article mistakenly identified Michelle Kuo as a curator. The article has been updated with Kuo's proper titles as writer, lawyer and activist.
Professor of Art and Chair of the Visual Arts Division of the Department of Art Michael Kolster presented photographs from his new book on Thursday in Hawthorne-Longfellow library.
Ranging from first years to 96-year-old photographer Robert Freson, attendees heard Kolster discuss the process and inspiration for his book "Paris Park Photographs," a three-part series of photographs from public gardens and parks around the city.
While creating "Paris Park Photographs," Kolster was largely inspired by Walter Evans' 1938 federally-funded collection of photos entitled "American Photographs," one of the first collections to emphasize the need for photographs to be read in sequence. Kolster was drawn to Evans' idea that photographs in a collection, like chapters in a book, should be experienced in narrative order. To make the comparison to Evans' work clearer, Kolster designed his cover and dedication page to match "American Photographs."
"Basically, I lifted his design. I believe in the way his book works and I wanted mine to work that way too," Kolster said. "When I first started putting together this book, I thought a lot about how the sequence of the images needed to be respected.… One photograph affects how you view another, and the sequence emphasizes that."
Kolster noted that the experience of mimicking pieces of Evans' work helped him think about where modern photography fits in today's cultural context.
"I'm trying to work in the shadow of giants, and … work myself out from within that shadow a little bit," Kolster said.
Victoria Figueroa '26, a student in Photography I who attended the book launch, noted her appreciation for the accessibility of Kolster's photographs of everyday scenes.
"I'm always sort of nervous when it comes to art because you feel like you have to think a certain way," Figueroa said. "But his book shows that there really is beauty in everything."
"Paris Park Photographs" is made up of three parts, inspired by the three movements present in many symphonies. The photographs in each part come from Parisian parks including the Jardin de Tuileries, Parc de L'ile Saint Germain and Bois de Boulogne. Kolster recalled receiving odd looks—and even an encounter with local police—in carrying his film camera through the parks but said that he was often able to get lost in the experience.
"The pictures that I aspire to make aren't illustrations," Kolster said. "They aren't telling me something that I already know.… The photographs should be telling you what you're doing rather than the other way around."
"Paris Park Photographs" includes 54 tritone photographs and accompanying essays in English and French. The book was printed in Verona, Italy, where Kolster would typically have flown to take part in the printing process. Instead, due to the constraints of the pandemic, Kolster edited the images virtually by shipping prints back and forth to Verona. Michelle Kuo, writer, lawyer and activist wrote the afterword, describing the relationship between society and nature that many of the book's photographs explore.
Robert Freson, a 96-year-old Belgian photographer whose work is featured in the Bowdoin College Museum of Art, came to the show from his current home on Bailey Island.
"I know [Kolster] very well, and I know Paris very well," Freson said. "I'm very excited to see his work."
Freson's genial relationship with Kolster became clear when the two had a teasing interaction during the launch's question and answer period.
"I'm fascinated by some of the things you do and some I do not understand," Freson said to Kolster.
"Paris Park Photographs" is Kolster's third book and is preceded by "TAKE ME TO THE RIVER," which displays ambrotype photographs of rivers and was published in 2016, and "L.A. River," which explores the presence of water in Los Angeles and was published in 2019. Kolster hopes that all of his photographs can help viewers see public spaces through a different lens.
During his presentation, Kolster emphasized that viewers ought to pay special attention to the value that often-overlooked public places hold and to how the land changes over time in admiring his photographs.
Attendee Adam Ewing '26 appreciated the diversity of public spaces represented in Kolster's body of work.
"I'm excited to see how his photographs of Paris are different from the photos he's taken in other places," Ewing said.
Alongside the book's publication, Kolster has an exhibition entitled "Home and Other Realms" opening at the University of New England Art Gallery today. A reception will be hosted from 4 to 7 p.m. and the exhibition will be open to the public through January. The show features 64 photographs from the interior of Kolster's home, including portraits of his family and himself.