MSA hosts vigil for Mahsa Amini
October 14, 2022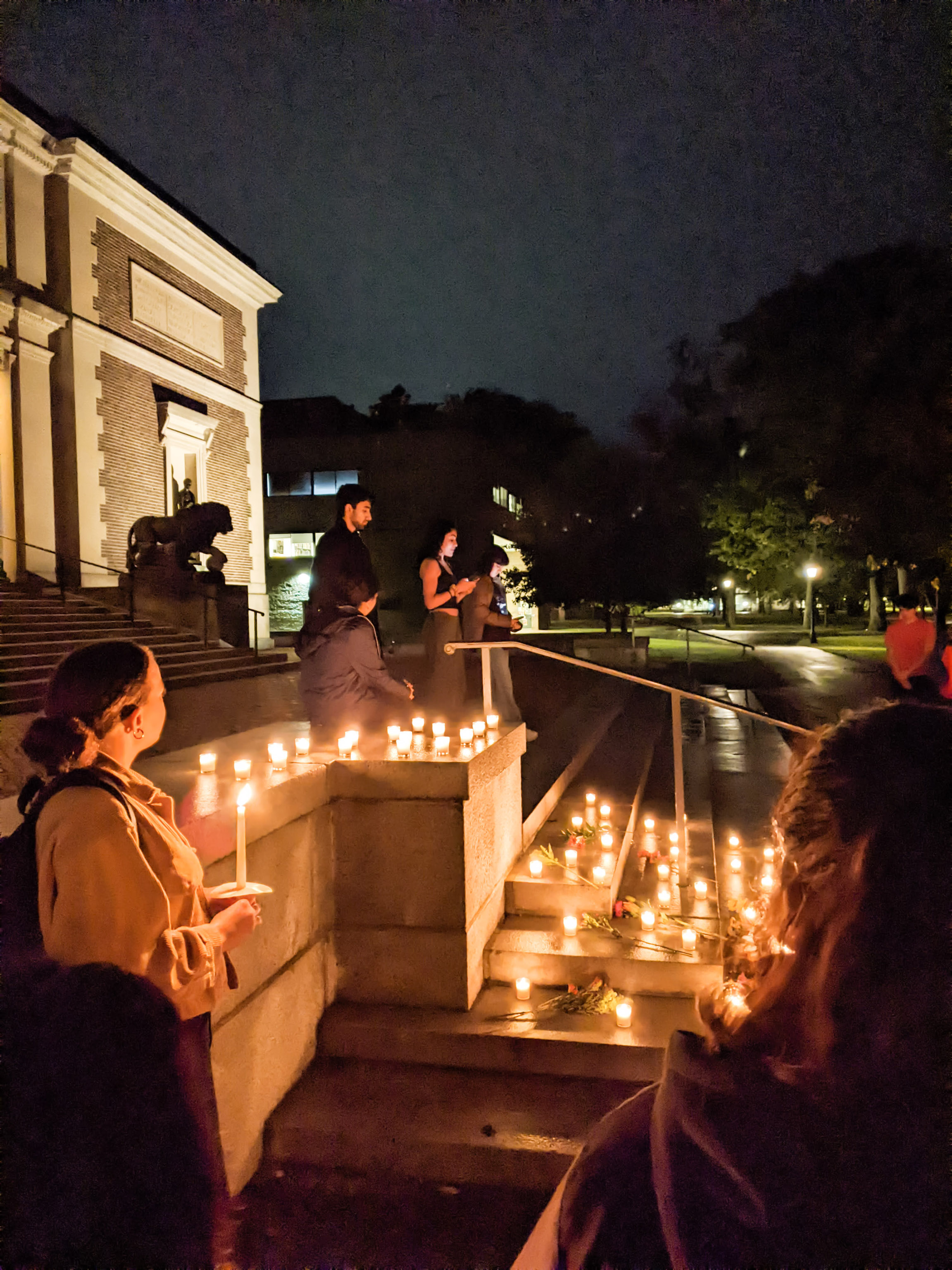 Last Wednesday, about 30 students took a break from studying for midterms to gather around the damp museum steps, donning rain jackets and holding flickering candles. The Bowdoin Muslim Students Association (MSA) hosted a candlelight vigil to honor and raise awareness around the tragic killing of Iranian woman Mahsa Amini, who was murdered in police custody after being detained for not wearing her headscarf tightly enough.
Eisa Rafat '25, co-president of MSA, explained that the vigil came after discussions in weekly MSA meetings and conversations with friends about recent events in Iran, specifically the killing of Amini and the uprisings occurring throughout Iran. Rafat pointed out that conversations about Iranian current events in classes and on campus have been largely swept under the rug or spoken about in only surface-level ways.
One of the speakers, an Iranian-American Bowdoin student who will remain unnamed for personal security reasons, who wishes to remain anonymous for personal security reasons, agreed.
This student spoke at the vigil, urging attention on the ends of students listening.
"Inevitably, the protests in Iran which now capture our attention and the attention of Western media will fade from view. I implore you all not to fall victim to this inevitability. Do not let this moment of solidarity be fleeting; let the currents of change sweeping through Iran's streets propel us towards liberation," she said.
Rafat himself is not Iranian, but he collaborated with friends who are, and he stressed the importance of this awareness regardless of how many Iranians are on campus.
"It just became a really simple thing where it was needed, and if any Bowdoin students are affected by something, it's just as important," Rafat said. "There are students on campus that require this type of support and [are]  griev[ing] in this difficult time. I felt like there was no other group that would be better fitted to do that [than the MSA]."
When planning what the event would look like, Rafat explained that it went through several forms and stages. MSA students looked to the responses at peer universities throughout the country to see how people were approaching the responsibility. Rafat and peers landed on Columbia University's approach, which he described as an equal split of refuting Islamophobia while also calling attention to the recent actions of the Iranian government.
"I thought that the speakers did a great job placing the protests in political, historical, and personal context, which made the vigil even more meaningful," vigil attendee Jacob Trachtenberg '24 said.
Despite the rain and midterm exam schedules, turnout exceeded the MSA's expectations.
"I looked down, and I looked back up, and there were three times the amount of people," Rafat said. "I found myself even a little choked up."
Rafat and other MSA students urged attendees to pay attention to what is happening in Iran, read the news and have conversations about the current events.
"It's important because you're acknowledging what's happening… Deciding to live in the bliss of non-knowing is hurtful because there are students here who are being directly affected by it," Rafat said.
The unnamed student is a member of the Bowdoin Orient.