New men's hockey Head Coach Ben Guite aims to develop strong team identity and culture
September 2, 2022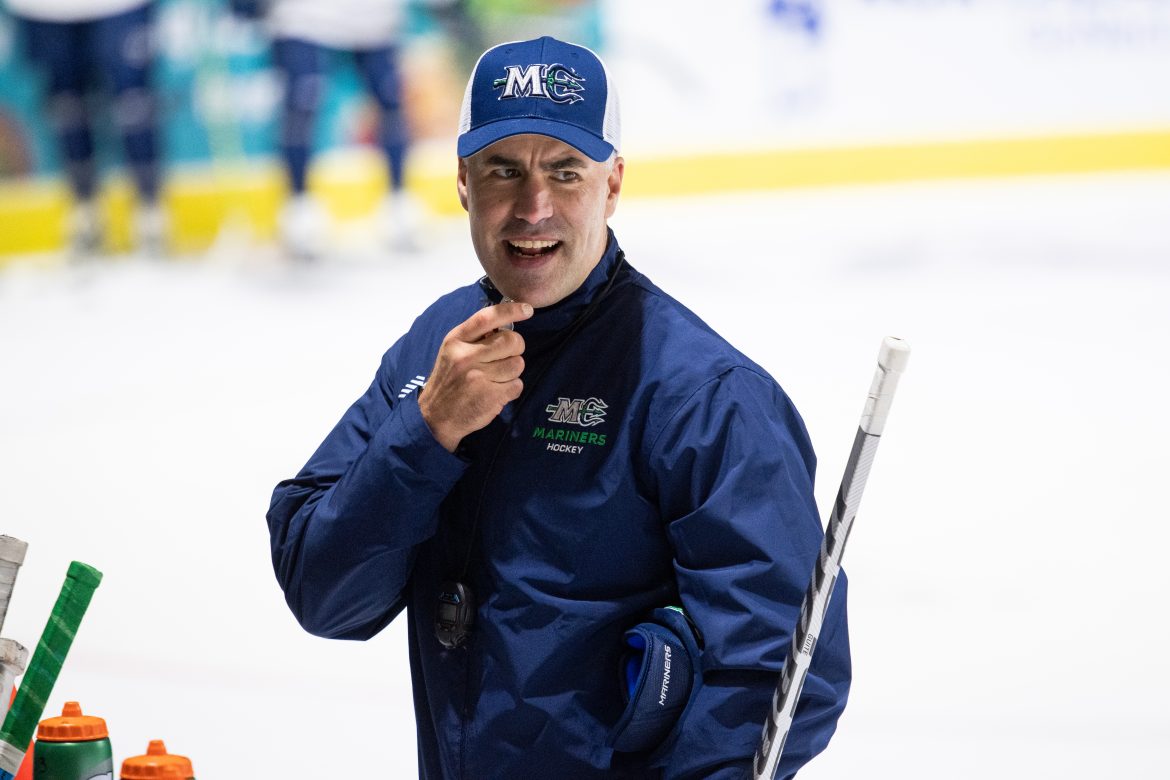 Despite being born in Montreal, Canada, much of new men's hockey Head Coach Ben Guite's career has been in Maine hockey.
After playing and winning a national championship with the University of Maine in 1999, Guite played for the Boston Bruins, Colorado Avalanche and Nashville Predators during his 13 years in the American Hockey League (AHL) and the National Hockey League (NHL).
"Later in my career, I really enjoyed working with the younger kids on my team. I thought about giving coaching a go," Guite said.
Guite returned to the University of Maine in 2013, where he served as an assistant and associate coach for eight years. He was the head coach of the Maine Mariners for one year, leading the professional team to its first-ever postseason appearance before being named head coach of the Bowdoin men's hockey team in July.
Bowdoin's athletic and academic reputation drew Guite to the program.
"It's an exceptional program. It's got a rich history of hockey. Its facilities are as good as it gets in Division III and almost as good as it gets in Division I on most campuses," Guite said. "Aside from the incredible academic reputation it has, it is just a great place to be."
One of Guite's first acts as head coach was to hire Sean Walsh as assistant coach. Guite played under and coached with Walsh's father, Shawn Walsh, at the University of Maine.
"I've known [Guite] since I was a little kid," Walsh said. "I was the student assistant coach [at the University of Maine], so he mentored me there, too."
Walsh was eager about the opportunity to work with Guite again.
"When [Guite] got the job here, I reached out to him and went through the interview process. When he offered me [the position], I couldn't say 'yes' faster," Walsh said. "I'm excited about the potential we have with the program and working with [Guite]. He's a [professional] coach, a Division I coach, coaching Division III hockey."
Guite and Walsh were in contact with the team this summer, including the eight first year recruits, and met with all the players for the first time on Wednesday. Guite sees this time as a chance to develop a strong team identity.
"Our culture, to me, is huge. It's essentially what we do everyday. It's nice because we have [some time] before the season starts, so we get to talk about that right away—how we're going to train, how we're going to treat each other and how we're going to act on campus," Guite said.
Guite's coaching style relies heavily on individual effort and hard work.
"I'm a pretty simple coach. I think the guys will get to know that maximum effort will get them a long way," Guite said. "I would like our team to be known for being hardworking and out-competing our opponents on a nightly basis. I'm a big believer in that process-oriented kind of philosophy. To me, you're going to build and you're going to win championships if you get people to buy into that."
Even as Guite and Walsh prepare for this season, they are already focused on recruiting new players.
"It's hard to find the guys that are both good hockey players and are good fits here—that can help you win but at the same time can help the community be what it is at Bowdoin," Guite said. "We have to get the most out of our team and get us to play at our best, but if we're going to establish a new culture, it starts with recruiting those kind of players."
Off-ice training starts next week, and the team will begin skating in October.
"[The players] are chomping at the bit to get going. They can't wait. It's really exciting, and we're feeling the same way as a coaching staff," Walsh said.
Captain Chris Brown '23 said the players are looking forward to having Guite and Walsh behind the bench this season.
"Our expectation is always to win a championship, and with [Guite] as our coach this year, our possibilities are pretty much endless," Brown said.