An ode to WBOR: the legacy of radio at Bowdoin
May 6, 2022
This piece represents the opinion of the author.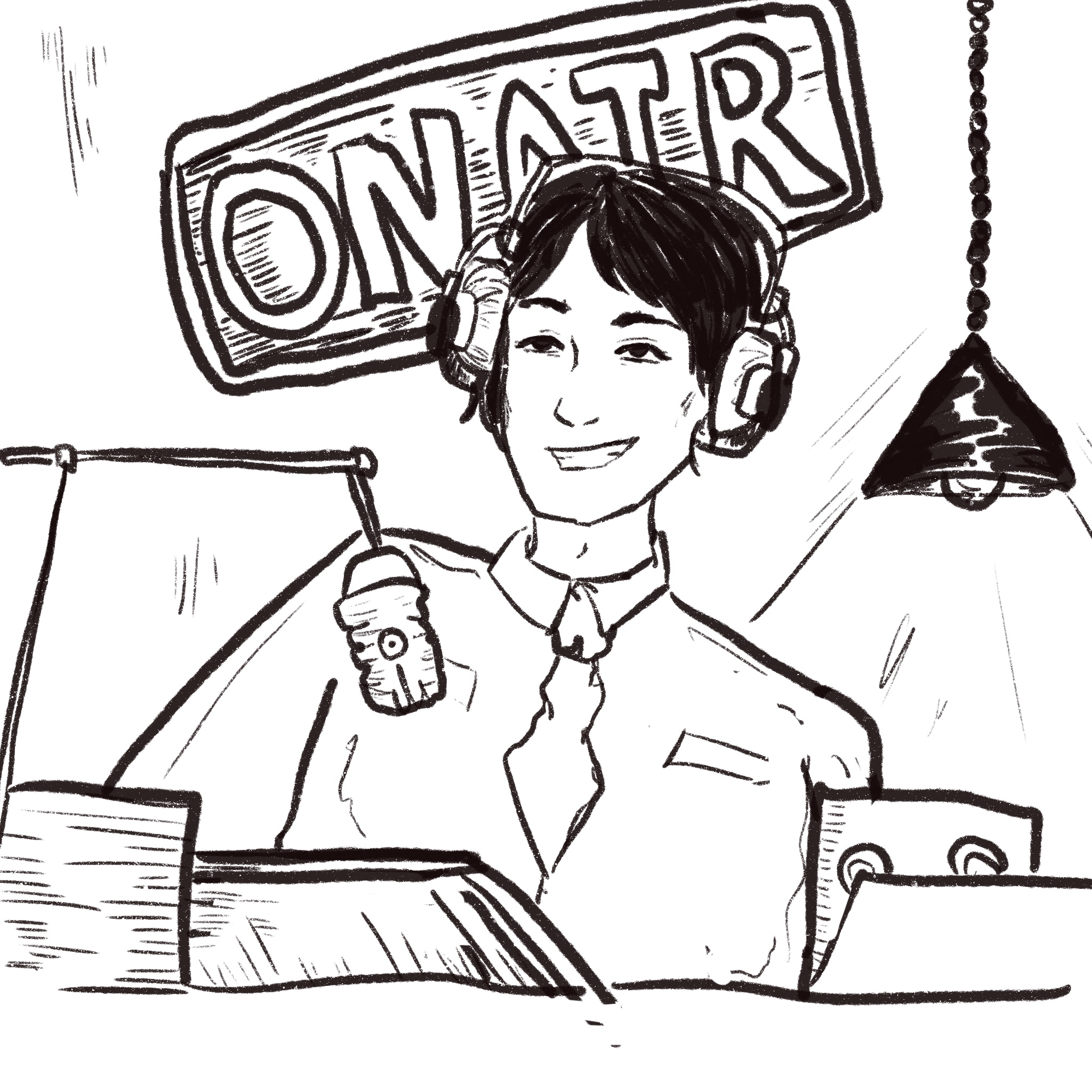 As Bowdoin-on-Radio crosses eight decades on the air, WBOR 91.1 FM finds itself questioning what its future on campus may look like. The College expects to demolish Dudley Coe, the current home to the studio, in late 2024. Additionally, the aftermath of the Covid-19 pandemic has pushed terrestrial radio broadcasting into a proverbial iceberg. Thanks to the increased adoption of other media formats, radio, a medium that was already on the decline pre-pandemic, has struggled to maintain relevance. These two factors beg the question: will there be a sustained future for radio at Bowdoin?
Bowdoin has maintained a presence on the airwaves since 1941, recording programs on campus to be later broadcasted out of Portland, Bangor and Augusta. In December of 1956, the former WBOA reregistered with the FCC as an FM station and was granted the broadcast frequency of 91.1 MHz under the current name, WBOR. In 1957, the station's first FM broadcasts from its home on the second floor of Moulton Union were heard throughout Mid-coast Maine. In 1995, the station relocated to its current home in the basement of Dudley Coe, and in October of 2000, WBOR began broadcasting worldwide through an online stream that is still accessible today.  Today, 'BOR sends its signal from Dudley Coe to the roof of Coles Tower, where its 300-watt antenna resides.
During its history, 'BOR has maintained local and cultural relevance that many students today are unaware of. In 1960, WBOR's recordings of Pete Seeger's performance in Pickard Theater ended up becoming one of his live albums. Just shortly after, on May 6, 1964, WBOR was put in charge of recording Martin Luther King's speech on campus in Moulton's Main lounge. DJ Spooky, a prominent 90s hip-hop and electronic music artist, graduated from Bowdoin and WBOR in 1992. He had a show, "Dr. Seuss' Eclectic Jungle," where he found his footing in turntablism. In later years, WBOR hosted the dreampop and shoegaze legends Galaxie 500 in Smith Union (the band's final performance), Dr. Dog in 2007 and RJD2 in 2012.
In a world saturated with music outlets, noncommercial radio retains unique characteristics which help artists and fans cut through the noise. WBOR doesn't rely on commercial advertising for revenue as Bowdoin's Student Activities Funding Committee (SAFC) supports it. As a result, it can play whatever music it wants, free from the constraints of corporate content policies and "advertiser-safe" guidelines. Another difference is the station's inclusivity: most college radio stations only allow juniors and seniors on the air. WBOR, on the other hand, enables students of all years to participate as disk jockeys and members of the management team.
Since moving to its current home, the walls and ceilings of the WBOR studio have become well-encrusted with various artifacts, posters and art pieces. The assault on the visual senses usually causes first-time visitors to stare slack-jawed at the walls for a while. However, the conditions that have made these inscriptions possible have not been without tumult. The Federal Communications Commission investigated the station's broadcast license renewal in 2006 and nearly shut down the station for lapses in recordkeeping. Furthermore, the station has faced a nearly 60 percent decrease in funding from the SAFC between 2014 and 2021 (inflation-adjusted).
Despite these pressures, WBOR is thriving today more than ever. As of the 2022 spring semester, 'BOR has 112 DJs who create 76.5 hours of radio content per week, accumulating roughly 2,500 hours of programming per school year for the greater Mid-coast area. This is without community DJs and during a post-pandemic transitionary period. To put these numbers into perspective, 'BOR's Fall 2016 programming schedule had just 29 hours of programming each week with 46 DJs. Compared to the 90s, when radio held significantly more relevance, WBOR keeps up with just as many shows and nearly as many hours of weekly programming. In fact, there are more amateur DJs present at WBOR today than there have ever been.
This popularity should be unsurprising: students find joy in hosting shows. Many of the DJs I've interviewed note that their show's time slot is amongst their favorite hours of the week. On top of that, the station's physical space is perhaps the last on-campus that feels "truly college." Thousands of vinyl records and CDs line its walls, and, with little oversight from campus facilities, students have taken the initiative to make the area a domicile of their own, decorating ceiling panels and even the bathroom. A TikTok showcasing the space received over a million views this past fall, with many commenters noting that they feel like they're "stepping into a coming of age movie."
The ability to evolve has been a defining factor in WBOR's history, and as it has been demonstrated, the station can stand up to external pressures. However, what hasn't evolved is the station's commitment to serving the interests of Bowdoin and the greater Mid-coast community of listeners. By committing to deliver an eclectic mix of programming, the station is a pantheon within alternative communities, providing a space for unobstructed experimentation and personal expression. Should Bowdoin cut support to the station, this public service would be lost. The lack of freeform and local programming would mean that an increasingly uniform and commercially driven sound and voice would inform listeners local and afar.
Bowdoin should take note of institutions that realized the value of their stations too late. Around 2010, many colleges across the US began transferring their FM broadcast licenses to conglomerates for a short-term economic gain. Running a terrestrial radio station like WBOR is an expensive feat—paying for broadcast equipment and repairs and a variety of music licensing fees is the price of admission. But, once a license leaves the hands of an institution like Bowdoin, there is no getting it back.
Even though the short term future of WBOR's physical space is still up in the air, I'm confident in the station's long-term existence. Bowdoin is lucky enough to be in a position where the consideration of selling the license isn't really a discussion. So long as Coles tower stays standing, WBOR won't have to worry about maintaining a dedicated broadcast tower. Provided that students continue to demand means for free-form artistic expression (which they will), I'm confident that the station will see the love it deserves. Despite what happens, WBOR will settle into a new space and a new identity, and its disciples will follow.
Mason Daugherty is a member of the Class of 2025.