Remembering Finnegan Woodruff, Class of 2021
November 19, 2021
Finnegan Woodruff '21 was a Renaissance man: a spirited fiddle player, a scrupulous tailor and an ambitious whitewater kayaker. Finn passed away on November 16, a month from his 23rd birthday, doing what he loved—paddling on the White Salmon River in White Salmon, Wash.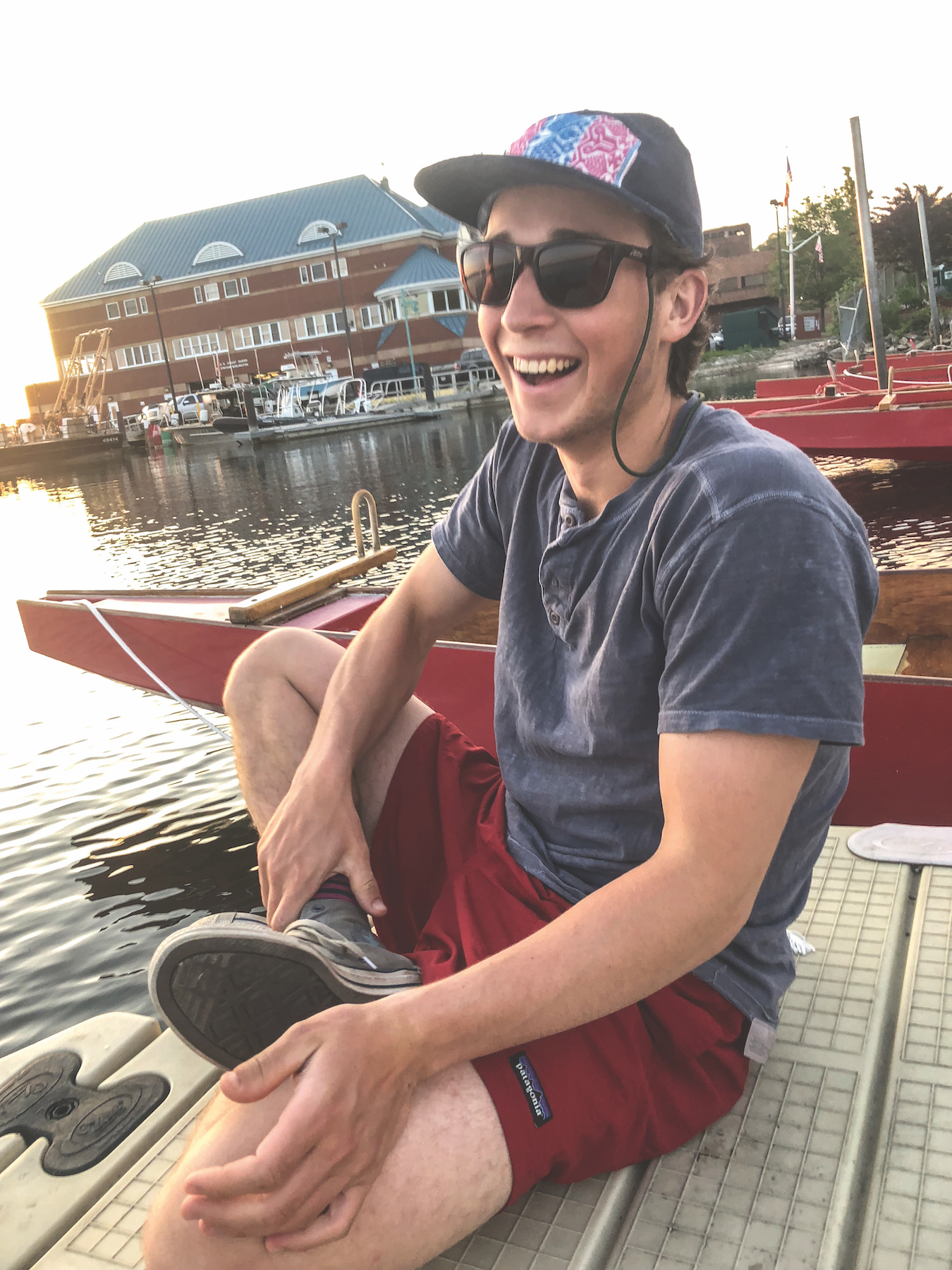 The son of the Director of the Bowdoin Outing Club (BOC) Mike Woodruff '87 and his wife Lucretia Woodruff, Finn was not the typical four-year Bowdoin student—he grew up on campus. From a young age, Finn's penchant for learning led him to form lifelong friendships with several generations of Bowdoin students, faculty and staff.
Finn spent much of his childhood on his family's organic farm, Milkweed Farm, in Brunswick. As a child, Finn was small but confident, curious and caring.
When Lisa Bossi '87 and her husband Adrian Bossi '85 moved back to Brunswick in 2000, they quickly reconnected with Mike and Lucretia. The Bossi's daughters were born the same years as Finn and his brother Seamus, and the children became the best of friends.
Lisa remembered how nurturing Finn was, even as a young child. The day he brought his baby duck to their house, he "pushed it around the neighborhood in a stroller … Finnegan was so proud, just like a proud papa."
Finn was a doting older brother to his three younger siblings, Seamus, Maeve and Daire, ages 18, 16 and 13. He began his paddling career at the age of six, was a student of the fiddle since the age of seven and was the salutatorian of the Brunswick High School Class of 2017.
At the time of his death, Finn was studying at Lewis and Clark College in Portland, Ore. to finish the remaining credits for his Bowdoin degree, which he would have received next month. He lived with Siena Wiedmann '20, his partner of five years, in a teardrop trailer that they renovated themselves near the banks of the White Salmon River.
"This was his dream, to be in a place where he could be paddling all the time. He wouldn't have wanted his life [to be] any other way than what it was," said Jacqui Boben '22, a fellow paddler and one of Finn's close friends.
During his time at Bowdoin, Finn studied music and environmental studies, worked as a proctor in Hyde Hall during his junior year and was a constant presence in the BOC. Finn's professors, friends, mentors and mentees all describe a young man who derived great confidence from his many talents while remaining exceptionally humble.
"He was known for his strong opinions, kindness, silliness and care for his siblings," said S.J. Tinker '13, a former assistant director of the BOC.
Although Finn could be fiercely particular, he was universally recognized for his humor and warmth. Whether he was cooking breakfast for a ski buddy who had overslept, monitoring the safety of others and ready to help at a moment's notice while running rapids in kayaks or bringing his passion for the outdoors into his academics, Finn approached life with focused passion.
"Finn wrote like a budding essayist, played fiddle like an angel and skied like a demon—but above all he proved you could be talented, smart and kind at the same time," said Associate Professor of History and Environmental Studies Matthew Klingle, who was Finn's teacher in the spring of 2020 and skiing companion for many winters.
As a student, Finn's spirited nature lifted the energy of every classroom he entered.
"We remember Finn as someone who brought light to our classes with his intelligence, humility and earnest enthusiasm, not to mention a great sense of humor," said Director of the Environmental Studies Program and Professor of History and Environmental Studies Connie Chiang on behalf of the department.
At Brunswick High School, Clark Porter—a math teacher who worked with Finn in a music and comedy revue—recalled a fiddle player who was "small in stature but huge in ability and heart."
"He reeled off some smoking bluegrass riffs," Porter remembered. "Without missing a beat, [Finn] said, 'I know you guys like to play some rock and roll also,' and he proceeded to wail Chuck Berry riffs on his fiddle."
A connoisseur of music and unbound by a single genre, Finn chose to compose six modern fiddle tunes for his senior project for the Music Department at Bowdoin. He drew inspiration from traditional tunes as well as his knowledge of jazz, folk and pop music.
When Finn handed in one tune to his advisor, Lecturer in Music Jeffrey Christmas, Christmas asked for Finn's permission to record a guitar part to accompany the tune. Inspired by his willingness to depart from the traditional style, Christmas recorded a "funky" harmony. Particular in nature, Finn kindly rejected Christmas' contribution.
"[Finn] was so sweet because he wrote me back and [said] 'that's not exactly what I was thinking. But it's cool!'" Christmas said. "He knew well enough to be kind with my feelings."
Finn approached the fiddle with the same vigor and intensity he brought to paddling and academics.
"His curiosity rubbed off on me," Christmas said. "He felt so grounded, and it was such a joy to talk to him, but in a way that is not flashy."
Adam Tinker '13, S.J.'s husband and a former assistant director of the BOC, remembered the depth of Finn's curiosity.
"Finnegan was so curious, so eager to learn and share and listen intently," Adam said. "He was such a good listener, in fact, that while riding in a car with him everyone had to be quiet so we could actually listen to the music."
Adam returned to Bowdoin a year after he graduated to work at the BOC.
"One of the things I was most excited for was my chance to reconnect with Finnegan and continue our musical relationship," Adam said of his return. "I cherished those years with him, as he grew into a world-class professional fiddle player, far surpassing my musical abilities and playing with some of the biggest names in bluegrass and traditional music."
Finn was also a talented visual artist. After an injury forced him to take a medical leave during his first year at Bowdoin, his curiosity and organic creativity led him to take up sewing. Using recycled materials, he and Siena began tinkering with designs for pants, sweaters and, most famously, hats.
When he wasn't playing the fiddle or behind a sewing machine, Finn could often be found holding a kayak paddle. He felt at ease in the cockpit of a kayak or dropping a knee while telemark skiing. An experienced outdoorsman from a young age, Finn began to teach and lead paddling and telemark trips as a high school student.
Martha Boben '19, one of Finn's close friends and adventure partners, said that "Finn had an unquenchable thirst for adventure." Martha visited Finn and Siena in White Salmon in May, 2021, and despite not having paddled for nearly a year, she recalled how swiftly Finn eased her anxiety.
"I flipped over twice and both times I stayed calm thinking about how I was safe with Finn and Siena," Boben said. "Finny T-rescued me both times. Both times I came back up, and he was so proud of me: 'Mardy that was an amazing T-rescue! I can't believe you held on for so long underwater! I'll be sure to get there faster next time. I am so proud of you.' Even at the smallest victory, Finn was my biggest cheerleader."
Associate Director of the BOC Anna Bastidas learned to paddle from Finn when she arrived at Bowdoin in 2016 and emphasized how safe she felt when paddling with Finn.
"One of the awesome things about paddling with Finny was that I always felt supported, no matter what decision I made about what to run or what not to run," Bastidas said. "He took care of people. There were so many times that I swam out of my kayak and Finny was right there."
As Finn, Bastidas and former Assistant Director of the BOC Tess Hamilton '16 approached what would be a challenging day early in Bastidas' paddling career, Finn asked if she'd like to listen to some music that felt like paddling. Bastidas replied that she would, although she expected the intense electronic music that is common in paddling videos. Finn put on Norah Jones.
Finn was a generous friend to many, although perhaps not more so than those he held closest: his siblings, his parents and his partner.
"He was a dedicated farm hand and inherited [Lucretia's] work ethic and nurturing spirit," Lisa said.
Finn loved to kayak with his sister, Maeve, and his father, whom he affectionately referred to as 'Papa.'
"One thing about Finn and Mike that has always impressed me … is how wonderfully overtly loving they are," said Matt O'Donnell, the editor of Bowdoin Magazine and a friend of the Woodruffs who knew Finn from a young age. "Mike called Finn 'Finny Bear,' and Finn called Mike 'Papa.' And there were just no problems [expressing love]—it was like, 'Alright, love you Finny Bear.'"
As a paddler, many noted the ways that Finn worked to emulate his father's talent. On a paddling trip during his senior year of high school, just after Finn had been accepted to Bowdoin, Jeff Tillinghast '04 asked Finn why he'd want to stay in Brunswick rather than experience a new place.
"I know in the future I'll travel and explore different places, but for now, I just really enjoy paddling with my Papa, and if I can get to do that for four years, I think I'll be pretty happy at Bowdoin," Finn responded.
Editor's Note, 12/2/21, 4:47 p.m.: A memorial service for Finn will be held outdoors on December 11 at 1:00 p.m. at Crystal Spring Farm in Brunswick, Maine. Details about the memorial and weather-related changes can be found on Bowdoin's website.