Professor of Anthropology Krista Van Vleet discusses new book on studies in Peru
April 2, 2021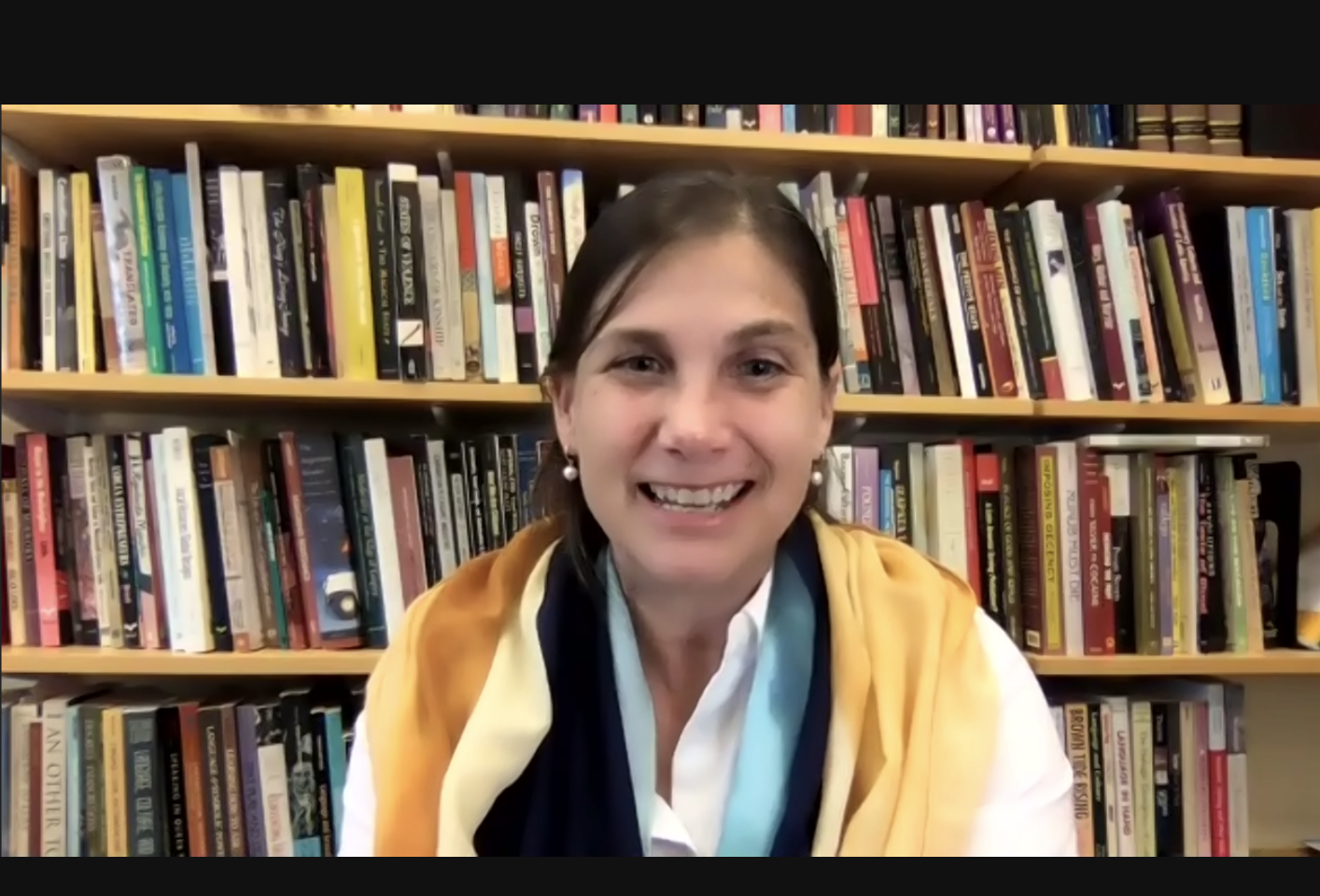 After 14 months of research, Professor of Anthropology Krista Van Vleet shared her book published in 2019, "Hierarchies of Care: Girls, Motherhood, and Inequality in Peru," with the Bowdoin community in a webinar-style book talk on Wednesday.
Van Vleet's book is an ethnography, the culmination of observational field work, interviews and hands-on research on orphanages in Cuzco, Peru.
During the talk, which was moderated by Assistant Professor of Anthropology Willi Lempert, Van Vleet explained that much of her project unfolded unexpectedly. She had initially planned to conduct her 2008 research in Bolivia, but due to social and political unrest, it proved too difficult to obtain visas and easily travel with her family. Instead, she opted to travel to Cuzco, a city she had visited once before.
Additionally, while she had focused on the subject of hierarchies of power before, her research evolved to center around teenage mothers, a unique subject given that they both cared for their own children and were cared for by local non-governmental organizations (NGOs).
"This project originally was not really about young mothers or care necessarily at all," Van Vleet said in the talk.
Van Vleet researched across a number of local NGOs in Cuzco, but she established the closest relationship with Palomitáyi, a secular orphanage. Though she originally planned to focus on Protestant evangelization, after extensive research, her focus shifted to the lives of the young girls she interacted with in the orphanages. In her fieldwork, she worked to engage with Peruvian youth rather than international missionaries. She conducted these observations on site by peeling potatoes with the young women and even taking care of a group of preschoolers when the teacher had an emergency surgery.
"I became more and more involved in working with these young women," Van Vleet said.
One specific research tactic Van Vleet engaged in and included in her book is a methodology called photo voices. This was a participatory program in which she provided young women and girls with their own cameras to document their lives in a more candid way that they themselves could control. Van Vleet was able to include some of the images in her published book while still making sure to protect the safety and identity and of each of the young girls.
Despite conducting that research in 2008, it took 11 more years for Van Vleet to publish the ethnography.
"It took me forever to write," Van Vleet said. "I had a lot of administrative duties, but it was also a book that was hard for me to sort out … Initially, I think what was overarching it for me was, with that group of girls, was just the trauma, their sad stories. And I don't write about those stories. I do write about them in my book … but there are many, many more."
In working through the complexities of the stories she was telling, Van Vleet found her own position particularly important to consider.
"At one point, I realized that the youngest mother in that group was just a year older than one of my daughters," Van Vleet said in a Zoom interview with the Orient. "I think there's also that sense that realizing that you want to protect your own kid and what kinds of privileges I had entailed in that. It is sort of crazy to think, for a lot of people in the United States, about a 12-year-old girl becoming a mother. And then also wrapped up into that is also that recognition of the kinds of privileges that I had, that my daughters had—because of class, racial background and national background."
Despite the book being published in 2019, Van Vleet's book talk was delayed due to the pandemic. Van Vleet decided that it ultimately made the most sense to just go forward in a virtual setting.
Van Vleet recognized the diversity of her subjects and acknowledged the complexity of the various issues covered in her work.
"One of the pieces that came up in the talk was about humanitarian organizations and the white savior complex and what these organizations are doing," Van Vleet said. "There's this tension, because there's both this sense that the organization in many ways was trying to shape or work with these young mothers in ways that took them out of Indigenous communities or did not recognize their own cultural beliefs. And I think that that is certainly true … [but] it's not homogeneous."
Looking forward, Van Vleet already has her eyes set on future projects. Van Vleet said that she has a lot more information on the organizations she studied that she hopes to tap into for further research. In addition, she has another project on her mind that would take her back to Bolivia, where she had initially intended to go.
"Hopefully there will be another book coming out soon," she hinted at the end of the talk.