Without physical space, Bowdoin Craft Center creatively connects with students
December 4, 2020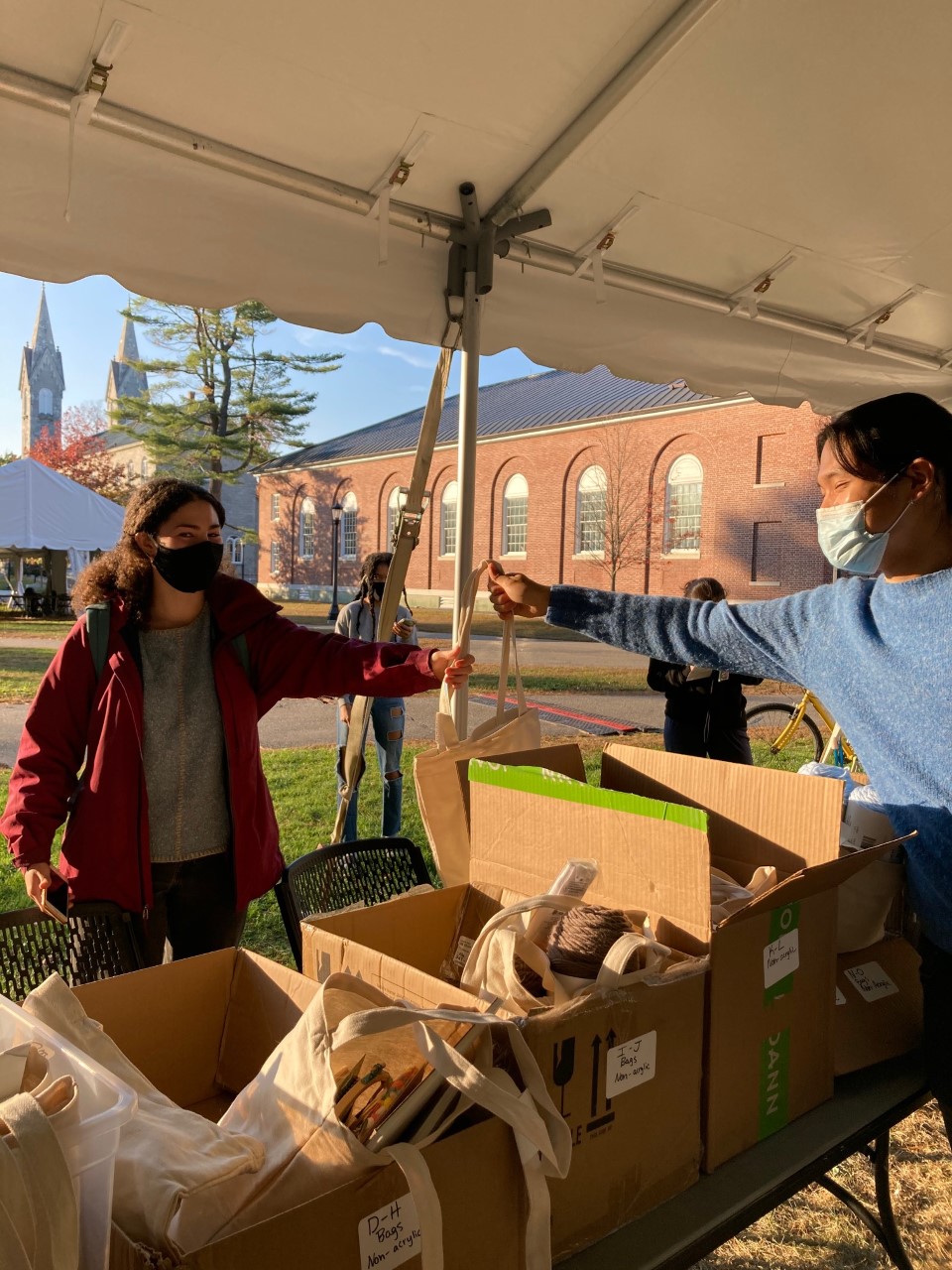 Because the Bowdoin Craft Center, with its sewing machines, pottery wheels and student art displays, is too constrictive to accommodate COVID-19 restrictions this semester, the student managers of the Center have had to find creative ways to involve the community in artistic programming.
In October, the Craft Center kicked off their fall programming with mini pumpkin painting—a three-hour-long event that drew 43 participants and a substantial waiting list.
"There has been a lot of engagement from the first years this semester, so I'm happy about that," Sammy Rosario '21, one of the Craft Center's student managers, said in a Zoom interview with the Orient. "It makes me happy to see people taking the time to get these projects on the move and the Craft Center being there to support them in that endeavor."
Pumpkin painting was the first of a series of fall festivities organized by the Craft Center over the course of the semester. Most events were held on Friday afternoons underneath the College's large, open-air tents. Each week, interested students were required to sign up for a time slot on CampusGroups in order to enforce tent capacity limits and facilitate proper social distancing.
One of the Craft Center's popular initiatives was its distribution of personalized craft bags at no cost to students. Each canvas tote bag contained crafting materials ranging from modeling clay, to canvases, to knitting needles. The supplies in each bag were based on the preferences students indicated in their request questionnaire.
"There were a bunch of different options for what you wanted, and even then for the amount and what colors," Emma Conklin '24, who received a bag, said in a Zoom interview with the Orient. "Of course, everything you selected wasn't guaranteed, but they mixed your bag with what they can and what they have."
Miriam Fraga, assistant director of student activities, explained that distributing craft bags fulfills one of the fundamental missions of the Bowdoin Craft Center: to make crafting accessible to everyone. Fraga reported that the Craft Center put together approximately 150 bags.
"One of the downsides of being into crafting is that it can be really expensive," Fraga said in a Zoom interview with the Orient. "We really want to give people all the supplies and make things as easy as possible for whoever might want to join in."
Rosario explained that the Craft Center's desire to foster a virtual creative community for off-campus students factored into their programming for the semester. To draw participation from students living both on and off campus, the Craft Center began holding monthly art competitions. Leaders at the Center designed these events to encourage students to utilize supplies that they would already have readily available, such as the November Fall Food Art Competition.
The competitions also satisfy another role of the Bowdoin Craft Center: to showcase student art. In the absence of its typical, on-campus space, the Craft Center has turned to social media sites, such as Instagram, for virtual platforms that allow students to share their latest creations.
Fraga does not anticipate that the Craft Center will be able to open for full operation in the upcoming spring semester, but the program's seven student managers are already planning to expand on-campus programming for the influx of students coming to campus.
"I feel like we have the skills on our team and our staff to have multiple of the events within one week and to keep up that frequency," Rosario said. "[The Craft Center] wants to make sure everyone is taking a break from these stressful times and flexing their creative muscles."