Meet the 2020 Hall of Honor inductees
October 2, 2020
The Bowdoin Hall of Honor, founded in 2002, biannually inducts classes of five to six outstanding members of Bowdoin's athletic community. Candidates are usually nominated by other alumni, and the finalists are chosen by a committee of seven former Bowdoin athletes.
"We established [the Hall of Honor] to recognize former student-athletes and staff who excelled while they were students at Bowdoin," Ashmead White Director of Athletics Tim Ryan explained in a Zoom interview with the Orient.
In a world without a pandemic, the College would usually host inductees, their families and other supporters for a luncheon over Homecoming Weekend. However, this year the ceremony will not be occurring as planned.
"We're going to delay the actual celebration," Ryan said. "This class will forever be the class of 2020, but the actual celebration is going to be delayed until next homecoming."
This year's class includes six inductees: two World War II veterans, two soccer players, a basketball coach and a field hockey player. The Bowdoin Orient interviewed the inductees, when possible, and asked about their favorite memories at Bowdoin, their proudest accomplishment and their advice to athletes on how to stay dedicated to their sports through the pandemic.
The following interviews have been edited for length and clarity.
Stefanie Pemper:
Stefani Pemper was the Bowdoin women's basketball coach from 1998-2008. She led the Polar Bears to an incredible 235-48 record over the course of her 10 years as head coach. Her teams won the first seven NESCAC championships and boasted a 30-0 record, as well as an NCAA championship appearance in 2004.
Bowdoin Orient: What is your proudest accomplishment you have as a coach over the course of your time at Bowdoin?
Stefanie Pemper: One of the things I'm proudest of is how we added to the identity of the program that included a healthy culture and a community of women. Being there 10 years, I had a couple different generations of players; it was that second generation who went to the Final Four. And I would say to that first generation, "We're all one community. Don't think for a moment that because 2014 was more successful than you, that we don't all have incredible commonality."
Q: Is there a specific moment that you relish looking back on?
A: My very first year, we made it to the NCAA tournament and at that time NESCAC schools were just being allowed to participate in NCAAs. The Bates women's team was the best program when I arrived, and we beat them that first year, which was such a huge deal that we got an at-large bid to the NCAA tournament. We got to a point where we were hosting the NESCAC championship [so much that] it became this late-winter event in Brunswick where fans would pack Morell Gym for the championship. I had played and coached Division I prior to Bowdoin for five years, and I thought to myself, "This is better than any Division I game I had ever been a part of—other than the NCAA Tournament games."
Q: Is there anything else you want to touch on that we did not get a chance to talk about?
A: I always appreciate it when women's sports are treated with the same respect as men's sports. Bowdoin College is a place that really respects women and women athletes and women coaches, and I think that's so critical to great leadership on their part. So, I am grateful for that, for sure. In our country, right now, we're not progressing as much for women as we could, and to see this small college in Maine really caring about equality and respect—it's powerful.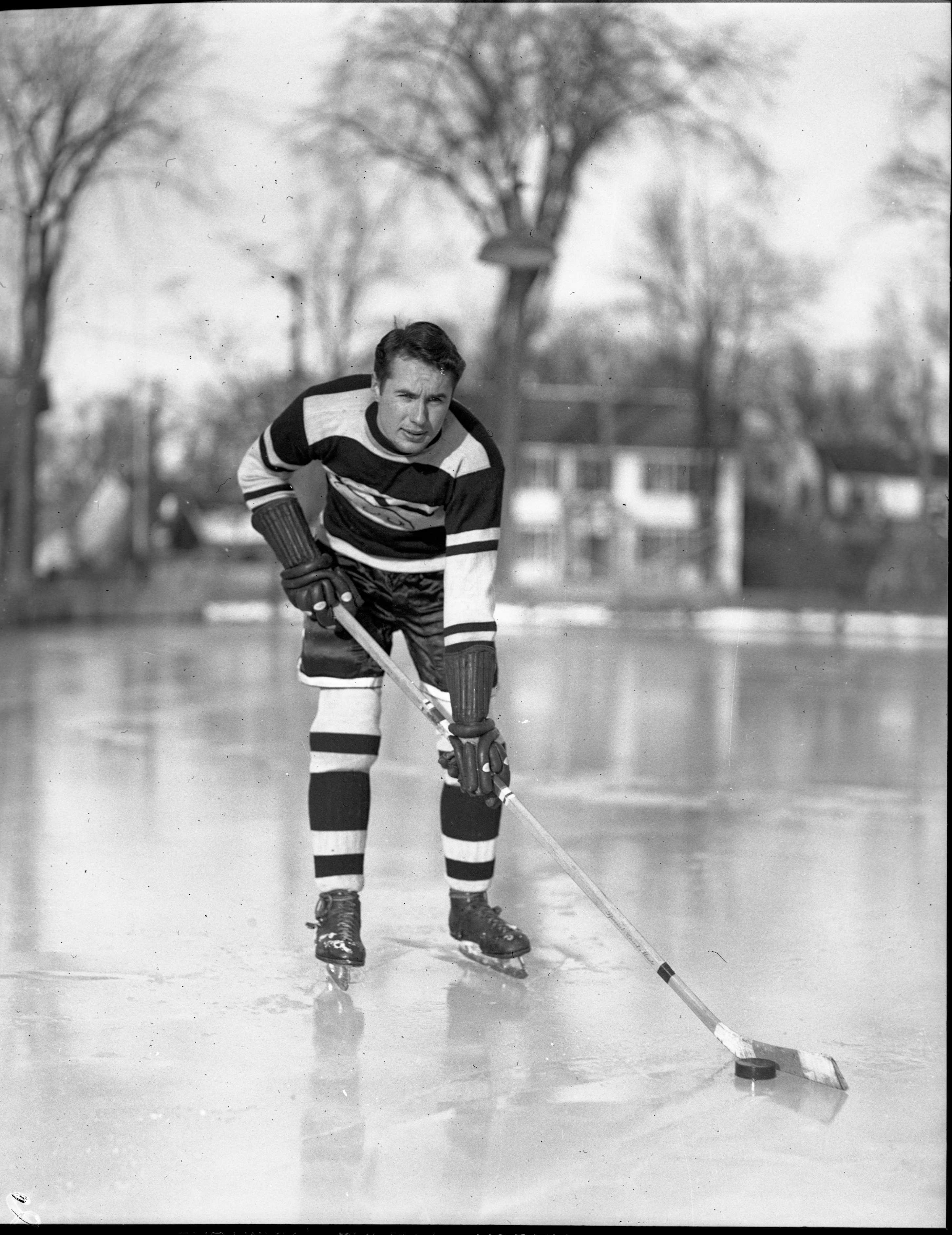 Dr. Leonardo Buck '38:
Dr. Leonardo Buck '38 was a three-sport athlete who played golf, baseball and ice hockey during his time at Bowdoin. He later went on to serve as a Lieutenant in the Navy during World War II. An athlete his entire life, Buck has been elected to the Maine Sports Hall of Fame, Maine Golf Hall of Fame and Maine Baseball Hall of Fame. Buck was a dedicated volunteer of the U.S. Golf Association (USGA) and officiated over 35 national golf championship events in his life. Buck died at the age of 98 in 2015 in Brunswick, ME.
During his time at Bowdoin, Buck was a particularly distinguished pitcher for the baseball team, making headlines in the May 5, 1937 issue of the Orient.
"While allowing but three hits in seven innings, Leon Buck, Polar Bear hurler, won his own ball game, 4-3, with a Texas Leaguer to right field in the ninth inning of the State Series opener against Colby at Waterville yesterday," the Orient reported.
That same spring, Buck was awarded varsity letters for both hockey and baseball. Buck was captain of the ice hockey team his senior year, playing consistently as left wing during games.
On December 8, 1937, the Orient reported that "Bucky will be one of the mainstays in the Polar Bear's forward wall [for hockey] this season."
As predicted, Buck led his team to victory in early 1938, when Bowdoin nabbed the State Championship title in ice hockey.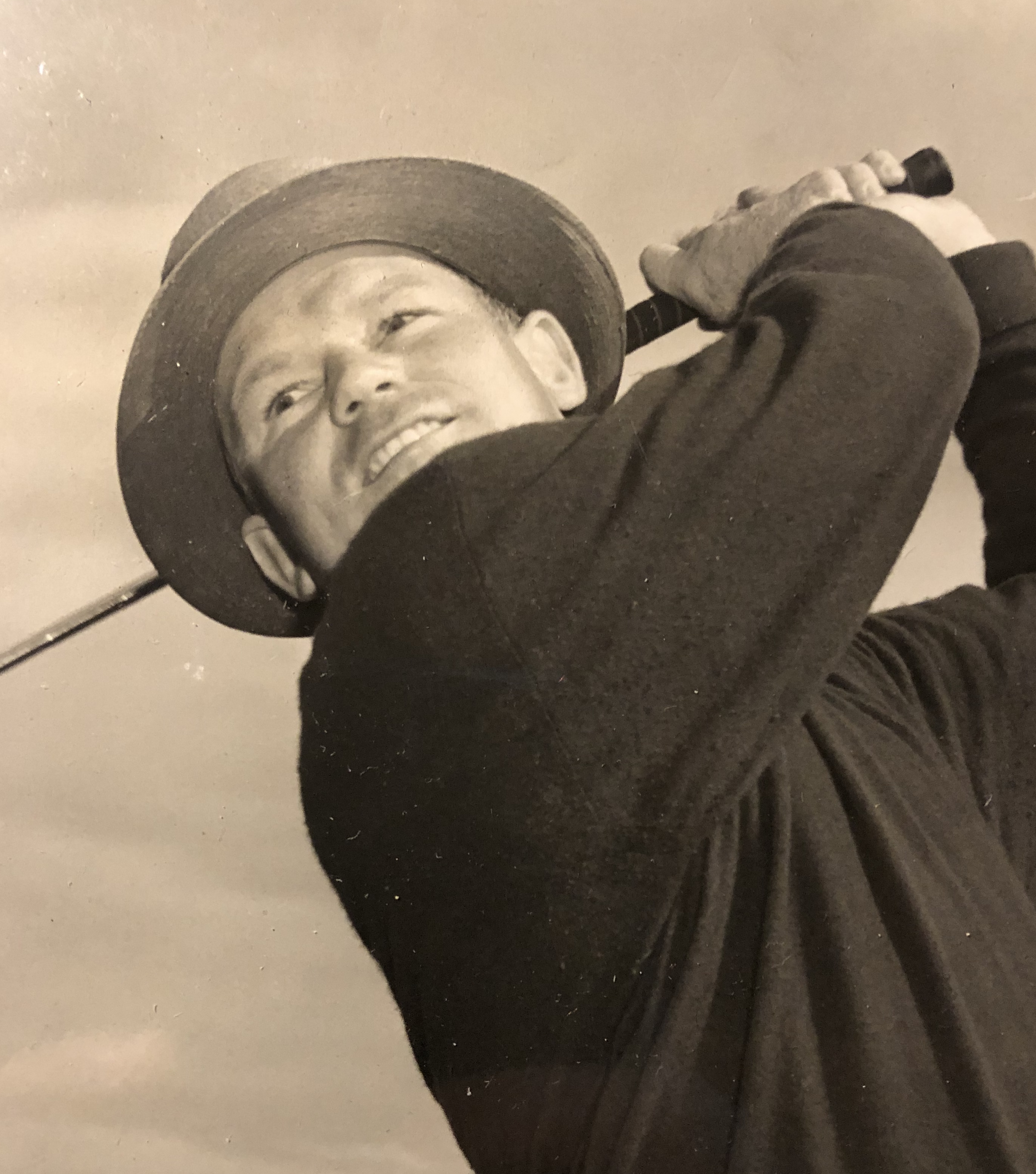 Dr. Raymond Lebel '49:
Dr. Raymond Lebel '49 was a force on the links during his time at Bowdoin. Like Buck, Lebel was elected to the Maine Sports Hall of Fame and Maine Golf Hall of Fame, and he served in the Navy during World War II. Lebel holds the national record for club championship titles, winning 47 over the course of his life. Lebel passed away in Falmouth, ME in 2009 at the age of 86.
Under Lebel's leadership, Bowdoin's men's golf team won both the Maine College and New England Collegiate Championships. In 1946, the year Lebel was captain, Bowdoin remained undefeated in golf.
"Lebel is easily the outstanding man on the team. He won his first Maine open tourney title on Easter Sunday of this year. Coach Miller believes he has an excellent chance to win the individual honors in the New England intercollegiates," the Orient reported on May 1, 1946.
On September 18, 1946, Lebel made headlines once more in the Orient, where he was described as "the most promising amateur golfer to appear on the New England sports horizon in recent years."
Lebel continued to make headlines during his Bowdoin career, and despite attending the College for only a little over a year, he was featured in the Orient at least five times.
In addition to his formidable golf reputation, Lebel was described as an honor student, a jazz trumpeter and one of the most popular men on Bowdoin's campus.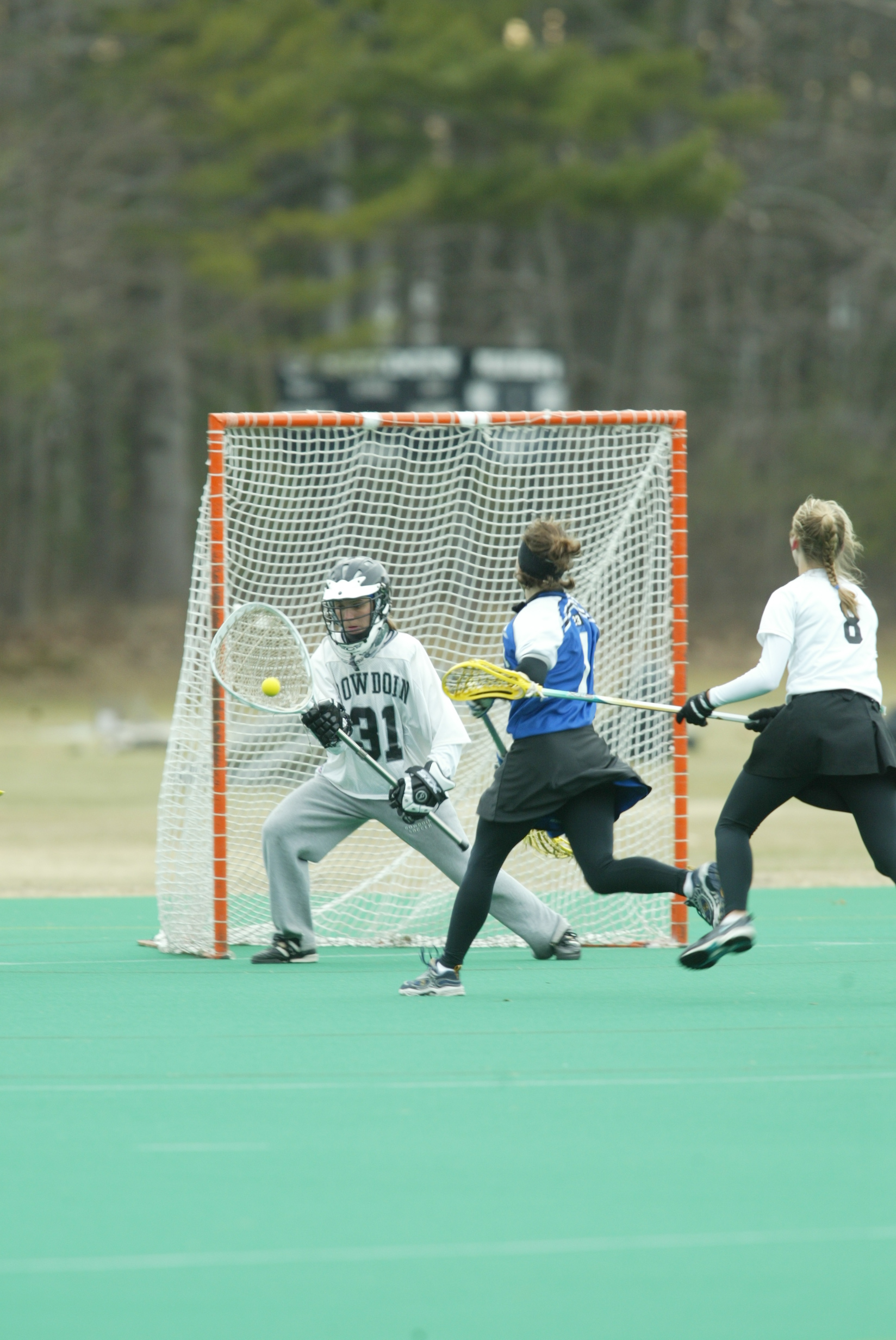 Kendall Cox Leclerc '05:
Cox Leclerc was unavailable for an interview at the time of publishing.
Kendall Cox Leclerc '05 was a force on both the women's soccer and lacrosse teams, becoming an All-American for both teams. Cox played goalie for lacrosse and defense for soccer, earning All-NESCAC and All-New England honors for both sports.
During the women's lacrosse team's first ever semifinals game, Cox Leclerc proved herself an essential component.
"Goalie Kendall Cox supported [the team] with a phenomenal stint in goal," the Orient reported on May 7, 2004. "Cox made an impressive 14 saves to keep the Polar Bears in the game throughout."
Cox Leclerc also proved valuable on the soccer field, going All-NESCAC and All-New England not once, but three times. In a semifinal match against Williams, Cox Leclerc exemplified how imperative she was to the team with a crucial save.
"It appeared that Williams would take the advantage [of the tie], but senior captain Kendall Cox stepped up to make a kick save and retain the tie," the Orient reported on November 12, 2004.
Nick Figueiredo '08:
Nick Figueiredo '08 was a fierce player on the soccer field, setting the career record for goals at Bowdoin with a staggering 35 scored. Nick was also the first student at Bowdoin to be awarded the NESCAC player of the year award, and he was selected three times for First Team All-NESCAC and All-New England. 
Bowdoin Orient: What was a highlight of your career?
Nick Figueiredo '08: A great moment my senior year was when we lost to Wesleyan at home in the last game of the regular season, and then a couple days later, we had to travel back to them, because they were hosting the first round of the NESCAC tournament. We ended up beating them in that game. And funnily enough, Wesleyan had done the exact same thing to us my sophomore year. So we got to return the favor. That was the enjoyable part.
Q:  Do you have any words of advice for athletes unable to play because of the pandemic?
A: I think there's a general life lesson here, which is to appreciate what you have when you have it. I'm not pretending to be some enlightened person. I still play soccer, and this past Sunday was the first time I played since mid-March when everything went on lockdown. You know, I missed it a ton. So, I bet it hurts even more for the current athletes. You live your whole life to play college soccer or college sports, and now you can't. You've just got to appreciate it while you have it and, of course, when it returns.
Q: Is there a speech or piece of advice that you'd give to the current Bowdoin students if you could?
A: Fred O'Leary was the coach during my sophomore, junior and senior years on the team, and he would always say to us, "Seemingly in our worst or hardest moments of practice, always remember that some of your worst days and some of your hardest moments at Bowdoin will be some of the best days of your life." I can't tell you how true that is. All the stress and all the strain in the classroom and the athletic fields was hard in the moment, but in the grand scheme of things, they were really some of the best days of my life and some of the days I appreciate the most. They made me who I am today.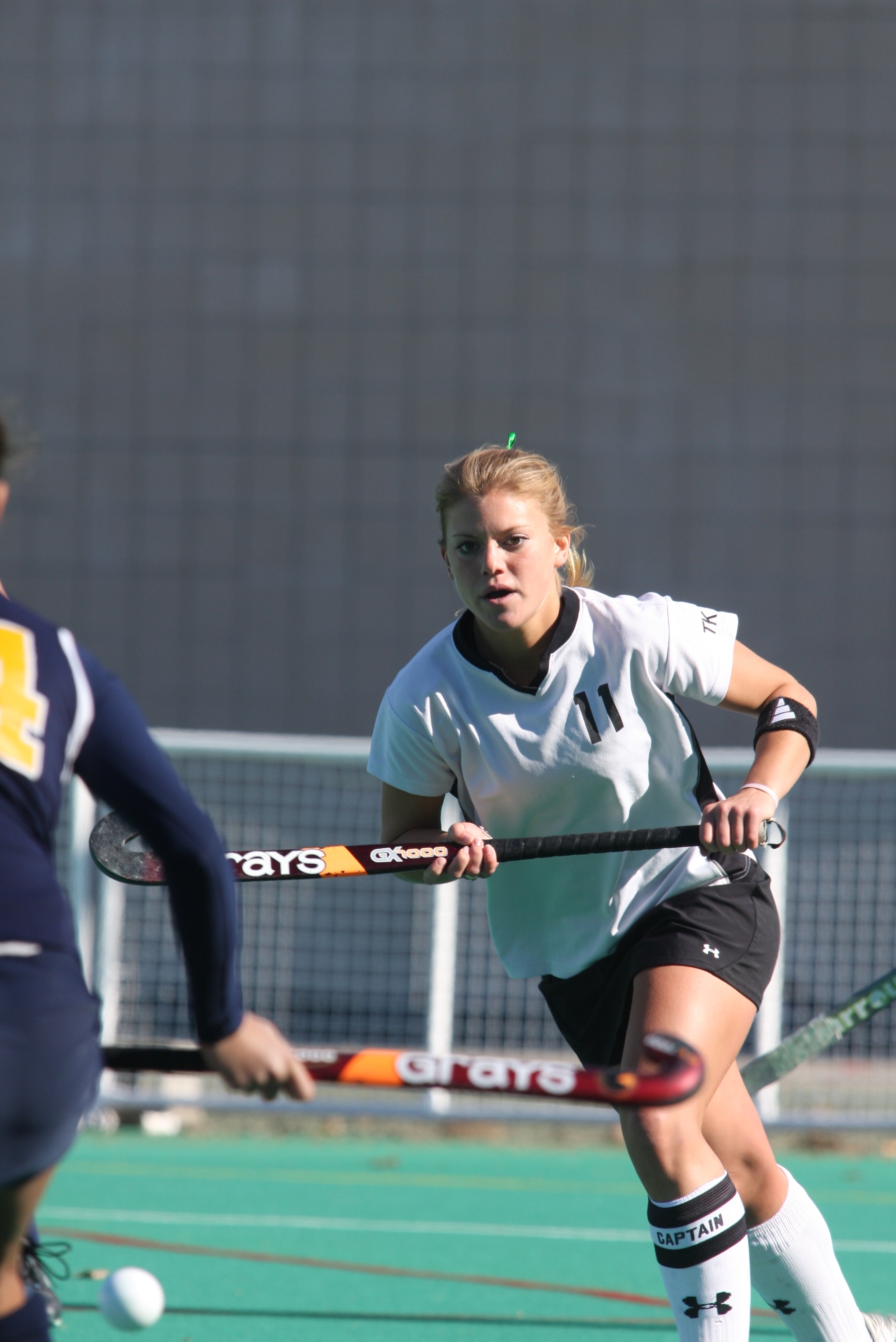 Lindsay McNamara '09:
Lindsay McNamara '09 was named NESCAC player of the year in both 2007 and 2008, leading the women's field hockey team to two NCAA championships and four NESCAC championships. A multi-sport athlete who walked onto the field hockey team as a first year, McNamara ended her time at Bowdoin with 92 goals and 205 points to her name. 
Bowdoin Orient: What was your proudest accomplishment?
Lindsay McNamara '09: Our freshman year we had a teammate pass away—Taryn King '07. … That happened in January, and she was our leader, she was a powerhouse. …  [It was] obviously [a] huge adversity and a huge loss. I think that [things] can kind of crumble apart in times of adversity, but the entire team and our class just came together, and I think that kind of set the tone for what was going to happen for the next three years.
Q: What was your favorite moment?
A: Our last game. I mean, that has to be a favorite moment. Winning national championships back to back is really difficult, and obviously you want to go out on the right foot. We knew it was going to be so hard, and we just started grinding. We ended up being tied three [to] three and went into overtime. We were just literally on the verge of passing out, and to come out with a win on that game was just so exciting. It's an obvious answer. It's the best way to end your field hockey career.
Q: Do you have any words of advice for athletes unable to play because of the pandemic?
A: I feel for all kids at all ages [who aren't] able to go to school and develop those relationships, especially in sports.… [I'd suggest] still trying to find ways to be with your teammates and touching base. Maybe it's not before the game, but maybe you all get together and you do something that pumps you up. Build camaraderie as much as you can. It's so important to have kind of that human connection. [Keep] creating those bonds, even if it's not in the traditional fashion and might not feel the same [so] you can keep some sort of normalcy. That's what we're all craving.