Sophomore champions mental health legislation
April 17, 2020
Editor's Note: This article contains a discussion about an attempted suicide. 
On March 25, the Virginia state legislature signed a bill requiring public schools to provide teachers and staff members with mental health awareness training. For Charlottesville native Lucas Johnson '22, who helped champion the bill, this marked his third successful effort to push through legislation promoting mental health education in schools.
Johnson became involved with mental health issues during high school, when he observed a lack of support and awareness related to mental health in educational institutions.
"I had in my high school someone who threw themselves off the second floor banister of our school onto the landing right in front of our library. I'd had someone who overdosed in my high school," Johnson said in a video call with the Orient. "And mind you, I went through a relatively well-funded public school district in suburban Virginia—I didn't necessarily think this would be hitting us."
When Johnson met fellow student activists Alexander Moreno and Choetsow Tenzin at the Sorensen Institute's High School Leaders Program the summer before his senior year, the three students seized the opportunity to start talking about how to reform Virginia's approach to mental health education.
"For me, it was like 'this is really enough.' There was no mention of mental health in our classes—there was a tangential mention of what depression was, what anxiety was, [but] there was no comprehensive [programming] going into it," Johnson said.
The trio's first bill, passed in March of 2018, required that mental health education be incorporated into the health instruction standards in K-12 schools in Virginia.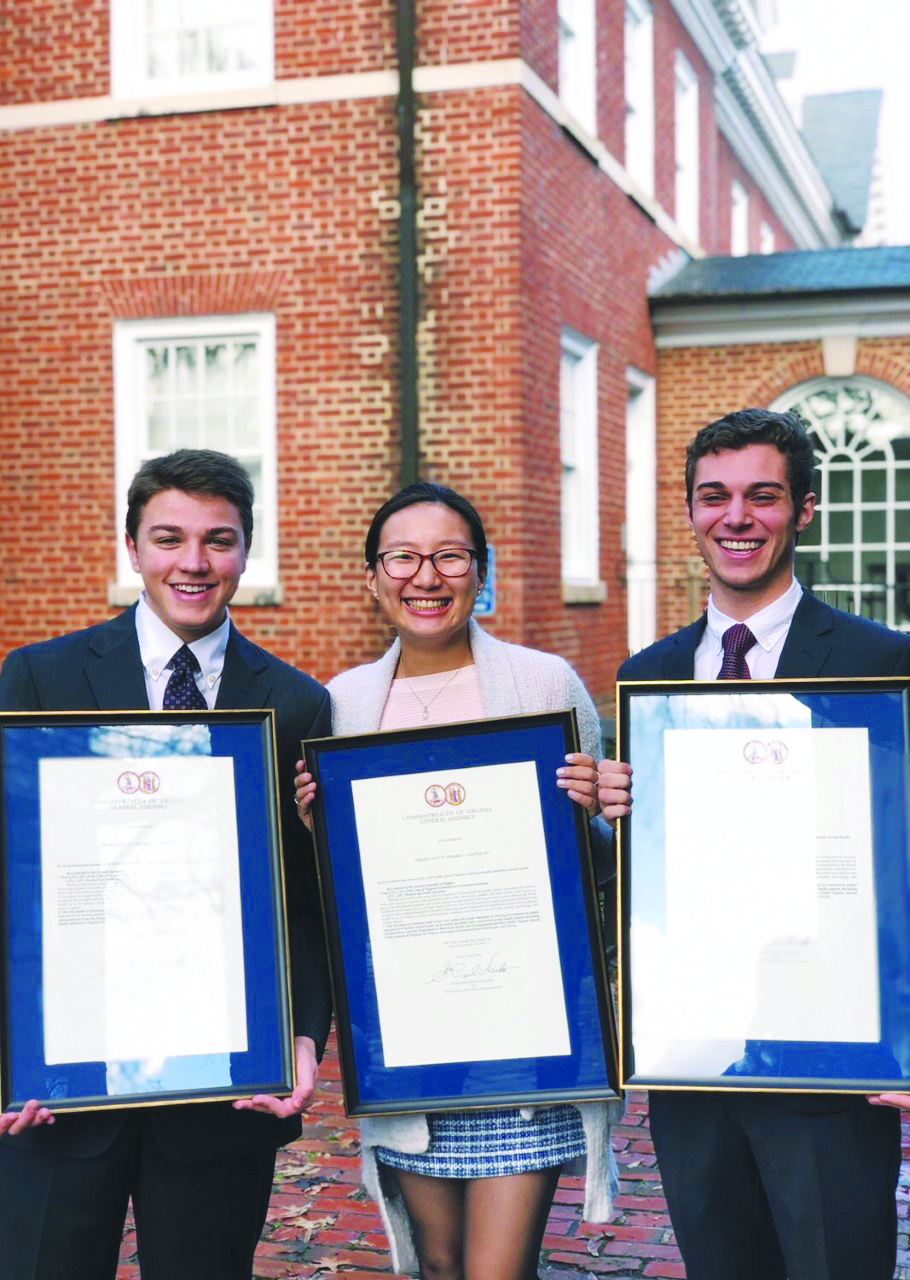 Upon arriving at Bowdoin, Johnson continued his work, reaching out to the Maine state legislature with a similar bill. With the help of state senator Brownie Carson '72, the bill was signed into law in May 2019.
However, these curricular-focused pieces of legislation are just the first step for Johnson, who envisions a more comprehensive restructuring of schools' approach to mental health.
"The mental health education component is the first building block in a multi-step process of building up a multi-tiered approach and response to what mental health care should be in schools," Johnson said.
These steps include mental health education and awareness training for teachers and staff, provisions that are both included in Johnson's most recent bill, as well as counseling support and services in schools.
Johnson's end goal is to expand these measures into states beyond Maine and Virginia.
"I hope that by the time that I graduate, every state that does not have a law or standards on mental health education in classrooms has it," Johnson said.
According to Johnson, working with the education system is especially important because 50 percent of lifelong mental illnesses have already developed by the age of 14 and 75 percent have developed by age 24.
"If we're missing out on this really pivotal time from zero to 24, or even from zero to 14, in which we're not catching and not helping students who are going to have lifelong mental illnesses, we're consigning them to years of not understanding what they're going through and how to get help for it," Johnson said. "But if anything, our educational institutions should lay the groundwork for all of us to understand that mental health is something that we need to talk about if we want to get better societally."
Johnson predicts that this kind of support will only become more important as students deal with the additional challenges that arise from the continuing impacts of the Coronavirus (COVID-19) pandemic.
"Unfortunately, the pandemic has exposed a lot of systemic inequities surrounding mental health access for students," Johnson said. "We anticipate that there could be a push in the subsequent few years to bolster mental health institutions, specifically as we start to see more students come back from this period of quarantine with issues that were probably already there but have only been exacerbated by the complete dissolving of typical routines within their lives."
As he starts the next phase of his work from quarantine—communicating electronically with legislators, mental health organizations and student groups—Johnson stressed the importance of student involvement, adding that his perspective as a student allows him to understand the consequences of inadequate support for mental health education. He feels this perspective also gives his voice more weight when appealing to legislators.
"I can give my biggest input as a student, not as someone who's worked 10 years in the field … as a psychologist or school counselor," Johnson said. "Having the voice of a student is so helpful sometimes because educators and legislators listen up, because … we're the ones who have to deal with the consequences of these actions."