Bowdoin community seeks virtual volunteer opportunities
April 10, 2020
Every afternoon, Annie Rose '20 calls the same home-bound senior citizen in Brunswick. Their conversations flow naturally from topic to topic, just as a conversation with a good friend would.
"How's your family these days?"
"What do you think of the presidential primaries?"
"Have I told you my story about a seagull eating raw meat from the back of my pickup truck?"
Rose and this woman have never met in-person. They were connected only a week ago through a call-in program run by People Plus, a nonprofit that helps support and foster community for older adults in Brunswick. Nearly 30 other Bowdoin students, faculty and staff members also signed up for the program. As a McKeen Center Community Engagement Fellow, Rose has worked with People Plus before and used to volunteer regularly at various other organizations in town. But now that she's back home in New York, she has had to find new ways to volunteer and stay connected to Brunswick.
"I think it's really wonderful to be able to start a new relationship during this time of isolation," Rose said in a phone interview with the Orient. "A lot of people are experiencing feelings of loneliness, and human connection is one way to combat those feelings, so I really enjoy it. I look forward to it probably as much as she looks forward to it. I'm there to listen to her, and she's there to also listen to me."
The call-in program is one of the McKeen Center for the Common Good's new virtual volunteering efforts. Although many individuals are eager to stay involved, health risks and students' distance from campus have impeded the Center's usual operations. All direct volunteer activities affiliated with the College have been cancelled, and instead the Center is helping students, staff and faculty determine how best to volunteer and help out in their home communities or online.
"We are physically located in Brunswick, but now students are located all over the world. And so we see our role in the McKeen Center as two-part," said Sarah Seames, director of the McKeen Center, in a Zoom interview with the Orient. "The first part is to maintain the connections to place that we have here in Maine and the partnerships that we've built over time [and] to support the organizations that are so important to this community. The other part is to help individual students think through what they see their role as now, wherever they may be."
Seames said that the McKeen Center's biggest challenge is maintaining relationships between Bowdoin students who serve as mentors to kids in the Midcoast area. Nearly half of the Center's 38 student-led service organizations work with kids, and now that all Maine schools have transitioned to remote learning, keeping in touch with mentees is difficult.
"There are privacy issues. A lot of parents just don't want to release home addresses and phone numbers and such," said Nora Greene '22, a leader of Harpswell Community School (HCS) Mentoring, in a phone interview with the Orient. "Some of the kids don't have a stable environment, and they're not in the same home all the time."
After talking with school social workers and parents, only three of the 11 members of HCS Mentoring have been able to contact their mentees. Greene, whose mentee will graduate from the program at the end of this year, was originally hoping to mail letters back and forth but has not even been able to email her buddy.
Though she is disappointed by this lost connection, she's grateful that at least some students can keep in touch and hopes that more students are motivated to participate in McKeen Center programs next year after things settle down.
"It shows how important it is that Bowdoin students really reach out to the community," Greene said. "We don't know how these kids are feeling, and we can't provide any sort of happiness or support for them anymore … I hope that more people will see how many people are actually affected by this pandemic and really give back to the greater Brunswick community."
Seames said lots of Bowdoin students and faculty have reached out asking how to help. She is not surprised by the response—she is inspired.
"Reaching out and helping others is one of the things that can be most healing in times of pain," she said. "I'm really encouraged by folks, by students and overall community members. That instinct not only helps the communities that are in need, but it helps us all to think about how we can be of service to others in a time like this."
Seames acknowledged that one of the best ways to help out now is through financial support and supplies donations to local businesses and nonprofits. But, for members of the Bowdoin community who do not have the means to contribute financially, non-monetary donations can be just as important.
Adeline Browne '16, a medical student in Tufts University's Maine Track program, was on rotation in a Portland hospital when she realized the extent of the nation's current blood shortage.
"I was doing a rotation in a pediatric hematology/oncology floor. There's a lot of kids on that floor who are very transfusion-dependent and require daily or weekly transfusions of blood and platelets," Browne said in a phone interview with the Orient. "The last day that I was working there, there was a really severe shortage in the blood bank at the hospital. And so when we were asked to leave the hospital [due to the transition to remote learning], a bunch of medical students went to go donate that day."
Partnering with the McKeen Center, Browne then started the Maine Students Blood Drive, a competition that encourages young, healthy students to get out and donate by pitting different Maine colleges against each other to see who can rally the most donors.
Fearing the spread of the coronavirus, many blood drives nation-wide have been cancelled, including more than 4,500 of the Red Cross's blood drives. The remaining blood donation sites are operating with greater safety precautions, limiting the number of donors who can come into buildings and more frequently checking the temperature of donors and staff members.
While donor blood is not being used to treat coronavirus patients, many individuals still need transfusions, including the children Browne treated during her last day at the hospital. Because blood products have a relatively short shelf-life, blood donations are still considered to be an essential service.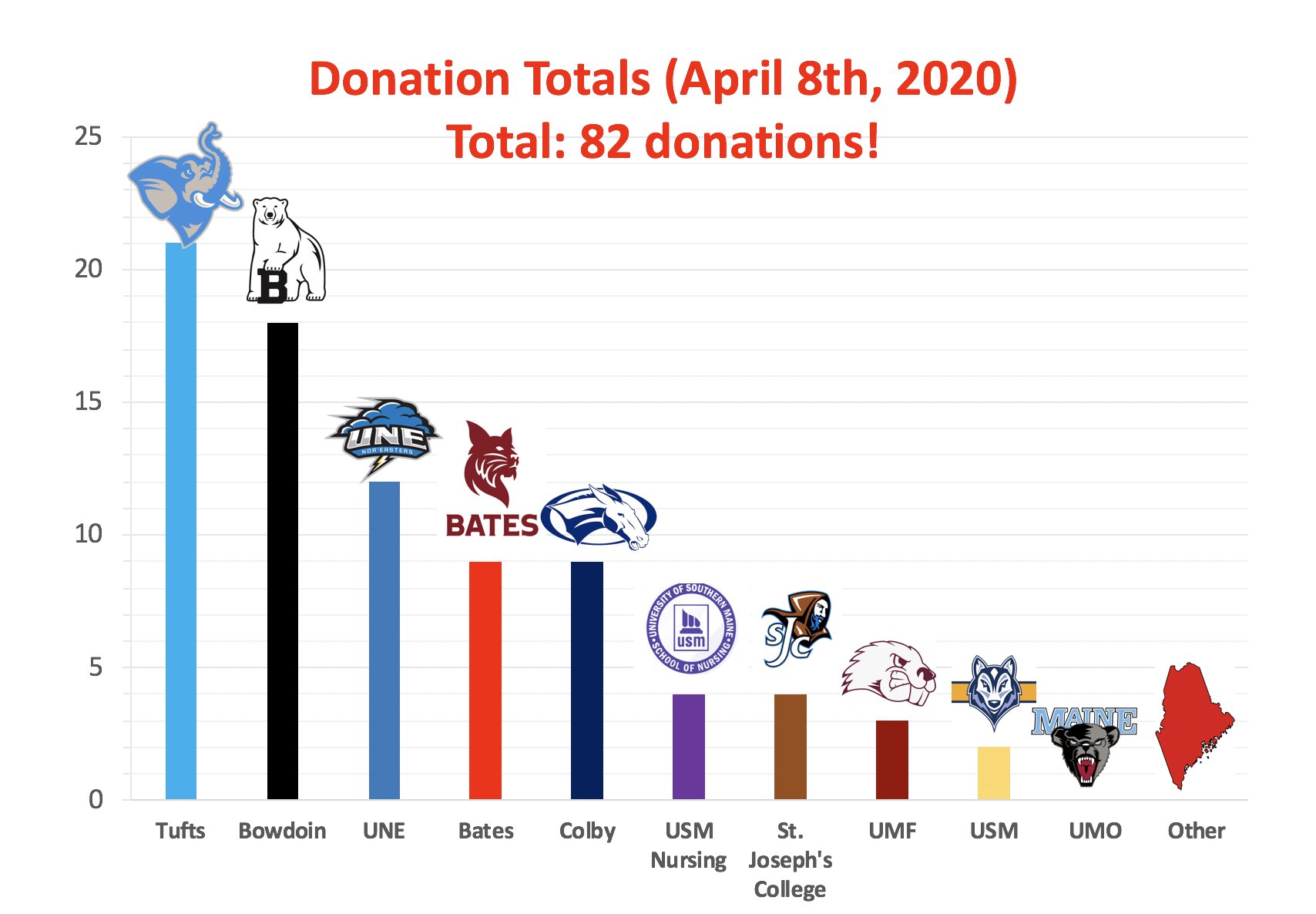 As of Wednesday, 82 people had participated in the Maine Students Blood Drive, including 18 members of the Bowdoin community. The group hopes to get 1,000 participants by the end of the month. Participants donate blood at their local drives and then answer  short surveys to log the donations.
"I know people are kind of wary to try to go out and do anything, but this is a tangible way that people can help and also a way that we can bring the community together," said Diego Villamarin '20, a leader of Bowdoin's Pre-Health Club who is spearheading the blood donation campaign with Browne.
The McKeen Center is also co-sponsoring the Distance Saves Lives blood drive series with MaineHealth. Every Wednesday through June 3, the American Red Cross will hold a blood drive at the Portland Elks Lodge.
Seames encouraged Bowdoin community members to help out in whatever way is most comfortable for them, whether that might be donating blood, donating money or donating time through virtual volunteering. The McKeen Center recently launched a website titled "Supporting Community Organizations During the COVID-19 Pandemic" with more resources.
At the end of the day, though, Seames said one of the best ways to help out is simple: stay home.
"It's a service, it's for the common good and it is incredibly important," Seames said. "People want to know how they can help, and it can be hard to feel like you're not doing anything, but we also want people to know that sometimes by literally doing nothing and just staying in your house, you are really doing something very, very important."