'Honey, I'm Home': senior theater majors adjust to off-campus life
April 10, 2020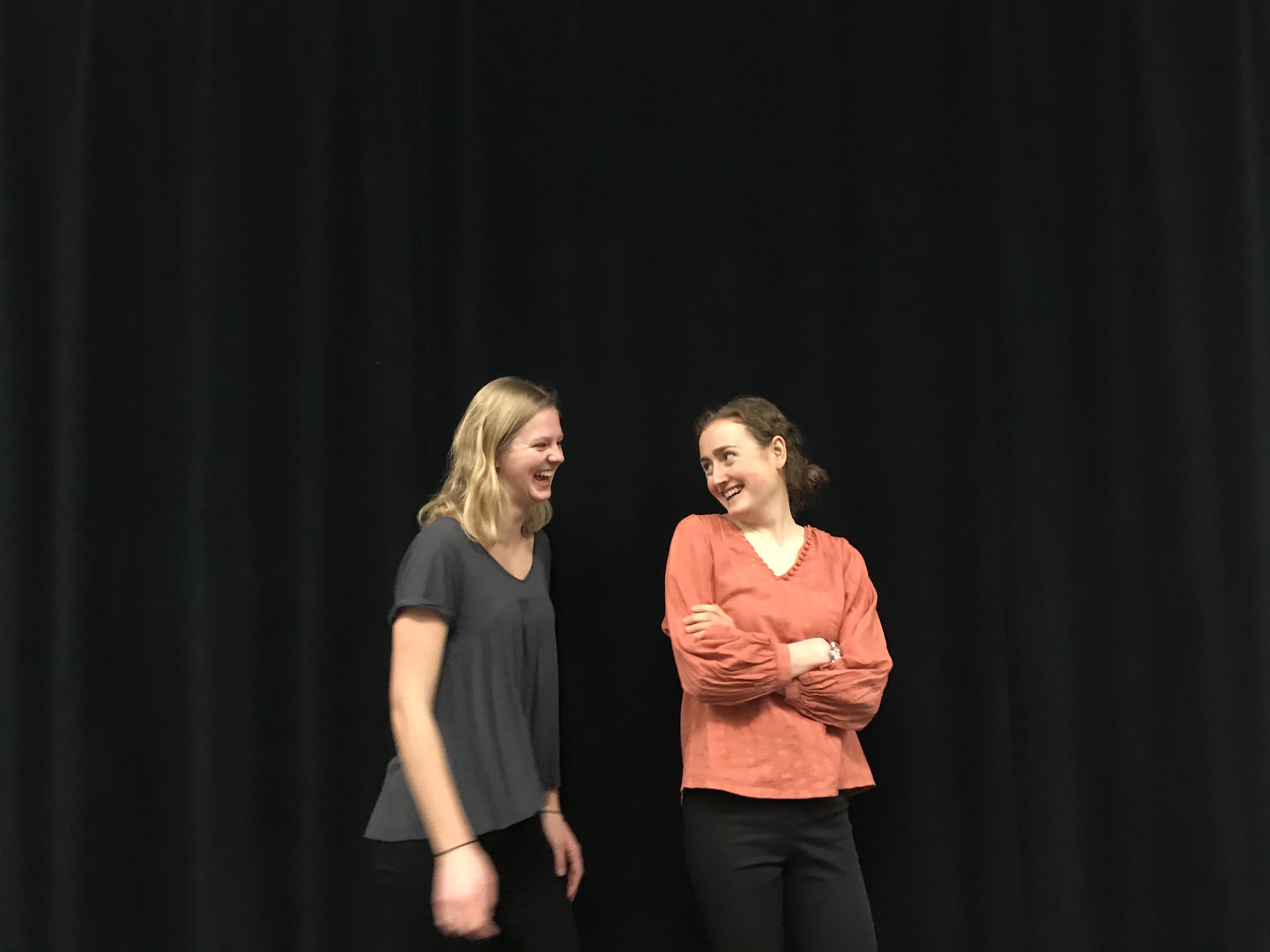 For Tori Clarke '20 and Caroline Farber '20, a lunchtime conversation in the Moulton Union lightroom became the inspiration for their co-written senior project, "Honey, I'm Home."
The play, which the two have been working on since September, explores the break up of friendships in a theater space. Weeks before the project was set to finally be performed, however, Bowdoin transitioned to remote learning due to the coronavirus (COVID-19).
"Honey, I'm Home" follows two best friends, Millie and Claire, from college to life as roommates in New York City. The play explores issues surrounding changing circumstances and shifting dynamics within a close friendship.
"I find, as I prepare to graduate, looking at this story is kind of scary to think about," said Clarke in a Zoom interview with the Orient. "The transition is going to put a strain on my friendships because I'm not going to be living next door to my friends anymore."
At the moment, however, their project is on pause.
"The theater department has been attempting to be very receptive to the fact that what it looks like to be a student off campus is not the same as what it looks like to be a student on campus and that the expectations have to be different," Clarke said.
Although the shift in learning is hard, Clarke feels the department is being exceptionally present and understanding with its students.
"This is really hard, especially for seniors and especially in the case of the studio students," she said. "People who were working on these projects since September—that had taken a lot of emotional energy and physical time—to then be uprooted from that [is hard]. But it is not within the department's power to fix that."
Clarke and Farber are both members of the senior studio class for performance arts majors. Clarke is a performance arts and Gender, Sexuality and Women's Studies double major, while Farber is an English and theater interdisciplinary major. Clarke had a history of theater involvement at Bowdoin while Farber did not, but they both decided to include theater in their majors during their sophomore year. That same year, the pair met in Assistant Professor of Theater Sally Wood's Acting II class.
"In the class we did physical combat … when we were physically fighting each other was how we became friends," said Clarke.
Good friends as well as collaborators, the duo envisioned that they would write, direct and act together in their play. But as they got farther into the demands of the writing process, they realized that directing each other would take a toll on both the piece and their friendship.
So, they decided that Clarke would direct and Farber would act. Before Thanksgiving break, the duo cast Ellie Pike '22 to star opposite Farber in the show.
"We are both still learning as writers and artists, but this piece is something that we made from scratch, and it is important that we are able to see it through until the end," said Farber in a Zoom interview with the Orient.
Clarke and Farber are grappling with the uncertain future of their production given the current situation with COVID-19. The theater and dance department wants to bring all of the senior studio students back to campus at some point next year to perform their showcases in a festival-style weekend. However, this is contingent on the College's decision to resume on-campus classes in the fall semester.
"Because of my relationship with the theater department at Bowdoin, I would really love to see it performed at Bowdoin and have some closure to my theater career in that way," said Clarke.
Farber noted how these emotions extend beyond than her project with Clarke and towards the work of her peers.
"That's why the studio students have been so nice to be able to speak to. [We are] going through the exact same things," she said. "We're grieving the loss of our own project but also theirs as well."