'Talking about Trauma' teaches skills to support survivors of sexual violence
February 14, 2020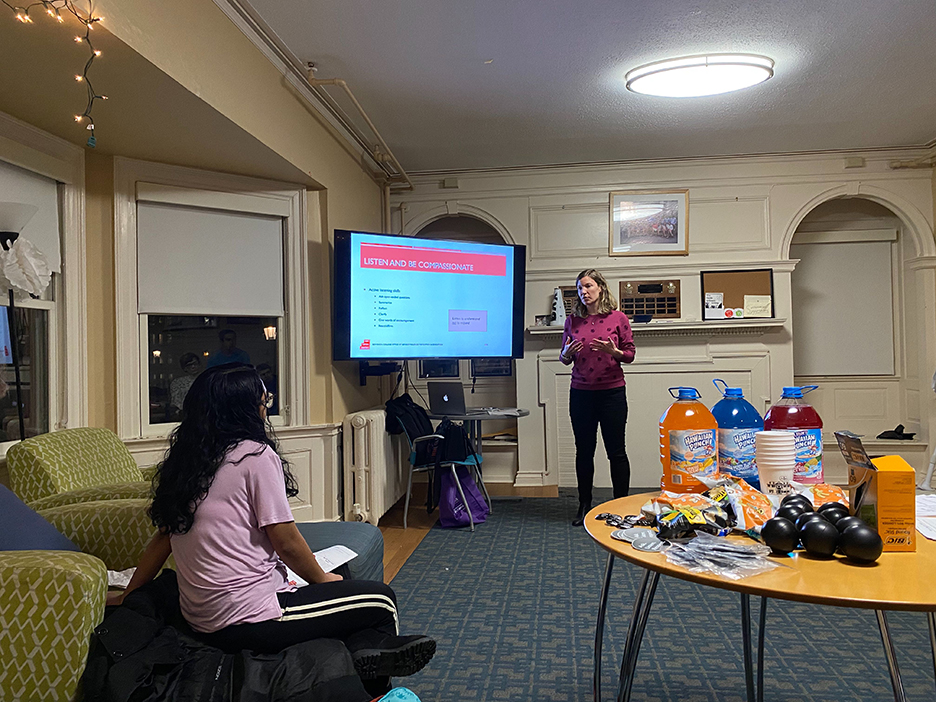 Underscoring the importance of healing, Associate Director of Gender Violence Prevention and Education Lisa Peterson facilitated "Talking about Trauma: Supporting Survivors of Sexual Violence," at Baxter House Tuesday night. The workshop aimed to provide the skills to better prepare students to support friends who are survivors of sexual violence. To promote healing, Peterson underscored the importance of popularizing these skills and techniques.
"Among the people who experienced violence and told someone about it, 97 percent of those folks told a friend," said Peterson. "The goal of these workshops is to really make sure that those friends have the skills necessary to be able to support and empower students to seek out the resources that they need to heal."
Hoping to impact campus dialogue around sexual violence, Peterson designed the event to teach students how to signal support to survivors and use empowering language to help students dealing with emotional distress.
"Students really valued learning how trauma impacts people and using different strategies such as the ability to practice the language themselves," Peterson said. "A really important part of the messaging also goes into making it really explicit that this is a community that doesn't tolerate violence."
Eric Hall '20, who helped organize the event, underscored the importance of fostering a campus culture where students are willing to have conversations about difficult topics like sexual violence.
"This event is about [learning to be able] to just talk to people about really difficult topics and be there for someone in a way that's meaningful and constructive for them," Hall said. "We're talking a lot about trauma and how you can be a good listener and a good friend to someone that's confiding in you about trauma."
Hall emphasized the balance the organizers strove for between fostering a small and safe atmosphere while still having a diversity of voices.
Peterson added that she designed the event to meet the needs of students of diverse backgrounds.
"I think even that term 'gender violence' sometimes accidentally connotates men's violence against women. But we know that is not the only way that sexual violence and dating violence is perpetrated," said Peterson. "[We are] having conversations about how folks of all identities are impacted and how structural inequities of the society that we live in can really limit someone's ability to feel comfortable reporting and feel comfortable accessing services, or have services available that are really resonating with what their needs are."
Peterson plans to conduct a similar event later this semester. In her view, these conversations demonstrate the power of individuals in shaping the well-being of their peers.
"All of the programs that we do are getting students to think about what their individual role in creating culture change on campus is. There are things that all of us can do that can be immensely impactful and make this a safer and more respectful place," Peterson said. "One of those is being able to hear and honor the stories of friends who have come to us and share[d] an experience."