Men's hockey on the hunt for playoff bid after Colby loss
February 7, 2020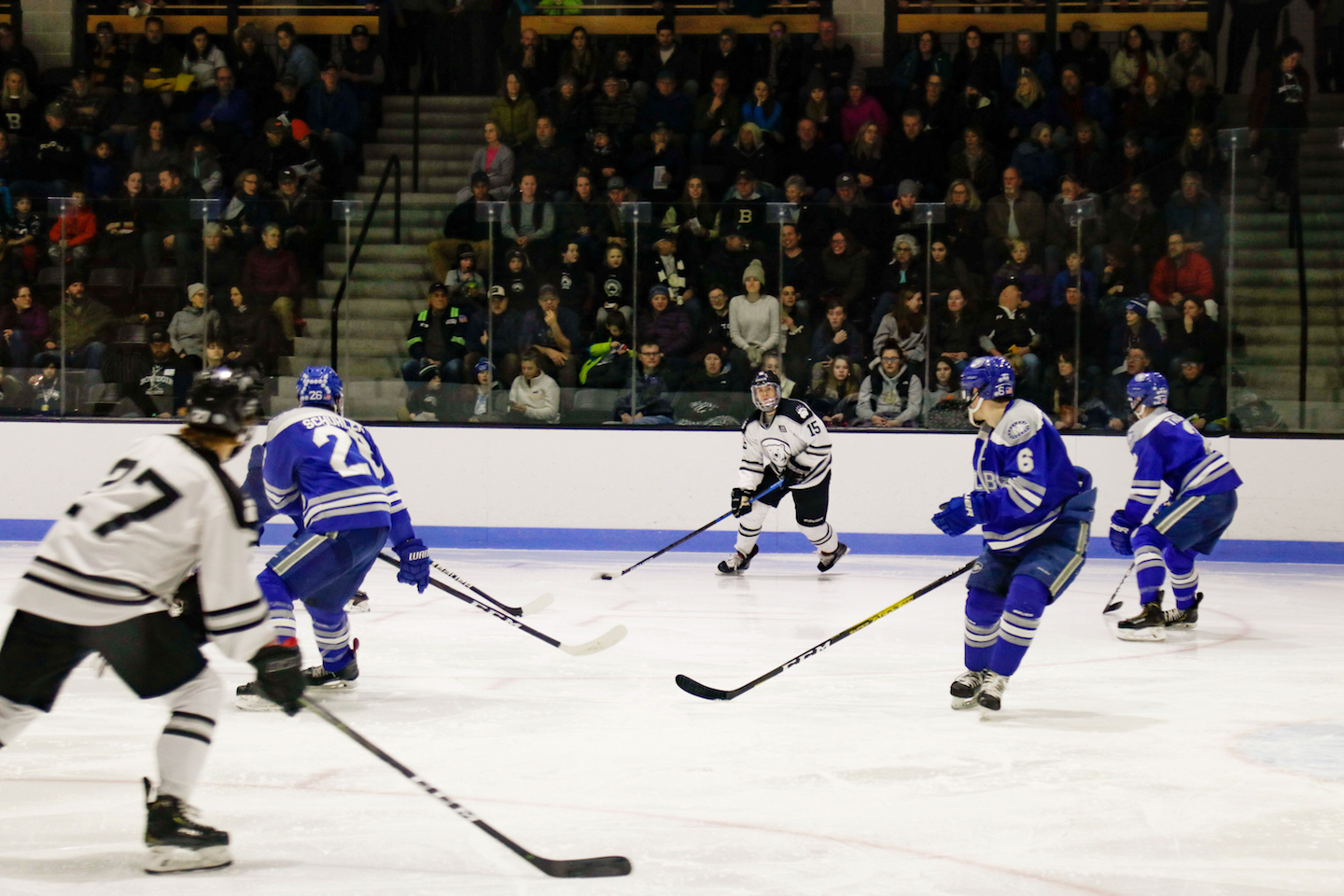 Just one week removed from the excitement and disappointment of the Bowdoin-Colby game last weekend, the 4-1 loss seems like a distant memory for the Bowdoin men's hockey team. It is driven to finish off the season on a high note and secure a home first-round playoff game for the first time in four years.
Even though the team was upset by Colby, Head Coach Jamie Dumont feels as though his players were, and still are, prepared to play at the highest level of intensity.
"It's fine and dandy to have all that atmosphere, but you still gotta go out make plays," said Dumont in a phone interview with the Orient. "You still have to play your position, [you] still have to stay disciplined and we prepare our guys big time for that … and our guys are ready."
Unable to control the game or capitalize on scoring chances, the Polar Bears struggled to put points on the board.
"Throughout the year, we played really, really good two-way hockey, and it was just one of those nights where we just couldn't get anything going in both directions," said Dumont.
But as the Polar Bears enter the final push for the playoffs, senior captain Ronny Lestan made it clear that the team will not get down on themselves.
"At the end of the day, it's two points in the standings,  so it's just like losing to or beating any other team in the NESCAC," said Lestan. "We've learned from our mistakes in that game, and we've got six conference games left where it's really time to buckle down and get going."
After finishing 6-16-2 last year—the team's worst finish since 1963—the Polar Bears are hoping to get a few more wins this year to earn a home playoff game, which would complete their comeback from last winter's dismal campaign.
In order to reach this goal, the team knew it would need to switch things up and bring in some strong first years to be competitive this year.
"The best piece about this first-year class is their attitude," said Dumont. "They're all very coachable and team players, and they [have] bought into being part of our [locker] room. They've been really supportive of our upperclassmen and the players that are already here."
"They're definitely not playing like first years," added Lestan. "They're playing like they're comfortable and they've had experience. You really love to see that [first-year] class coming in and playing like they've been here for a couple years."
Despite being the newest group, most of the members of the Class of 2023 are actually older than the sophomore players.
"It's a lot of people coming from junior [professional hockey] programs," said first year Ethan Kimball, who is 21. "It was a smooth adjustment into playing with bigger, older guys."
Statistically, the first years have put large numbers on the board, contributing more than 30 percent of the team's 149 points. Kimball has led the charge, currently tied for the third-highest points total on the team with 11.
"Coming into the season, I wanted to be an impact player on this team right away," said Kimball. "My goal for myself is to get 15 points in my first season, and I'm at 11 so far. I'm pretty close, but [I've] still got a couple more points to get before the season ends to reach that 15 point mark."
Although the infusion of a new first-year class has added a wealth of experience, both Dumont and Kimball cited the leadership of the upperclassmen as key to the development of players up and down the roster this year.
"More than anything else, we have an outstanding senior class that has been great on and off the ice with mentoring, leading workouts and leading team-building events," said Dumont.
"Everyone on the team has been accepting and open to new ideas," said Kimball. "Everyone is contributing to the conversation with the goal in mind of trying to make everyone else better."
New practice plans and individual opportunities for one-on-one coaching throughout the day have also contributed to the improvements made this season.
"We've done a lot of extra work on and off the ice, and it's paid dividends for our guys from our fitness level to our hockey sense," said Dumont. "We do skill development work every morning for players that are non-conflicting with class who want to work extra on their game."
Dumont has also scheduled extra time for players to review video or talk with coaches outside of practice.
With only six games remaining this season, the Polar Bears plan to stick to what they know in order to get as many of the 12 remaining points up for grabs in NESCAC play as possible.
"We want to continue to play a balanced hockey game and make sure we're responsible defensively," said Dumont. "With the defensive piece and the discipline piece, the rest will take care of itself."
The Polar Bears head off to Hamilton and Amherst this weekend in important back-to-back divisional games, but when they return home they look forfrom the Bowdoin fan base.
"We really appreciate the support. We've had great crowds, even with downtimes in our season, and it's something that does not go unnoticed," said Dumont. "We really appreciate people coming out to watch our team play. I think that's out of respect, and we want to play a good, fun game for [everyone] to watch."
The team returns home for its final two home games of the season on February 14 and 15 against Trinity and Wesleyan, respectively.