With recent success, women's squash enters new era of growth
February 7, 2020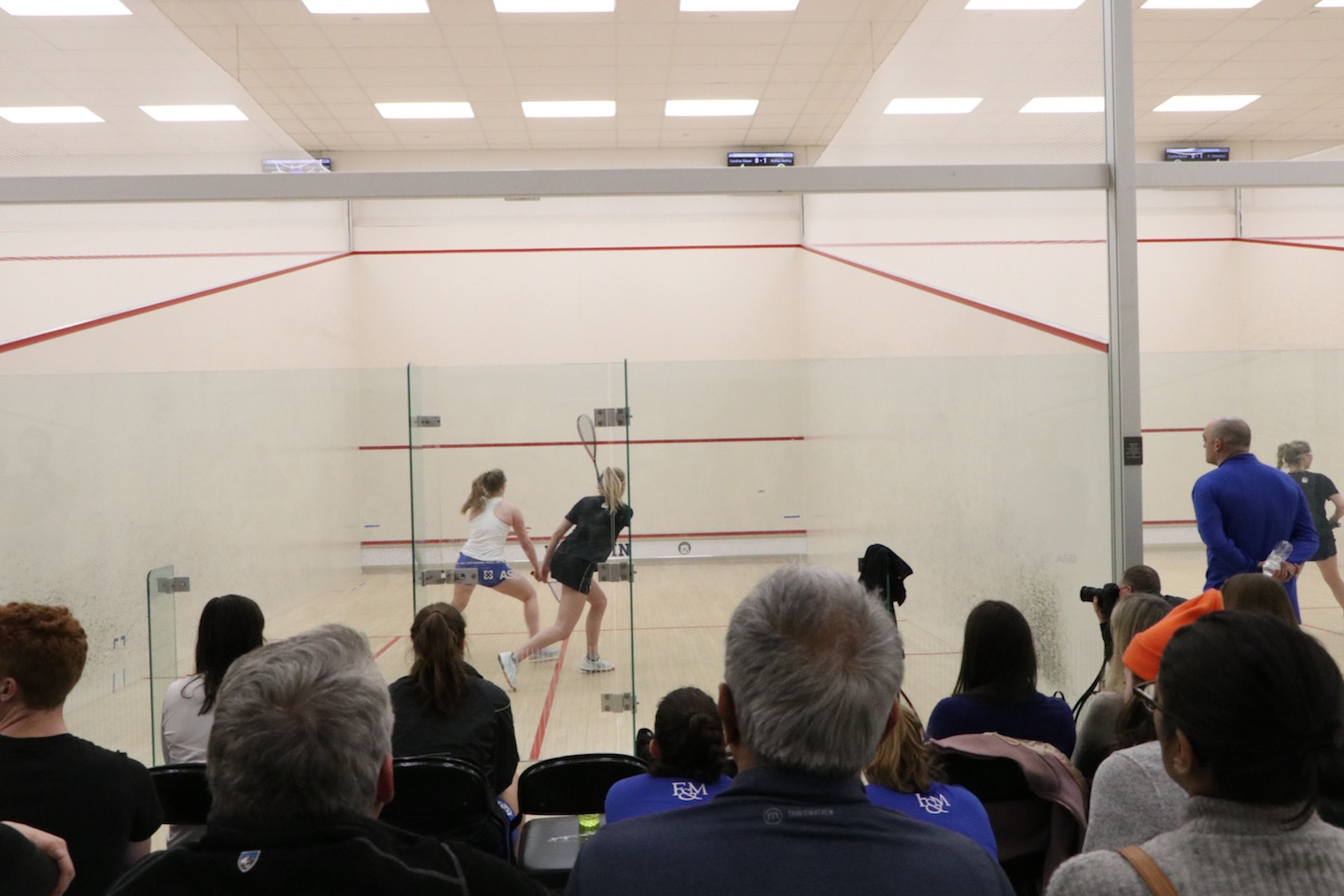 "It was definitely humbling," said Catherine Adams '22, reflecting on her first time stepping foot on a squash court last fall. Now a sophomore, Adams was one of six women who walked onto the women's varsity squash team her first year.
Growing up playing tennis, Adams had experience with racquet sports, but it wasn't until her first Bowdoin practice last fall that she had encountered squash. Despite her struggle to initially adapt to a "squash swing" and the rules of the game, Adams immediately felt supported by her new teammates, who were devoted to teaching her the sport and helping her improve her technique.
"When I played a girl at Trinity early last season, I [only] scored one point against her, but by the end of the season I was able to win a couple matches at Nationals. It was so exciting to feel how much I had grown, which is really all thanks to my teammates," said Adams.
Since last year, the women's squash program has evolved significantly under the new leadership of Head Coach Theo Woodward and with the addition of this year's first year recruiting class.
"It's definitely more intense and a much greater time commitment than last year," said Adams. "But at the same time, it's much more organized and I feel like we're doing more meaningful work."
This year's first-year class is composed of both strong recruits and determined walk-ons. The first year recruits, all of whom have had years of experience playing the game, have served as role models for the walk-ons. The six new team members from the Class of 2023 have bonded not only amongst themselves, but with the entire squad.
"I think they have adapted to college play really well. Each of them brings such a strong and different energy to the team," said Adams.
Sophie Barber '23, one of the first years on the team, is excited to be a part of creating a lasting legacy for the program.
Like Adams, Barber was attracted to the team's positive and uplifting culture, which has exceeded her expectations.
Despite being sidelined with a concussion prior to this season, Barber recalled how team members went out of their way to throw her a surprise birthday party to lift her spirits.
"My teammates were constantly checking in on me and bringing me snacks. It was awesome to feel that support before I even stepped on the court," said Barber.
While the team ended its last season with a record of 0-14, Barber and the other recruited members of the class were not concerned with the Polar Bears' record—rather, they were motivated.
"Having the basis of support and positivity has provided the team with the perfect framework to achieve success," said Barber, thrilled with the team's drastically improved 7-7 record this season so far.
While still focused on this season's successes, Woodward is also working to recruit strong players for next year and beyond.
"It takes three or four years to normally build a program," said Woodward. Still only in his first season, he is committed to guiding the team as it continues to grow and improve.
The team will compete in the NESCAC Tournament this weekend at Wesleyan, where Woodward hopes to beat Hamilton in a rematch of the team's first big win of the season, a 5-4 triumph. Woodward also looks forward to having matches against other strong teams such as Wesleyan and Tufts, pushing them further than in previous matches.
The team is currently ranked 21st nationally and will likely maintain its high ranking through the NESCAC championships. These standings project the team jumping up two divisions since its last season and sets the squad up for competitive play at Nationals, hosted at Yale University's Payne Whitney Gym on Friday, February 21.
"Since we are playing teams that we've never played before at Nationals, it will be completely new for everyone," said Adams.
From last year's winless campaign to this year's hope for a likely NESCAC playoff run in the coming weeks, this season's remarkable improvement bodes well for next year and beyond—but before looking too far into the future, there are still some loose ends to tie up this winter.
"We've done as well as possible this season. Everything has gone the right way. Now the aim is winning that cup, which would be brilliant," said Woodward.
The Polar Bears will face off against Hamilton tonight at 7:15 p.m. in Middletown, Conn..