Women's basketball drops first regular-season game since 2018
February 7, 2020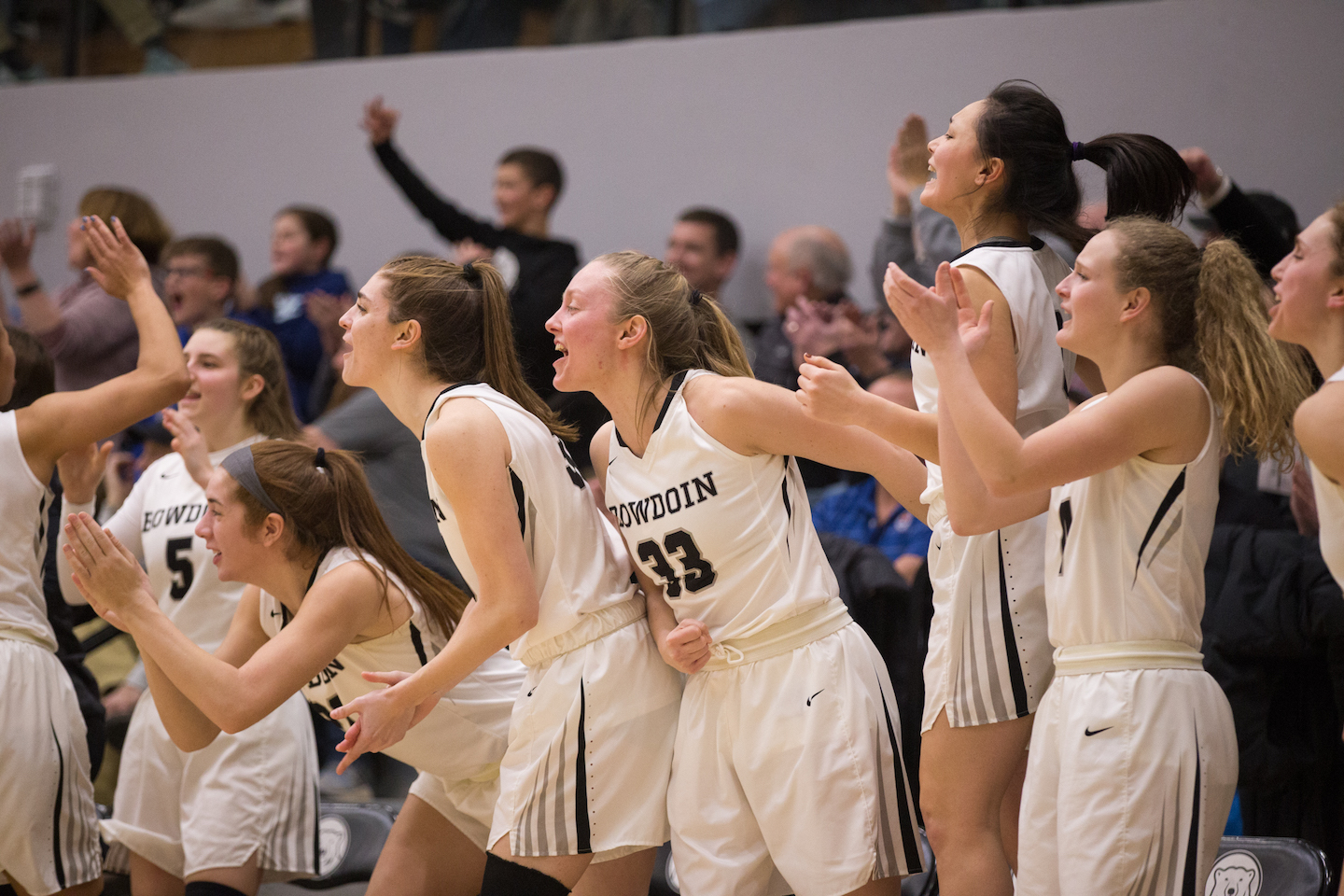 Last Friday, the women's basketball team hit the first road bump in an otherwise spectacular season that has become the norm for the Polar Bears in recent years. In front of a crowd of 1,400 in Morrell Gym, the venue's max capacity, the Jumbos pulled away in the fourth quarter for a 97-88 win after both teams traded the lead for most of the game. At the final buzzer, Tufts handed the Polar Bears their first loss this season and the team's first regular-season loss in 47 games, dropping Bowdoin to second place in the NESCAC.
Especially in the past few seasons, the Tufts-Bowdoin rivalry has, for the most part, defined the top of the NESCAC table: the two teams have met in the NESCAC playoffs six of the past seven years.
"It's been a long standing rivalry—it goes way back," said Head Coach Adrienne Shibles. "There [have] been some doozies—we beat them in 2018 to go to the Final Four, and I think some of the players on their current team still carry a lot of feelings about that game. We crushed them on their court last year, then they beat us in the game that really mattered, which was the NESCAC championship. I think all of our players have remembrances of moments in this great, storied rivalry."
And in this most recent edition, the setting could not have been more electric. In front of the sellout crowd the two teams delivered a barnburner: an offensive showdown where both teams averaged 59 percent shooting and put up an astronomical 185 combined points. Ultimately, it was Tufts' offensive output that was Bowdoin's downfall.
"To score 80-plus points against a Tufts team that always prides themselves on their defense … I'm really happy with that," said Shibles. "But we should never give up that many points against any team, ever. We've really been preaching that all year."
Defense has been perhaps the team's greatest strength this year. Last year, in which Bowdoin finished second in the NESCAC and reached the NCAA championship game, the Polar Bears allowed 56.5 points per conference game. This year, although offensive production has diminished slightly, Bowdoin is only allowing 50.9 points per conference game.
"I especially believe defense wins championships, and when you have a team of young players who has to learn an offensive system, there's some growing pains," said Shibles. "But the players really latched onto it, and that's really our biggest disappointment about our loss to Tufts—nobody should put up that many points against Bowdoin. [But] we're really proud of the fact that we've been limiting our opponents to fewer points with such a young team."
"[That game] caused us to look in the mirror … and realize that we do want to be the best defensive team in the NESCAC, and we did not show that last Friday," added captain Maddie Hasson '20, who led the team with 29 points against the Jumbos. "[By] getting back to the little things on defense and improving communication … we can show what we know we can do on the defensive end."
It didn't take long for the Polar Bears to get back in gear. Just 20 hours later, they handily took care of Bates with an 80-59 win on Senior Day, holding the Bobcats to just just 36.9 percent from the field.
"Right after the [Tufts] game, we were all obviously disappointed … but we thought, 'Let's take this 30 minutes to be upset about it and reflect on it and be sad about it, but when we leave the locker room, let's think about tomorrow,'" said Hasson. "We've gotten used to that with the way the schedule goes—every weekend, we have a big game Friday and a big game on Saturday. Having a big game [the next day] was all the motivation we needed."
This coming weekend, the Polar Bears have another critical matchup. Amherst, also a perennial NESCAC foe and the final team in the the triumvirate who has dominated the conference in the past few years, will play host to Bowdoin in what is sure to be another epic contest in Massachusetts tonight at 7 p.m..
For Bowdoin, a key sticking point this weekend will be flexibility—being able to call audibles and adjust to midgame changes in the strategy the team has been planning all week.
"One thing we've talked about a lot … is making adjustments in the flow of the game," said Hasson. "Obviously, we go into every game with what we know about the [opponent] and a game plan based on that, but we're really focusing on making adjustments based on how things could go any way on any given night."
"My job is more to keep us focused on the gameplan—focused on every moment," added Shibles. "Making adjustments in the flow of the game … was a challenge against Tufts."
Amherst will be the next big test of everything the team has been working on since being clipped by the Jumbos last weekend. Tonight's matchup will be crucial in determining the top seeding for the upcoming NESCAC playoffs, with the Mammoths currently tied for fourth with Trinity, but within shooting range of Bowdoin for one of the top two seeds.
"We just met with our captains and said, 'prepare everyone for this weekend,'" said Shibles. "I'm sure they're going to pack their gym, and it'll be a really challenging atmosphere to play in."
[We're just focused on] coming out every night and doing what we do and not letting that waver," said Hasson.