Frontier's Songwriters on Stage showcases local musicians
February 7, 2020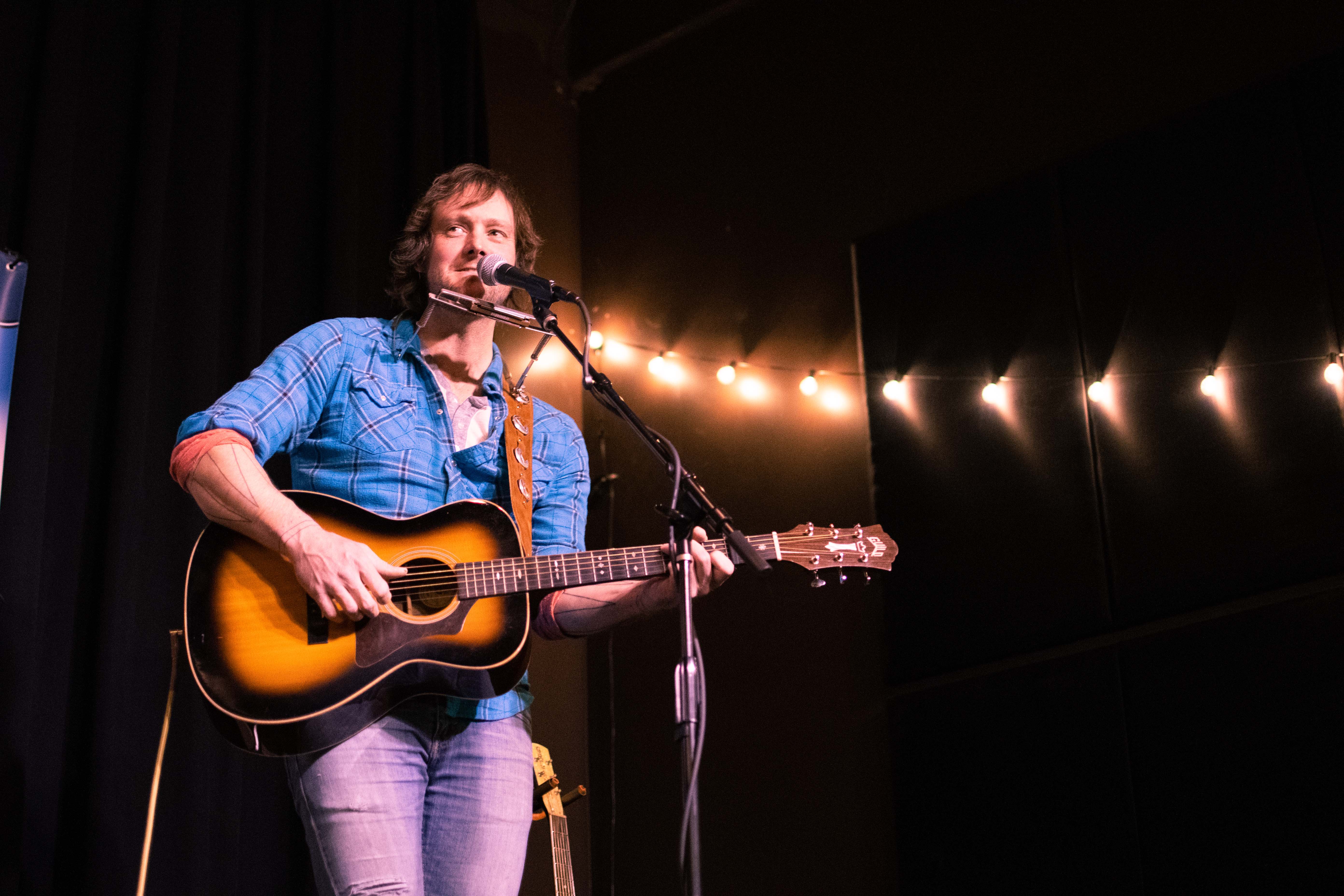 On Tuesday night, local musicians and music lovers gathered at Frontier to hear a medley of songs and vocals in the cozy theatre tucked into the old mill at the end of Maine Street.
Michael Gilroy opened Frontier in Fort Andross in 2006, with a mission to "connect the world through food, arts and culture." The business strives to do this through its restaurant, coffee bar, event spaces and theater, used for a variety of community gatherings.
One of these events is Songwriters on Stage, an event hosted by the Maine Songwriters Association (MSA) in Frontier's theatre the first Tuesday of every month.
Frontier Programming Director Sean Morin explained the relationship between Frontier and MSA in an email.
"Different than most events at Frontier, our long-term partnership with MSA allowed us the trust to let them own and curate that series independently of our input," he wrote. "They handpick the talent and run their own sound in our theater space."
MSA is a nonprofit that was established by songwriters in the greater Portland area about 20 years ago.
"[Its purpose] is to support and provide opportunities to Maine songwriters. So we try to offer workshops, performance opportunities, and support networks," explained Ben Hunsberger, a board member and a host of Tuesday's event.
With Morin's Maine-centric concept for Frontier—from the farms that supply the restaurant to the vendors whose products are sold at the coffee bar—MSA fits right in.
"[Morin] just is such a great supporter of what we do," Hunsberger continued. "He always likes to get in music in this theater. And with Maine songwriters—it being a local Maine thing—it's right up their alley."
Each month, a member of the MSA Board of Directors is responsible for hosting the event, hand-picking a set of musicians and sometimes taking the stage as well.
On stage with Hunsberger, Tuesday's host, were his choices of Maine musicians, Robby Simpson and Emilia Dahlin. Their performance was preceded by opener Sarah Dawn, who performed three original songs for the audience. Next Hunsberger, Simpson and Dahlin took the stage together and cycled through playing individual pieces.
"Generally most of the people who will perform here will be playing an acoustic guitar and singing," said Hunsberger. "But actually stylistically, Robbie and Amelia and I all have very different kinds of leanings."
Hunsberger was seated behind a keyboard to accompany himself during his songs, Dahlin brought her guitar to execute her jazzy sound and dynamic vocals, and Simpson brought a country-western flavor to the evening with a guitar, harmonica and cowboy boots.
The audience size for the MSA's shows varies greatly from month to month.
"We can have a night where there's 10 people in the audience and a night when there's 50 people in the audience. And you never know until it's seven o'clock which one it's gonna be," said Hunsberger.
Despite this uncertainty, Morin commented on the impact the Songwriters on Stage event has had on the community.
"Over the years, we've seen the Midcoast music community develop into a tightly woven family as they continue to gather and grow on Frontier's stage," he said. "Sharing that love with the community at large is a big part of Frontier's success."
Hunsberger is also eager to foster a stronger relationship between Songwriters on Stage at the Frontier and musically-inclined Bowdoin students. They rarely have the opportunity to feature young artists on stage.
"I'm sure there are [some] Bowdoin students who are up to the challenge," said Hunsberger on strategizing ways to involve the Bowdoin community. "It would be a nice way for the college to have a reason to come down and be involved here. And it'd be a nice way for the community to see the other side of some of the students here too. I think it'd be a cool show."
Hunsberger hopes that the uniqueness of the event will prove attractive to both Bowdoin and the Brunswick community.
"I think that's one of the things it does nicely," Hunsberger said. "It exposes the local community to others who are in the greater Maine community, who do some pretty cool stuff that they wouldn't really get to hear otherwise."
Songwriters on Stage will take place every Tuesday at Frontier at 7 p.m. until June.