With faces new and old, cross-country teams hit the ground running
September 27, 2019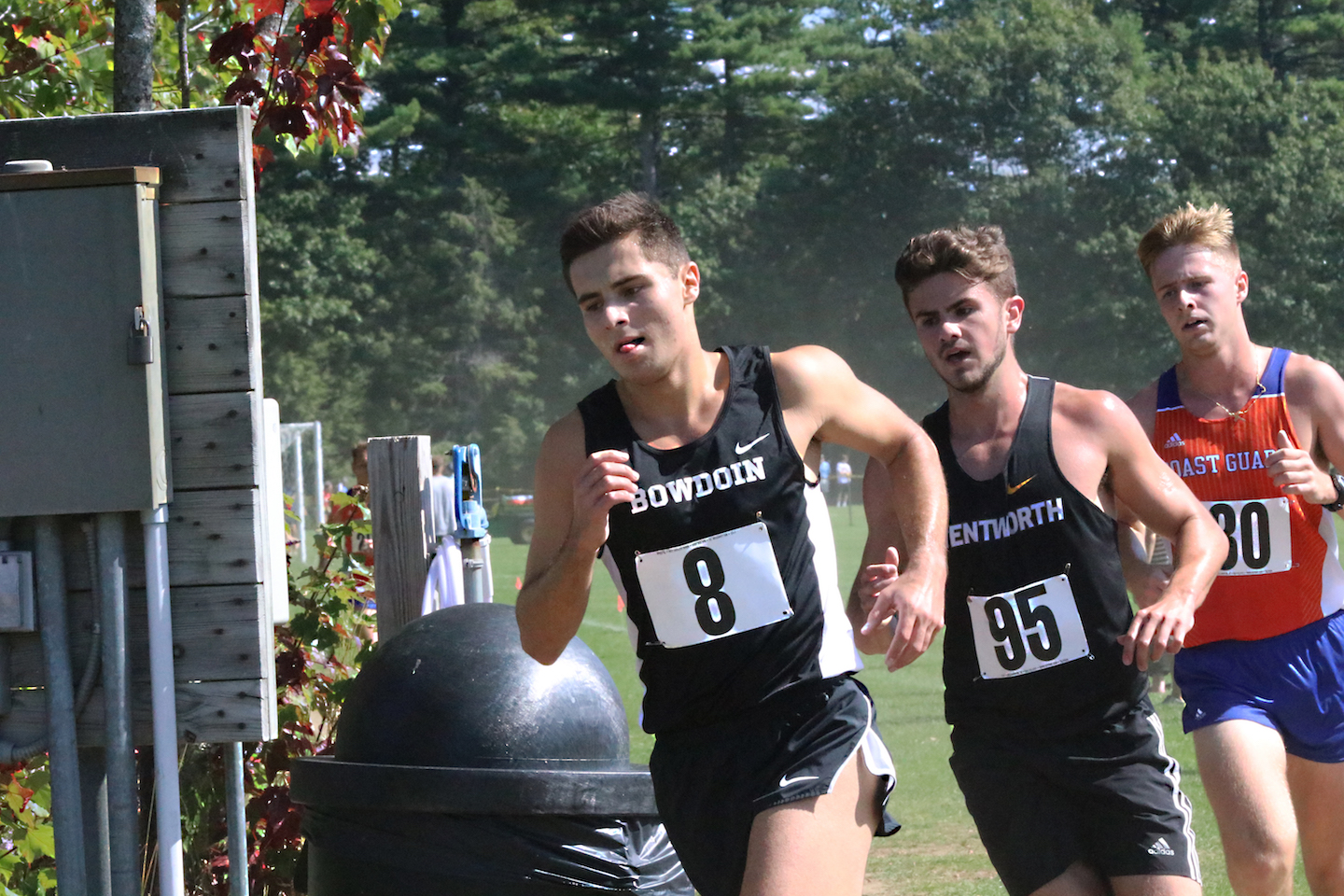 After finishing the last season with both teams in the top 10 at the NCAA Division III New England Regional Competition, the Bowdoin women's and men's cross-country teams kicked off a fresh season with a strong performance at the first Bowdoin Invitational last weekend. With a mixture of seasoned scorers and promising new members stepping up to fill the shoes of graduated seniors, the two teams are poised for success.
On the women's team, Delaney Bullock '22, Claire Wolff '21 and Leila Trummel '23 finished fourth, 19th and 21st overall, respectively. On the men's side, Andrew Meredith '22 led the way with a fifth place finish overall, followed by Luca Ostertag-Hill '20 in seventh and Ted Fuell '23 in eighth.
Head Coach Peter Slovenski attributed this strong showing to team members' extensive preseason efforts. Unlike other sports teams, members of the cross country teams must train individually over the summer in preparation for the season.
"We have a lot of freedom in the preseason. We don't have a formal preseason. Our season starts on the first day of classes, technically," said women's captain Sadie Saxton '20.
The Polar Bears will hope to build on last year's notable success. For the men, that means replacing six of the seven core runners who graduated last year.
"Coming into this year, we graduated our entire scoring team from last year," said Meredith. "So there was certainly not very high expectations from people who like to make projections about where NESCAC teams will finish at the conference championship."
Slovenski appeared to be unworried about the loss of these core runners.
"The men's team will be younger. We are likely to have only one senior in the top six of the men's team. It will be exciting to see the younger runners get to participate in the championships and gain a lot of varsity race experience," wrote Slovenski in an email to the Orient.
Meredith doesn't view this as a problem either—in fact, he sees it as a potential strength.
"Every year, I think we're going to get better, but seeing how those guys did on Saturday and knowing we can continuously build in two years when we're all upperclassmen … I think we're going to have a very good team, which is exciting," said Meredith.
On the women's side, a strong core of runners returns from last year, and Caroline Shipley '20 believes that the senior class is one of the team's greatest strengths.
"I think what's been really cool about our senior class is it's actually grown pretty substantially since freshman year," Shipley said. "I think every year different people have joined on to the cross country team, whether from track or totally new, and it's made for a really strong … senior class."
Slovenski agreed, pointing to the experienced runners of the women's team as admirable leaders.
"Our women's team includes a lot of veterans who are ready to step up into the varsity scoring positions," wrote Slovenski. "We are likely to have three seniors among the top six runners on the women's team."
As the first meet of the season, both teams were looking forward to the Bowdoin Invitational but view it as just a starting point for the rest of the season.
"[This is] a practice race of just trying out your race strategy, seeing who you can run with and just kind of figuring things out," said Saxton.
Reflecting on his race, Meredith expressed both frustration and cautious optimism.
"I think I had a good start, but I faded in the end. And I think that as a team, that's the general sentiment: we have a lot more in us," said Meredith. "I think our whole scoring team can be a minute faster than we were on Saturday, easily. … If that happens, I think we can be a pretty solid team."
This season looks bright for the Polar Bears as they host two more meets at home, one of which is the NCAA New England Regional Championship, which they are definitely looking forward to.
"I think [we can] surprise some people at the conference race [and] beat some teams that aren't even thinking about [us] right now," Meredith said.
The Polar Bears will race again in the Maine State Meet at Colby on October 5.