Kigali to Brunswick: new Mainers join community
September 6, 2019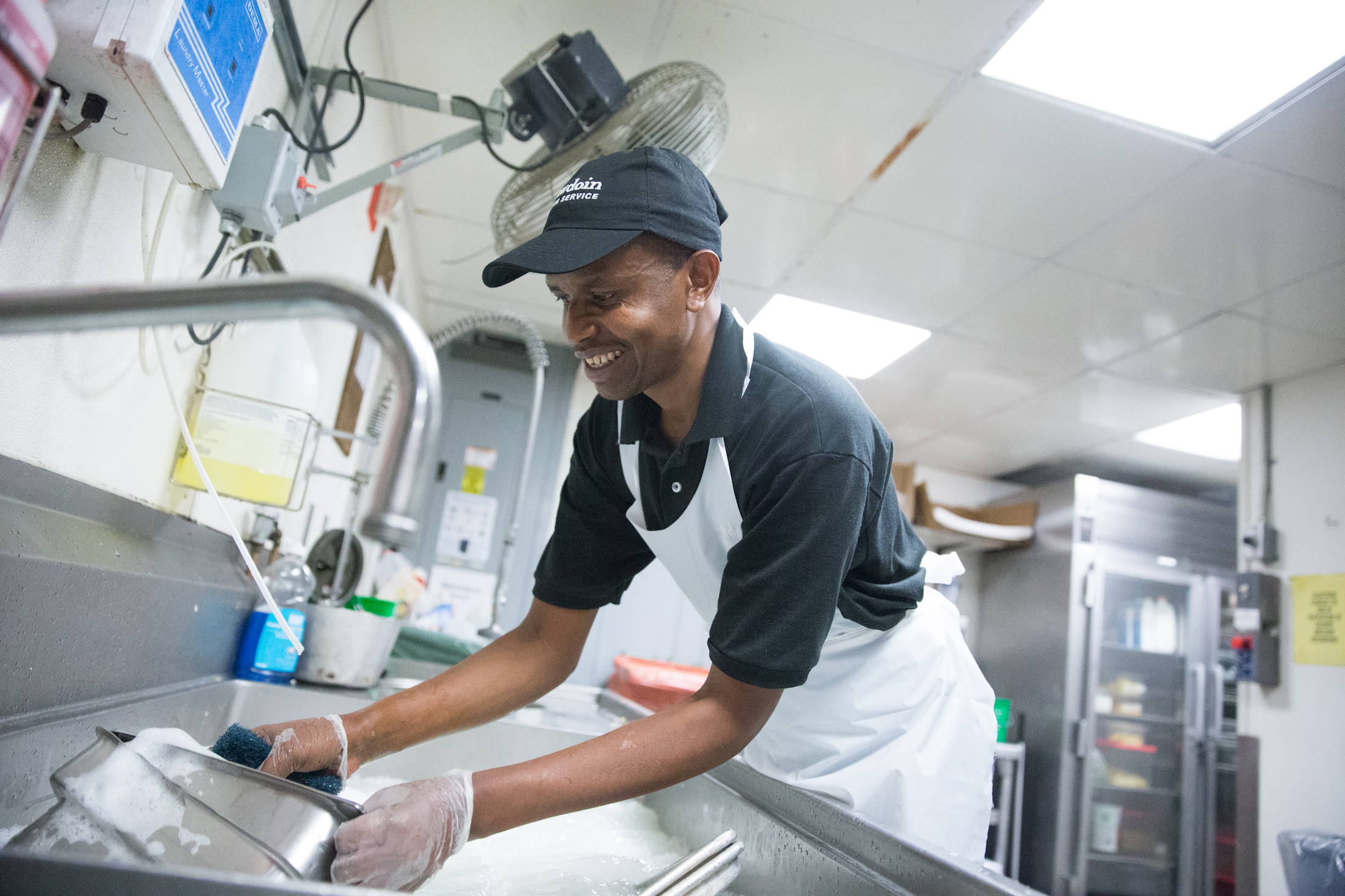 While seniors on campus update their LinkedIn profiles and rush to the Career Exploration and Development office, Jean Claude Kagame has crossed borders and oceans in search of work. He moved from Kigali, Rwanda to Brunswick, Maine in late June.
"There's a big issue of unemployment in Rwanda. I went to college, but it took me three years to find a job, and it wasn't in my field," Kagame said. "There are more opportunities in Maine."
The labor shortage in Maine has proved beneficial for Kagame, who now has three jobs, including working in the dish room in Moulton Union. He likes his coworkers and appreciates their help in developing his English skills.
"As long as it pays me I like it, but I need to improve. I can't spend my whole life washing dishes," Kagame said. "I don't know what I want to do yet."
Kagame is one of over 450 African immigrants who moved to Maine this summer. So far, 60 individuals have settled in Brunswick. Most are asylum seekers from Angola and the Democratic Republic of Congo. Some, like Kagame and his family, were fortunate enough to obtain a green card.
Many of these individuals chose Maine because they heard that there was already a small community of African immigrants, specifically in Portland.
"We came here because a friend of a friend said he could host us for a bit," Kagame said. "Unfortunately, he had too many guests and he couldn't accommodate us."
Instead, Kagame and his family stayed with over 200 other people, mostly immigrants, in the Portland Exposition Building (Portland Expo), the Maine Red Claws' basketball arena that served as an overflow shelter. He said that the Portland Expo was crowded and there was no privacy. He also spent time in one of Portland's homeless shelters, Preble Street, where showers are scheduled and curfew is at 8:30 p.m..
But just before July 4, Kagame, his wife Solange and his 15-month-old son Anael moved to Brunswick. They are living in an apartment complex owned by Katahdin Property Management, a company founded by Bowdoin's Assistant Director of Annual Giving Dave Holman and his business partner Brian Sprague.
"I was very concerned by the amount of people coming into the Portland Expo and the need that they had for housing, and I had housing," said Holman. "I was positioned to meet that need, and the only challenge is that [these properties] have to be run sustainably as a business, so I can't be a homeless shelter and give things away for free."
After reading about the influx of asylum seekers and migrants, Holman contacted Portland city officials and asked how he could help.
"I said, 'Hey if there's any way that we could somehow work out the payment of rent by someone, sometime, somehow, I'd be happy to work with you to place some of these families in more permanent housing,'" Holman explained.
In less than a week, two Rwandan families moved into Holman's property. They have been happily living in town since, and just this week, a third Rwandan family joined them. The city of Portland paid for their first month's rent, and they are now paying most of their rent with their wage earnings and some help from Brunswick's General Assistance Program, an initiative that purchases basic necessities for individuals who are without means to pay for such services.
Holman admits that their current rent "is on the lower end of the market."
"We'll be losing $1,000 to $2,000 a year, but it's worth it. It's the right thing to do," he said. "We're starting them out low, but they're doing really well, and they're getting jobs and going out to work. I think as the years go on, maybe we can come closer to the sort of fair market price."
"Our landlord, he's a very good man," Kagame said of Holman, who has become a friend as well as a landlord to these families. He helped them move in, get jobs and connect with other Brunswick residents.
"Most Americans start at home plate, but they're not even in the baseball field yet. They're just coming into the field, so it's helpful to be a little more hands on," said Holman.
Holman and Assistant Professor of Education Alison Miller created a website for neighbors and friends to donate a variety of items that these families needed. Bowdoin faculty and other community members contributed furniture for the unfurnished apartments, Walmart and Hannaford gift cards, diapers and more.
"There's a lot of young families at Bowdoin in particular, and so I knew that those were resources we had and could share," said Miller. "My sense is that there are a lot of us who are horrified by what is going on at our borders, and a lot of us have been wanting so badly to do something … This is a small way that we can take that action—by being a welcoming community, by being generous with our time and with what we have."
Because he brought only a couple of suitcases to the U.S., the walls of Kagame's apartment are almost completely bare. A few photos of relatives back home are taped on the walls above a set of faux-wood drawers—the same Target furnishings that some Bowdoin students buy for their dorm rooms.
The families are grateful for the donations and the support, and are beginning to feel more settled in town.
"We are happy to be here. We appreciate the Brunswick community and they are really nice. We say hello to everybody and they say hello, too," Kagame said.
Kagame and the other Rwandan migrants are not the first new Mainers to join the Bowdoin community and work for the College.
Brian Robinson, assistant director of employment and staffing, said that "under five percent of Bowdoin faculty and staff are non-US citizens … It's certainly a priority for the College—recruiting and hiring a diverse workforce is important."
He added that the three individuals who have started working for the College "are doing fantastic. The training's going well and they're already talking about potentially picking up more hours."
Kagame is saving up to buy a car. He's worried about his first winter in Maine and wants a car so that "the baby won't have to stay in the house a lot."
After settling in and finding a well-paying, full-time job, Kagame hopes to "give back to everyone that has helped [him]."
"There's definitely huge potential for these families to contribute to the Brunswick community," said Holman. "Of the first four adults that came [in July], three of them have bachelor's degrees and one has a master's degree. They all know more languages than most of us. And they're just genuinely nice people who want to make better lives for their families. They have a really rich cultural background to bring to the community."