40 years, 40 minutes: Olympian to run Boston Marathon
April 12, 2019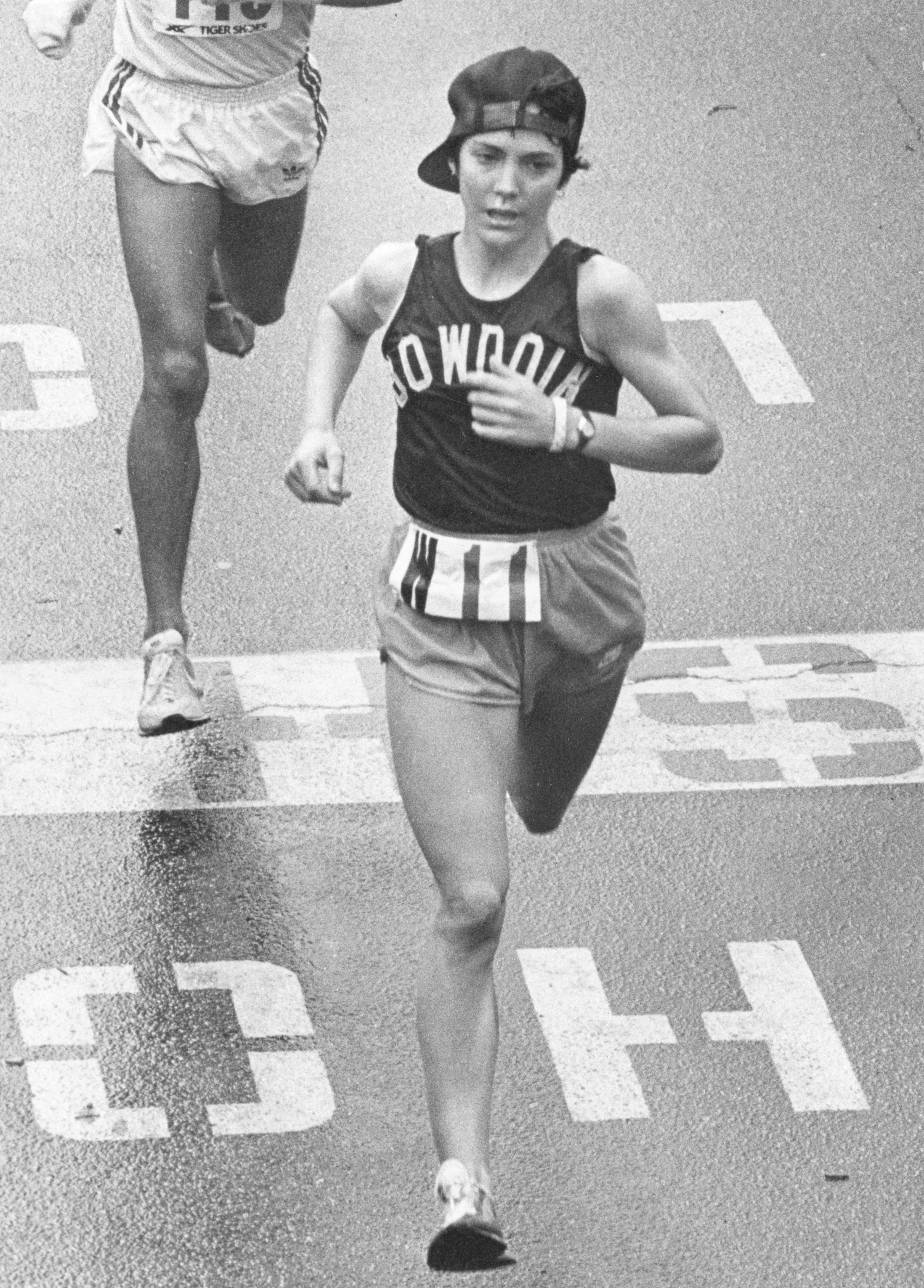 When Joan Benoit Samuelson '79 returned to campus after winning the Boston Marathon the spring of her senior year, she received a standing ovation in Thorne Hall, then the senior center. Sweaty and tired from her 2:35:15 finish, she soon learned that much of campus had watched her on television as she crossed the finish line in a Bowdoin singlet.
"The applause was memorable and certainly moving because I didn't realize that everybody had taken notice of what I had done," she said. "It was sort of my thing, my challenge. And I still [run marathons] today to challenge myself."
On Monday, Samuelson, at 61 years old, will run the Boston Marathon again, with hopes of finishing within 40 minutes of her time 40 years ago.
Samuelson began running her sophomore year of high school as a way to rehabilitate her leg after weeks on crutches from a slalom ski race accident. She continued at Bowdoin while also playing field hockey. Seeing as there was not a women's cross country team, Samuelson trained with the men's team and with anyone else who could keep up with her times.
"I ran with the guys. I ran longer runs with the football coach and Sam Butcher, who was a chemistry and environmental studies professor, and a guy by the name of Charlie Gordon, who coached periodically at Bowdoin," she said.
After her first year at Bowdoin, Samuelson accepted a scholarship to run at North Carolina State, where she stayed until her junior spring. When she returned to Brunswick, she kept training on her own and occasionally with a team out of Cambridge called the Athletic Club, increasing her mileage and intensity.
Despite her Olympic-level athleticism, Samuelson was demoted to the Bowdoin junior varsity field hockey team after showing up exhausted to a field hockey game against Colby after winning a half marathon in Portland, where she beat the woman who was considered the best female distance runner in New England at the time.
"Back then you couldn't substitute players except at half time and [my coach] Sally LaPointe pulled me off the field and benched me because I was so tired that I could hardly move off the line," Samuelson said. "She did the right thing, and I learned a lot on that team, but then I realized that I should just follow my heart and pursue running."
And so she did. Samuelson won the first Olympic women's marathon at the 1984 Los Angeles Games. She set a world best of 2:22:43 in the 1983 Boston Marathon. Two years later, she ran the Chicago Marathon even faster, with a time of 2:21:21. More recently, she won the Veterans (50-59) Division at the 2011, 2013 and 2014 Boston Marathons, setting a Veteran's record of 2:50:29 in 2013.
The challenge of running faster and further kept Samuelson going. She is a member of the National Distance Running Hall of Fame, the Maine Women's Hall of Fame, the National Track and Field Hall of Fame, the USATF Masters Hall of Fame and the L.A. Memorial Coliseum's Court of Honor.
"It's really all about passion. I'm as passionate about running now as I was back then, and that's what keeps me running," she said.
A resident of Freeport, Samuelson has kept running at Bowdoin as well, occasionally joining in on practices with the Bowdoin cross country and track teams.
"I probably gain more inspiration from the Bowdoin runners now than they gain from me," Samuelson said. "They keep me young, and they probably all run faster than I run."
Samuelson's longer runs take her from her home in Freeport and around Pickard Field. As a member of the Board of Trustees, she comes to campus often for meetings. Her roommates from college are still her closest friends, once her teammates on the field hockey team and now her ski buddies and neighbors down the street.
Although Samuelson is sure that she would have begun running marathons even if she hadn't gone to Bowdoin, she is grateful for the College's running community and its proximity to Boston, the main reason why she ran the Boston Marathon in 1979.
"I didn't fully appreciate the history of the Boston Marathon. I knew all about the Boston Marathon, but I didn't realize how steeped in tradition it was," she said. "And now for me personally, there's a lot of history in that course."
Will she wear the same Bowdoin singlet on Monday?
"I just want to make it to the starting line and then I'll decide," she said. "At my age, I'm pushing the envelope. You never know what will happen. Finishing, that's the goal, that's the hope, that's the desire."