Bowdoin's housekeepers earn less than the average custodian. The difference is in the label.
February 15, 2019
As Bowdoin's housekeeping staff trudges through the snow to work in the wee hours of the morning, comparing their job title, benefits package and union representation to local counterparts is likely far from front of mind.
However, after an Orient investigation last spring revealed that many housekeepers struggle to make ends meet, these distinctions appear key to their overall compensation and wage increases.
Financial insecurity among support staff has manifested itself in multiple ways. Many of the College's housekeepers and groundskeepers regularly work second jobs to supplement their Bowdoin income. Others have reported visiting the local food bank, eating food left by students in Watson Arena locker rooms or even contracting the Bowdoin men's hockey team to take care of young children, as the local Children's Center is often unable to accommodate their unusual hours worked. Some of these employees, who work to keep the College running, have noted that they do not feel well served by their institution. The calculation of their wage and benefits package is more complex than first meets the eye.
When it comes to pay equity between Bowdoin's support staff and their peers across the county, labels are important. Bowdoin's housekeeping staff makes less money than the average janitor or cleaner in Cumberland County, but more than the average maid or housekeeper.
Bowdoin, which touts what it calls a county-best benefits package in order to attract workers, pays its housekeepers significantly less per hour than two local high schools. Several factors distinguish Bowdoin from other employers—the absence of unions, notably, but also how hourly jobs are classified in the first place.
Wages and labels
The Maine Department of Labor codes those with the title of "housekeeper," "custodian" or "janitor" into two categories—either "janitors and cleaners" or "maids and housekeepers." The classification corresponds with a significant pay difference. In 2017, the most recent year for which data is available, Cumberland County (which includes Brunswick) "janitors and cleaners" were paid on average $14.10 per hour while "maids and housekeepers" made only an average of $11.28 per hour.
Merrill Huhtala, the program manager for Occupational Employment Statistics at the Maine Department of Labor, explained the different duties that distinguish the two job categories.
"Janitors and cleaners keep buildings in clean and orderly condition; they perform heavy cleaning duties, such as cleaning floors, shampooing rugs, washing walls and glass and removing rubbish," Huhtala said. "The maids and housekeeping cleaners—and here's the distinction—they perform any combination of light cleaning duties to maintain private households or commercial establishments such as hotels and hospitals in a clean and orderly manner. Duties may include making beds and replenishing linens, cleaning rooms and halls and vacuuming."
Matt Orlando, Bowdoin's senior vice president for finance and administration, says that most of what the housekeeping staff does on a day-to-day basis falls under the job description of maids and housekeepers.
Huhtala said that the maid and housekeeping label is actually used quite sparingly at educational or residential institutions such as Bowdoin.
"If [housekeepers are] doing light cleaning in the dorms and that sort of thing, they'd be coded as the maids and housekeeping cleaners," he said. "But my experience has been, most of them get coded into the janitor and cleaner title. Because they're running floor buffers and that sort of thing. We don't see too many maids and housekeeping cleaners [in the county]."
In Cumberland County in 2017, 3,040 workers were classified as "janitors and cleaners" while only 1,070 were classified as "maids and housekeeping cleaners," suggesting that most custodial staff do the heavier work required to be labeled as the former. While specific data on private institutions is not available, the majority of custodial staff at schools, colleges, hospitals and other residential facilities are categorized as janitor and cleaner, according to the Maine Department of Labor.
Similar to the "heavy cleaning duties" that Huhtala attributes to janitors and cleaners, Bowdoin classifies the job of Housekeeper I, the entry-level housekeeping position, as "heavy work."
The job description for Housekeeper I at Bowdoin, listed in a posting this past fall, explains under the section "Machines, Tools, Equipment & Work Aids Used" that employees will be asked to use, at various times during their job, "General cleaning hand tools, buffer (side-to-side), burnisher (straight ahead), walk behind and ride-on scrubber/sweepers, vacuum (including backpack), shower/foam gun, kai-vac, floor refinisher, stair walker, carpet extractor; and two way radio."
When surveyed by the Orient last spring, Bowdoin's housekeepers reported making an average of $13.09 per hour. This wage is higher than the 75th percentile of maids and housekeeping cleaners in Cumberland County but lower than the wage earned by the average janitor or cleaner.
The College has marginally increased pay since last spring. At the beginning of this academic year, wages for second-shift hours went from seven percent more than the worker's hourly pay to 10 percent, while third-shift hours went from 10 percent to 15 percent on top of normal hourly pay. Weekend hourly pay also increased by $0.20 for all workers, and the College adopted an already-planned increase of $0.25 to the minimum starting wage for all employees.
Mt. Ararat High and Brunswick High, the two nearest public high schools, employ only those classified as janitors and cleaners, and currently pay starting wages of $17.42 per hour and $20.75 per hour, respectively. Bowdoin's current starting wage for the entry-level housekeeping position is $12.35 per hour, with plans to raise that number to $12.50 per hour this summer.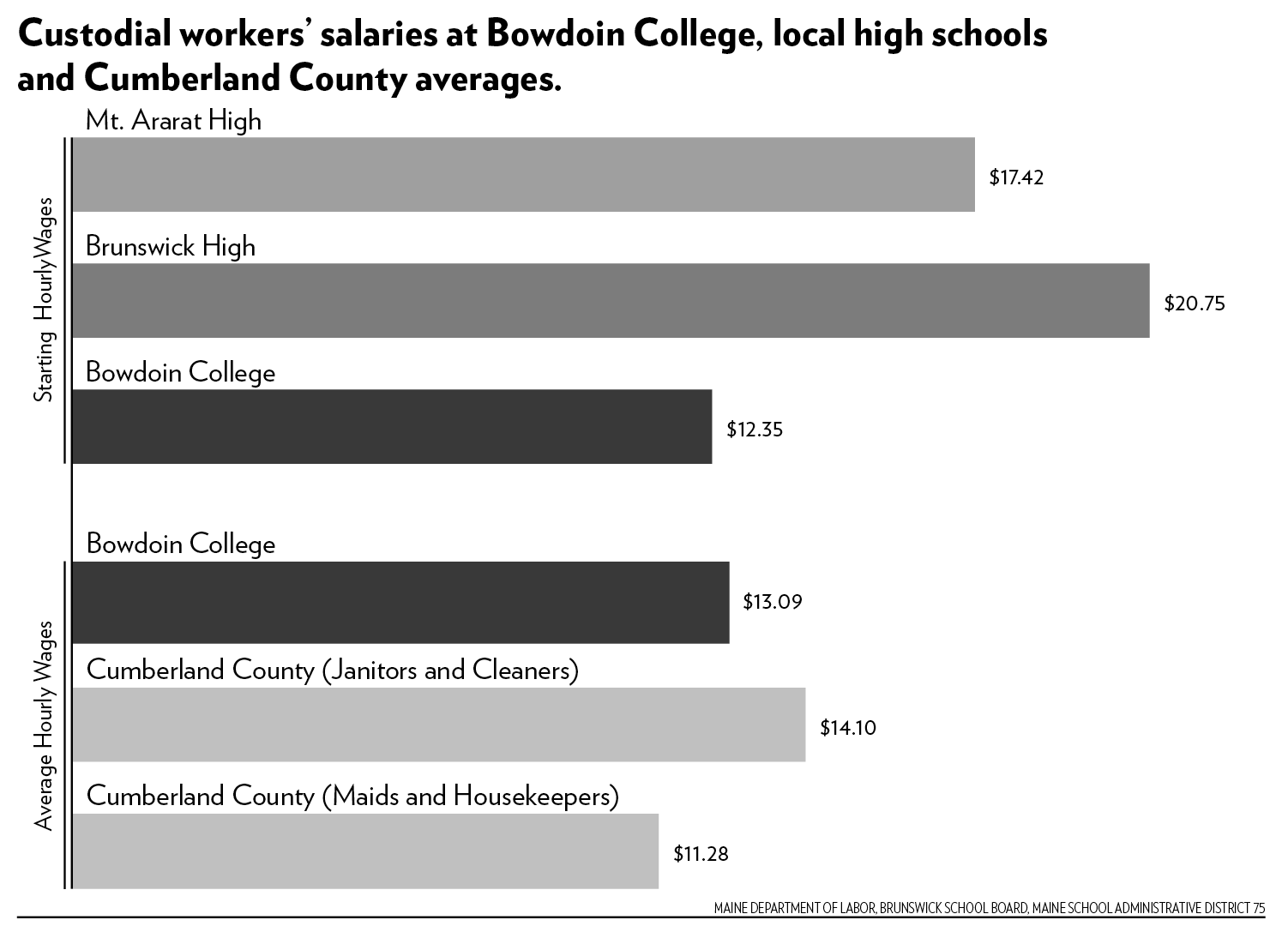 The two high schools often ask their staff to complete tasks that are not in the job description of Bowdoin housekeepers. At Brunswick High, for example, custodians are also responsible for tending the grounds, as there is no separate groundskeeper role. Representatives from both high schools noted that turnover is low.
Mt. Ararat High School and Brunswick High School still represent outliers in the county. Both local high schools also offer generous benefits packages.
Comparing benefits
President Clayton Rose is quick to mention that Bowdoin is near the top in the county with regards to hourly compensation for housekeepers and has a benefits package that he referred to in the fall as "second to none."
In surveying local businesses, the Orient found that the College pays its housekeeping employees an hourly wage that is similar to many of Cumberland County's retirement homes, fast food chains, big box retail stores and hotels. Its benefits package, which has three health care options with premiums that include vision and dental plans, ranks better than many custodial jobs.
Mt. Ararat and Brunswick High employees, though, also speak highly of their benefits packages.
"The benefits are fantastic. The pay is OK," said Stephen Reed, the custodial supervisor for Maine State Administrative District (MSAD) 75, which includes Mt. Ararat High. "We pay very little as far as out of pocket goes for medical insurance. We have dental care too. I think [our benefits package is] what interests most people when they hire on with us."
These comprehensive health insurance packages are comparable to those offered by the College. Custodians at local public schools can choose from four different packages covered by Anthem Blue Cross. The Maine Education Association Benefits Trust Standard Plan, the most popular plan amongst employees of the Brunswick School District (which includes Brunswick High), offers a low $200 deductible.
Meanwhile the most popular plan among Bowdoin employees, the Bowdoin College PPO Health Plan, offers a higher $500 deductible as well as higher co-pays. Premiums, though, are higher in the Brunswick School District ($120 per month versus Bowdoin's $86), with the annual difference coming out to $408.
Bowdoin also offers two high-deductible health plans (HDHP). Monthly premiums are lower in these plans—$52 per month for HDHP Option 1 and $31 for HDHP Option 2. However, high deductibles are often less appealing for workers with greater risk of injury, seeing as they have to pay more out of pocket before their insurance plan benefits kick in. Housekeeping and custodial work is physically taxing, and Bowdoin housekeepers frequently report injuries, according to a survey conducted by the Orient last spring. Workplace injuries are covered by worker's compensation. According to Orlando, about 35 percent of Bowdoin's employees choose to be covered by these two HDHPs.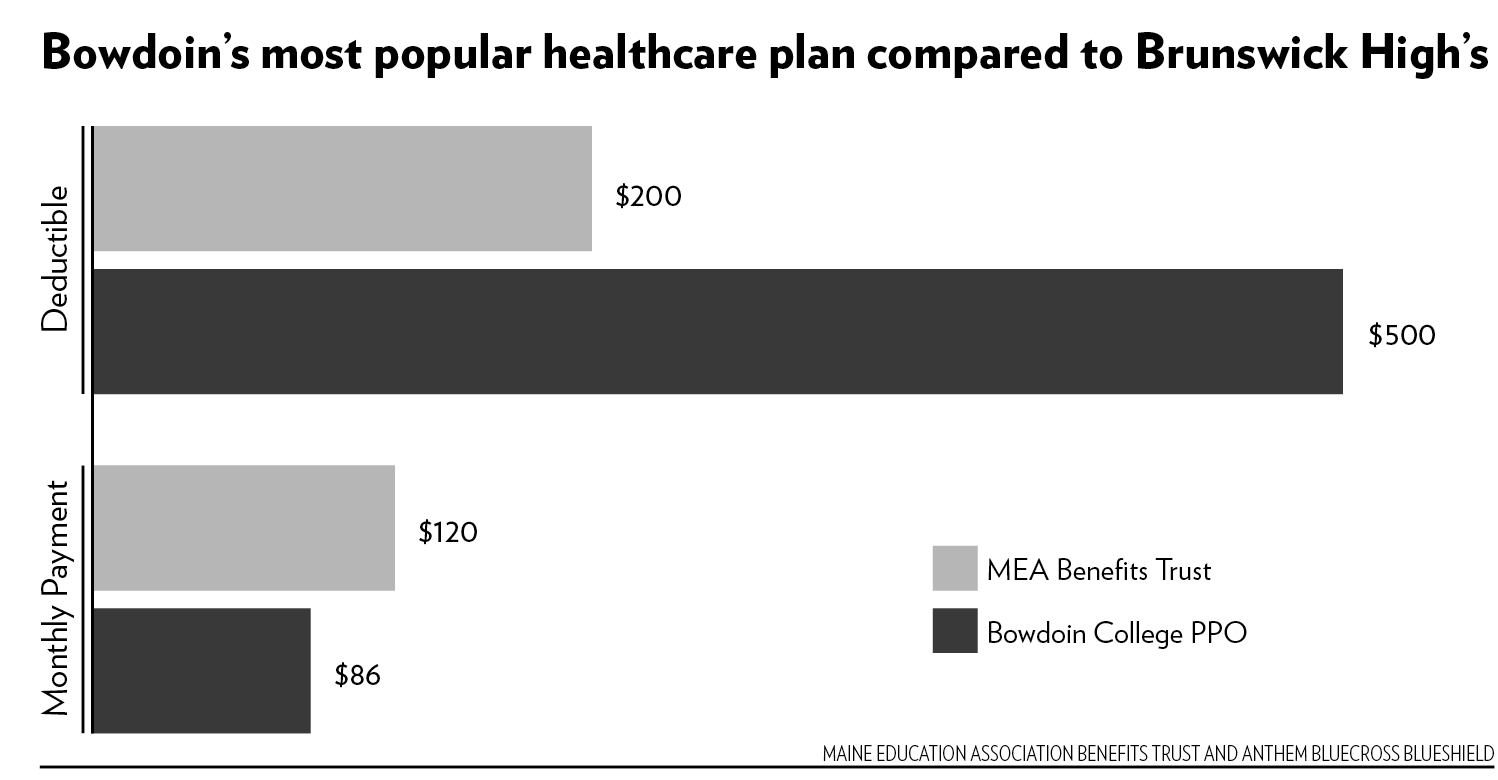 Unlike local public schools, Bowdoin offers a 401(a) retirement plan, which employees are eligible for without making their own financial contributions. Local high schools only offer a 403(b) retirement plan, which Bowdoin also offers as a supplemental plan.
"For us, our compensation program is precisely designed so that our hourly staff are among the best paid on a total compensation basis in the region and in the state," said Orlando. "They have secure, year-round jobs, and they have insurance, retirement and a host of other benefits that quite often other employers don't offer."
Unions
Aside from hourly pay and titles, the biggest difference the Orient found between high school custodians and College support staff was union representation. Bowdoin's hourly employees are not unionized—but the high school custodians who receive higher wages are.
"We fight really hard to keep our health insurance the way it is when we go into negotiations," said Mary Kay Dyer, chair of the grievance committee for Merrymeeting Employees Association Union, which represents support staff in MSAD 75. "When we ask our support staff what is it that [they] want us to go in and argue for, the first thing they'll tell you is, 'Don't change our health insurance.'"
Membership in unions allows employees to bargain collectively rather than as individuals. Union representatives and economists alike argue that this can lead to higher wages.
"Union workers fare far better than their non-unionized counterparts because of their ability to bargain collectively. There's strength in numbers," said Jim Durkin, director of legislation, communication and political action for the American Federation of State, County and Municipal Employees, Council 93, the union that represents Brunswick High's custodians.
Huhtala noted that unionization could "absolutely" lead to higher wages for the College's housekeeping staff, as Bowdoin currently leans more heavily on its benefits package in attempts to attract employees.
Comparisons between jobs exist with the understanding that custodial work is grueling. Local community members, such as Brigit Cavanagh, the sales director at Sunnybrook Senior Living Facility in Brunswick, believe all housekeepers in the area are underpaid.
"It's probably the hardest job in the country, besides maybe plucking chickens," she said.
Nell Fitzgerald, Kate Lusignan, Penelope Mack and Reuben Schafir contributed to this report.