Bowdoin dining employees: the real dinner-winners
February 8, 2019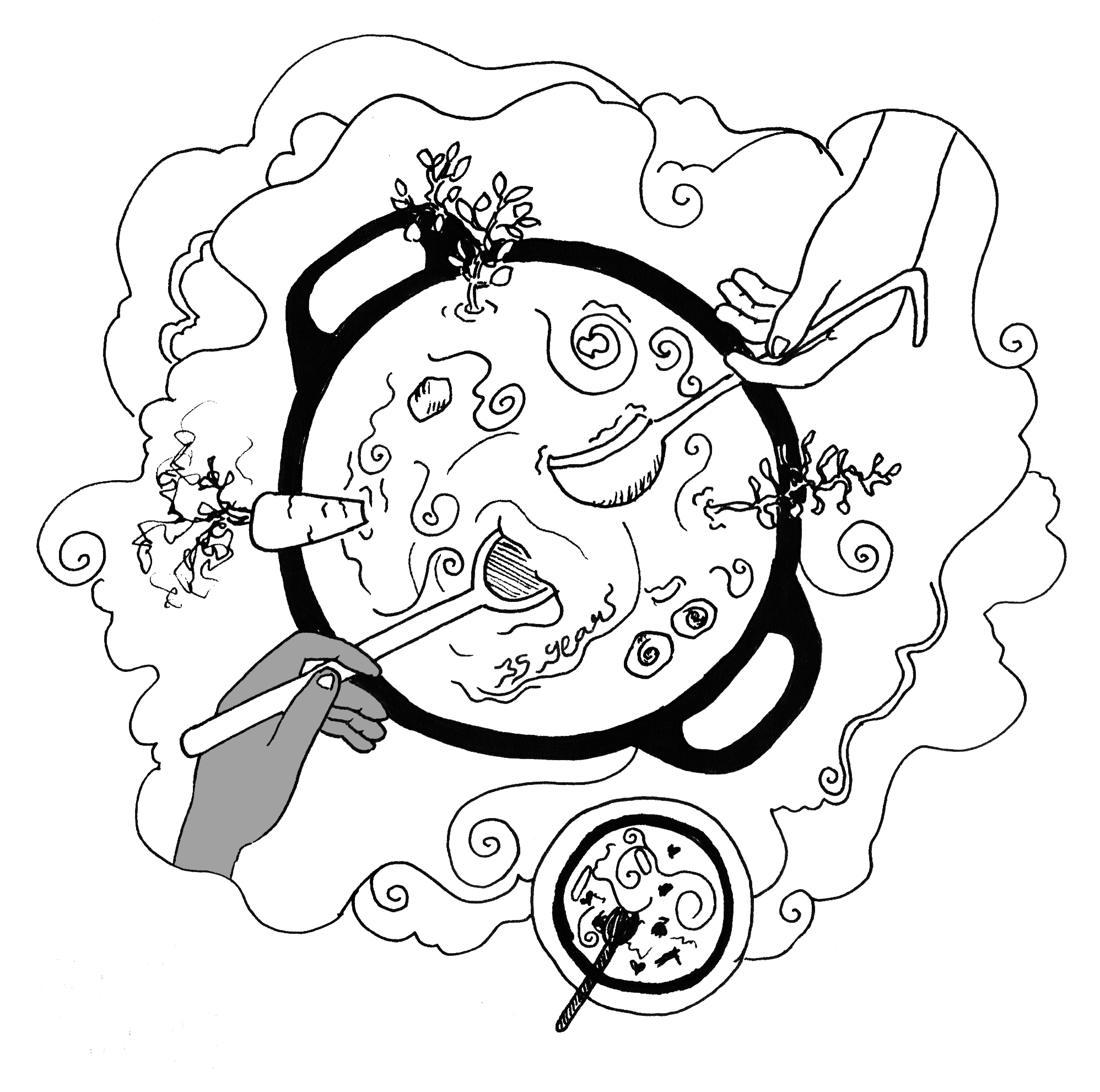 The Orient's "50 things to do before you graduate" reads: "6. 'Win' dinner—be the last to leave." Come graduation, most students can brag about having won Moulton or Thorne at least once. But the ultimate winner of Bowdoin Dining is John Parker, who has been working for the College for the past 35 years.
When Parker controls the music at Thorne, he plays "old psychedelic" hits. Strawberry Alarm Clock, The Electric Prunes, The Tangerine Zoo and The Chocolate Watchband are among his favorites. "They're tasty, aren't they?" he laughs. As "Cook I" in Thorne, he lives in the kitchen, but it is not the food that has kept him at Bowdoin.
Parker cooks all the soup served in Thorne and the Pub, typically stirring 20 to 30 gallons of soup per day. From Curried Carrot to Silky Cauliflower, students sip and slurp his creations year round. The aromas of his food permeate campus, reaching far beyond the dining halls. I've played the icebreaker "What's your favorite Bowdoin soup?" multiple times and Parker's Cream of Wheat Wednesdays are a Thorne institution. Yes, he's that Parker.
Despite his pivotal role in Dining, Parker is humble. He blushed when I told him that every other week, my roommate eagerly awaits his Hungarian Mushroom soup, a popular dish served biweekly instead of on the typical four-week meal rotation.
"I'm kinda the soup guru, I guess," he smiled. "It's pretty simple to [cook in such large quantities]. I do it every day, it's like brushing my teeth." At home, he makes Progresso soup from a can, but frequently bakes and distributes cookies, "spread[ing] smiles" through his neighborhood.
Parker has been cooking since he was an undergrad at Hobart College in New York, his only time ever living outside of Brunswick. For him, cooking is both dynamic and reliable.
"I like creating. Every day is going to be a little different, no soup is exactly the same. Granted, I do the same thing every day, but I like stability, " he told me. "You walk away everyday knowing that you did something that hopefully people liked and you did your best. You feel like you've earned your money."
But food provides more than sustenance and a paycheck for Bowdoin Dining employees as cooking at Bowdoin has advantages outside of the kitchen. Many chefs enjoy spending time with students. Every fall, Parker looks forward to meeting new first years, asking them about home and "grilling them while they're on the grill."
Warren Johnson, assistant production manager at Moulton feels similarly. One of the more gregarious cooks at Bowdoin, Johnson finds working with students entertaining and gratifying. He is quick to joke around in the hot line. "You want two over easy? Sorry, we're all out of eggs!" he says to even the first diner at Moulton breakfast.
"Students have made me laugh, cry and everything in between.," Johnson said. "Why do I get up at 3:30 in the morning in the middle of a snow storm? Because I gotta feed those kids; you need to be fed. It's not just that, I want to be there for you guys and you all make me smile. It's a pleasure for me."
Employees cite other benefits, such as flexible hours, access to college resources and favorable insurance plans.
"The people keep me here. The schedule keeps me here; I have 11 weeks off a year," said Parker.
He appreciates working 6:30 a.m. to 2:30 p.m. and having afternoons off to bike and build his record collection, which currently consists of over 4,000 albums.
Johnson is incredibly grateful for the insurance package that Bowdoin Dining offers. He paid only $5,000 for his double knee replacement in 2015, a surgery which on average can cost $70,000 without insurance.
"I owe [Bowdoin Dining] not only for the job, but I appreciate them for all the benefits that come with it," said Johnson. "The benefit that I didn't know that I was going to get was that everything in the Buck Center was tailor-made for a guy having to rehab his knees. There are a couple machines that you can't find anywhere around here."
Other secret perks abound. Neil Willey, head coach of strength and conditioning, helped Johnson recover safely and even gave him a hand-tapped bucket of maple syrup. Johnson also receives farm-fresh eggs from a former Bowdoin Dining employee.
Far beyond pay, the many benefits of dining employment mean that staff are reluctant to leave. The three longest tenured Bowdoin Dining staff—Parker, Director of Dining and Bookstore Services Mary Lou Kennedy and Ken Cardone, associate director/executive chef—have worked at the College for a collective 96 years. There are few job openings in the dining halls except for part-time student workers.
"I would've liked to move up," Johnson admitted, "but I'm happy at Bowdoin. It's a community … In my opinion, the students are the real community and then there are microcosms within that. In our little community, people don't like to leave very often."
Johnson says that "Moulton's home, Moulton's better." Parker scoffs, "Of course I'm partial to Thorne." Meanwhile Kennedy insists that the dining halls are unified. But no matter where staff fall on the Moulton-Thorne debate, loyalty remains strong towards Bowdoin Dining.