Spring of Discontent: student-curated exhibition memorializes 1968 Germany through photography
December 7, 2018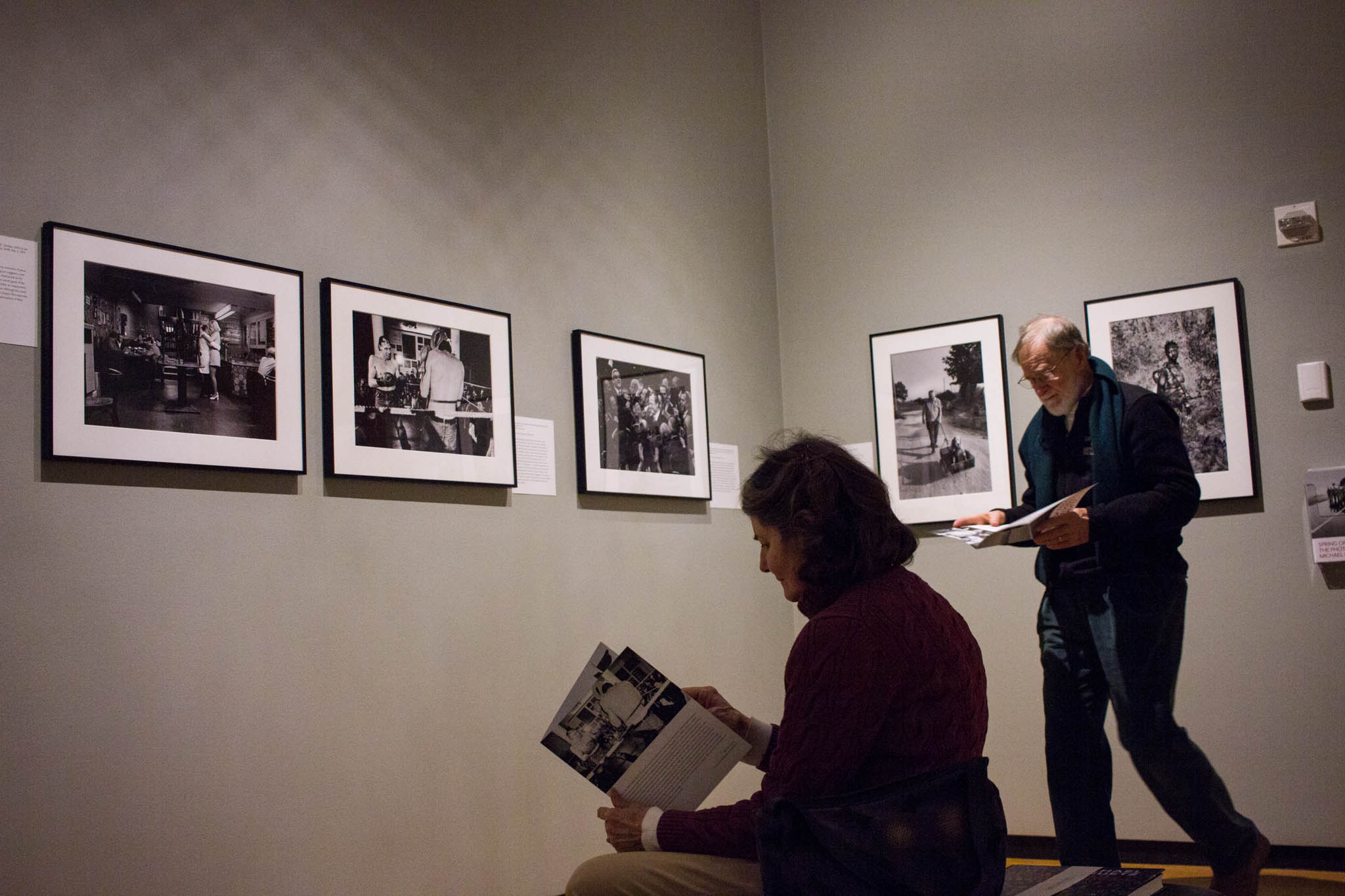 Sixteen striking black and white photos are hung on the three gray walls of the Becker Gallery in the Bowdoin College Museum of Art (BCMA), occupying the intimate space and transporting the viewer to Germany in 1968. The new exhibit, curated by Assistant Professor of German Jens Klenner and his students, examines the photography work of German photographer Michael Ruetz, bearing witness to a period of intense social and political change.
"These pictures are almost containers in which  [Ruetz] pours the contents of 1968," said Klenner.
Klenner's seminar, "German Literature and Culture Since 1945," worked all semester to curate this new exhibition, which is the first of three faculty-student curated exhibitions that BCMA will display this academic year. Each student was responsible for selecting one or two images and writing wall text describing the specific work.
The curatorial process was highly student-driven, which required curators to make important decisions to produce a cohesive idea.
"We had to narrow it down from 40 [photos] to just 16," explained Danny Banks '19.  "There were lots of images that were cut … that could have taken the exhibit in a totally different direction. In a sense, we were not given that exhibition we had to put on, we had to make one."
The display of photos is divided largely into three sections, each occupying its own wall.  The first examines overt forms of student protest; the second serves to remind the viewer of the legacy of WWII in Germany, and the third focuses on moments of relief as well as alternative forms of protest.
For example, a particular piece titled "A Meeting of the Konvent of the FU Berlin" was selected by Gabby Unipan '21.  The subject depicted are students who appear to be voting at a student parliament meeting at the Free University Berlin.  On the blackboard behind them, someone has written that "all professors are paper tigers."  Unipan explains that the phrase is a metaphor for these professors' lack of power—a major theme in 1968 protest movements, in which students advocated for more democratically-run universities.
At the time these photos were taken, Ruetz, a Berlin native, was not a professional photographer. His works, would become important sources of historical and social documentation of a turning point in German history.
"In his own words, he had no time to be … taking pictures,"  said Klenner.  "He simply picked up a camera and went outside and started taking pictures."
The project started with a conversation over a beer with a friend who works at the Goethe-Institut in Boston. According to Klenner, his friend said, 'We have two boxes of photographs from Michael Ruetz from 1968.  Do you have something to do with them?'"
This semester, students have examined every detail of the exhibition, including which works should be included, the order in which they are shown, their spatial arrangement and who would write the the wall text for what work.
"I feel like we characterized the revolution in a way that hasn't been done before," said Rodger Heidgerken '20.  "Someone may be able to go through [the exhibition] and make the same connections [as those] in our own minds that we've had to put together throughout the whole semester."
Heidgerken notes that a prominent theme of the revolution itself was the ability to form one's own idea of what was going on, what one wanted to see out of society, what one want to see in an art gallery and what one wants for oneself.
"I think we've done a very good job forcing people to think," he said.
"Discontent: The Photography of Michael Ruetz" will be on view at the BCMA until January 6, 2019.