Dissecting lies and truth with actor Aurélian Recoing
November 2, 2018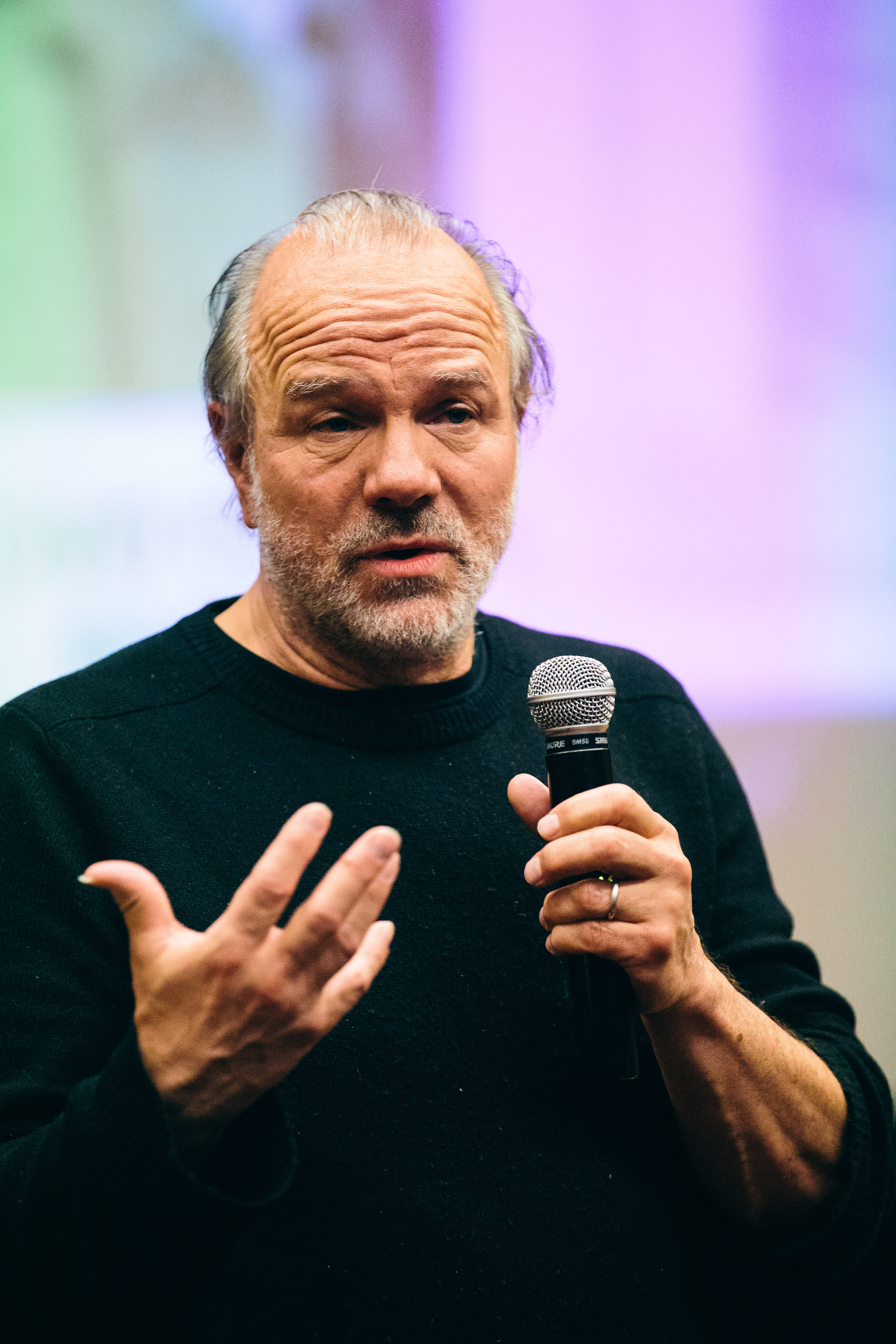 Laurent Cantet's 2001 prize-winning film, "Time Out," opens with a shot of Vincent—the film's protagonist—asleep in a car. The audience quickly learns that Vincent, portrayed by Aurélien Recoing, has lost his job and is lying to his family about having found a new one in Geneva. He is living out of his car on the days he claims to be working. On Sunday afternoon, Recoing discussed with Bowdoin students the themes and making of the psychological drama in Kresge Auditorium.
Hosted by the Department of Romance Languages and Literature, this was not the first time Recoing, a part-time resident of Bath, Maine, has been on campus to discuss one of his films. He was previously invited to Bowdoin for his role in the 2013 film "Blue is the Warmest Color."
In stark contrast to his performance as the manipulative character portrayal as Vincent in "Time Out," Recoing has a distinctly relaxed and warm presence in real life. A veteran of both the stage and silver screen, Recoing had no difficulty embodying the role.
"I had the sensation when I was on the set, just to be and to live, and nothing else. To feel not to play," he said. "It was a dialogue between my life and the life of the character."
Recoing and Cantet worked extensively on character development in the eight months before shooting. During that period, Recoing did not know whether he actually had the role which made it an especially unusual challenge. Nonetheless, he dedicated himself to the project and took inspiration for Vincent from everyday people he saw walking on the street.
Most of the cast members were not professional actors. Apart from Recoing and Karin Viard, who played Vincent's wife, the entire cast was composed of amateurs chosen for their real-life similarities to their characters. For example, Vincent is caught in business with a trader of counterfeit goods, played by Serge Livrozet, who is a former con-man in real life.
"It was difficult, because I was a professional, so I learned my text and I learned my lines, but the other actors were improvising all the time," said Recoing, "But my director didn't want me to be stuck in the text … [others brought] their own experiences. I bring my own experience too of the acting, but not really on the story."
Recoing is a well-known stage actor in France, and he utilizes the lessons of theater while approaching his film roles.
"You develop the dialogue with the audience—that's the first step for me, and you don't have that on set. But you do have the set crew, and you can establish a dialogue with them," he said.
The plot of "Time Out" was partially inspired by the story of a real man, Jean-Claude Romand, who murdered his family after they discovered his double-life of 18 years. True to the life of Jean-Claude, Vincent lives near Geneva and lies extensively to his family in order to save face. Cantet and Recoing drew the line there. They had no intention of making "Time Out" a tragedy.
"The worst things for a human being are divorce and losing a job," said Recoing, "[Time Out] is a story of a man who again finds a job."
Cantet and Recoing also enjoyed the symbolic potential of the character's proximity to Geneva.  Recoing likened the movement across the French and Swiss border as a transition into a new life and identity for Vincent.
Recoing is still emotional as he speaks of his experience with Cantet and "Time Out" even now, nearly two decades later. For Recoing, Vincent was an intense role, and one helped him hone his craft.
"To lie and to lie to, I think about that [idea]—mentir. To play the imposter is to be an actor. And so in his costume of a businessman, [Vincent] is not free," said Recoing. "He has to go inside himself and find that freedom. Find his real personality. So he lies—and he lies truth."