Snapshots of intimate encounters in 'Heart of the City'
October 25, 2018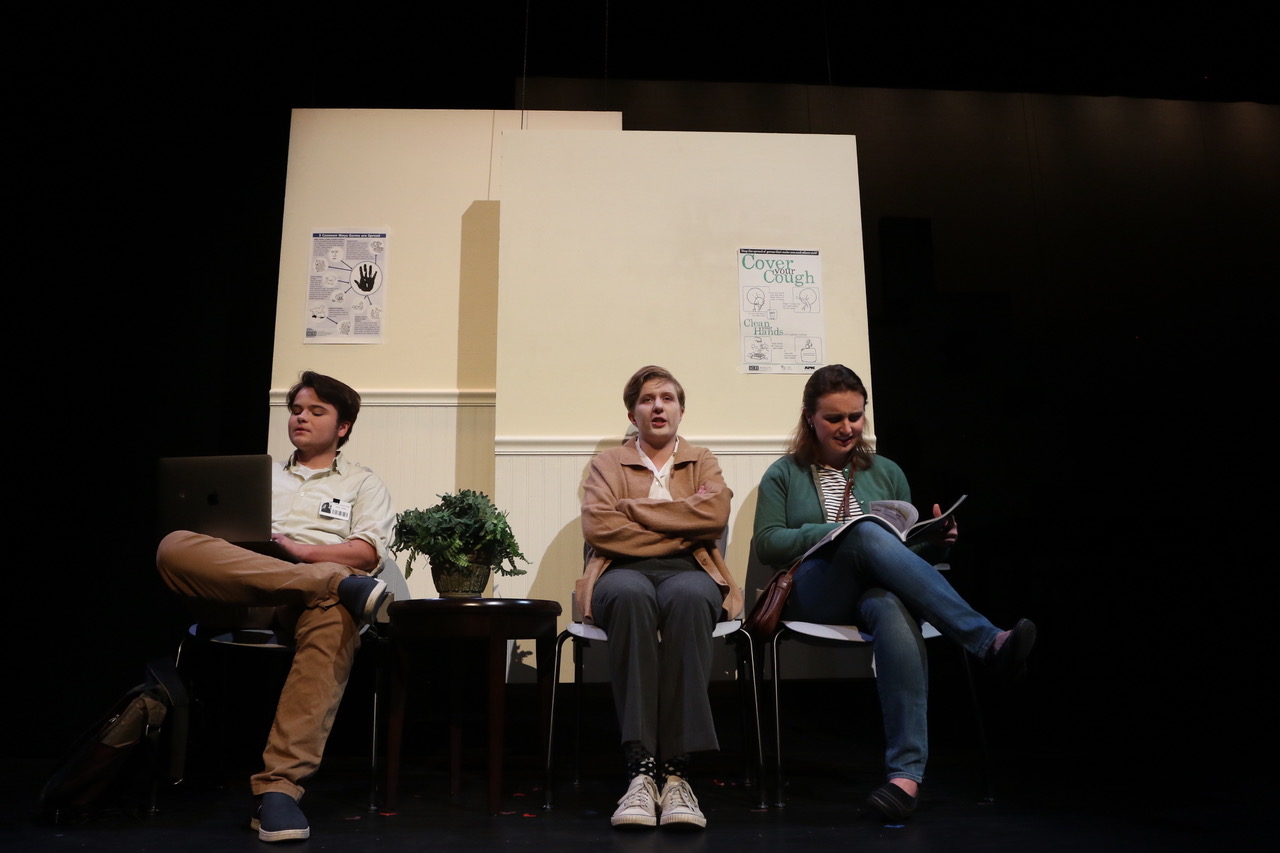 The hustle and bustle of New York City comes alive on stage to the familiar sound of a subway announcement. Complete with towering skyscrapers, dreamers and cynics, hurrying high-heels along congested sidewalk, the city was reimagined on stage at Pickard Theater last weekend in Masque and Gown's fall production, "Heart of the City," written by Eric Lane.
The play attempts to recreate the intimate experiences of New Yorkers—an incongruous couple, a gay Spanish immigrant, a mother suffering from cancer, a couple struggling to have children, an advertising agent who dreams of becoming an artist—whose lives intersect in unexpected ways.
"Cities are full of strangers, and the only way we can make cities work is by embracing opportunities for connection. This play is very intimate even though it takes place inside this big city," said director Grace Kellar-Long '21.
Previously, Masque and Gown—Bowdoin's oldest student-run theater troupe—has showcased "A Midsummer Night's Dream," "American Idiot" and "The Laramie Project." What makes "Heart of the City" so unique is that it is less well known, giving directors an opportunity to expand and follow their own visions.
"Nobody had any preconceived notions of what was going on or what shape it was going to take," said Holden Turner '21, assistant director of the play.
However, putting on an unconventional play brings certain risks: people just aren't as drawn to unfamiliar productions. Adhering to a limited pool of well-known works, though, discourages students from experimenting with their creative vision and instead leads to a scramble to find "the hits."
"I would really encourage Masque and Gown to make sure that the directors come up with the vision that they want and try new things. If everything [has] too much of a group mentality, then it'll end up being an organisation that's not willing to take risks. Theater [is] all about taking risks," said Turner.
During this production, the crew tried to mentor the students new to theater—an experienced sound or costume designer would work with someone less experienced, to help them acquire the skills for future productions.
Bowdoin's position as a liberal arts institution provides the ideal environment for exploring innovative and expressive plays that are able to tackle and capture issues beyond theater and beyond this campus.
"With everything that's going on in this country right now, it would be really nice to get more dialogues [for] different peoples of color," said Wayne Harding '21, who played the character Michael. "There's a way of acting where you can reach out to people on an emotional level to connect with one another."
Unlike in previous years, the fall play was showcased in Pickard Theater rather than Wish Theater. The expansion from a small, black box theater to the main stage threw many unanticipated challenges at the crew.
"The black box is a great place for classical student theatre and passion projects with small technical capabilities. But for this play we were given a huge space so we had to expand to fill that technically," said Turner.
Kellar-Long hopes audiences walked away from this production with an appreciation for the serendipitous encounters in their own daily lives.
"I think this play shows a lot of happenstance encounters that turn into something a lot bigger, and I hope that people are looking for opportunities that make [them] happen in their own lives as well," she said.