Football team counting on hope and new QB for wins
September 7, 2018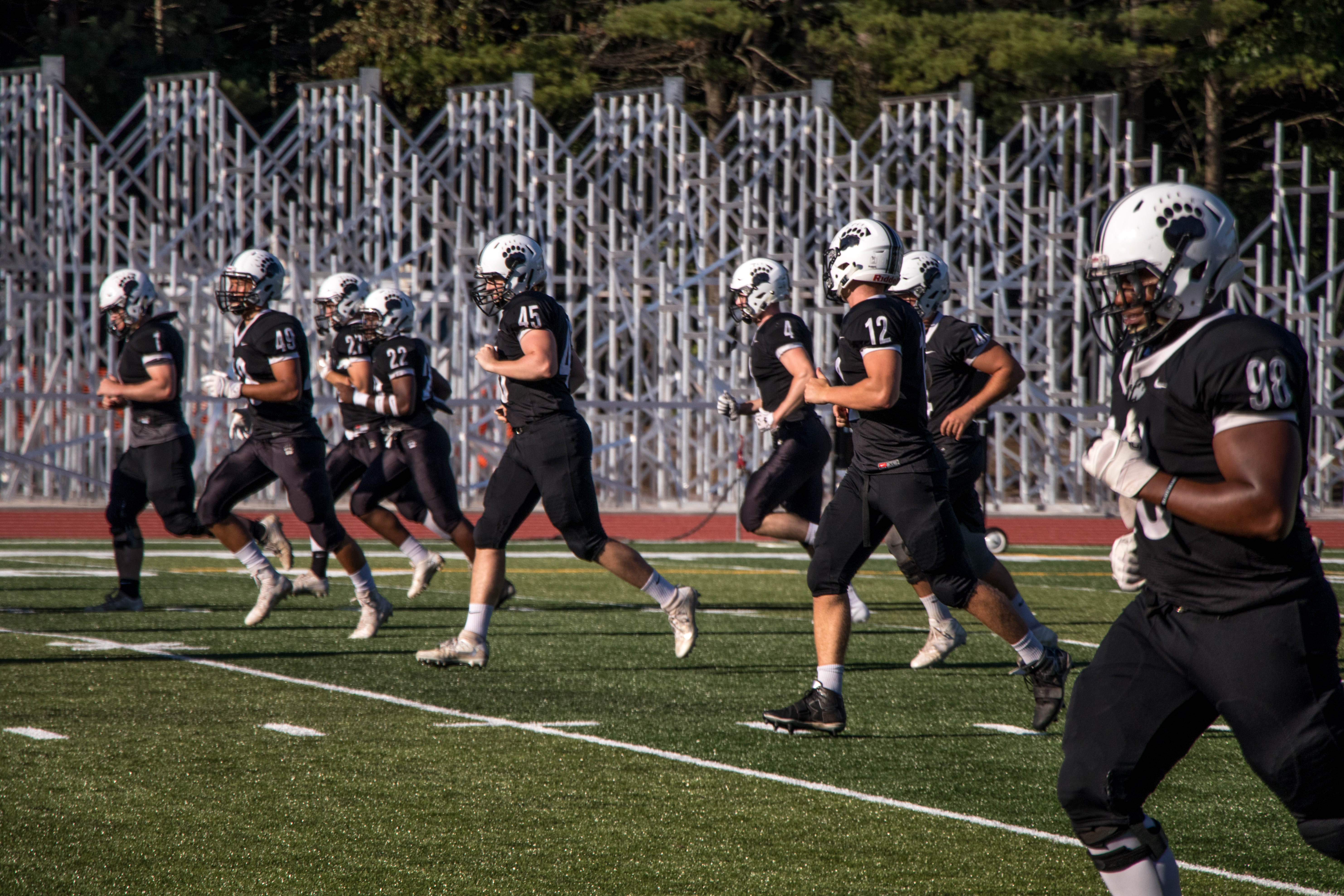 August, says Head Football Coach J.B. Wells, is a great time to be a football coach—anywhere. "Has any team in America had a bad offseason? No. At this point in the season, every team in America is undefeated," said Wells. "This is where hope springs eternal for everyone."
Yet hope is a double-edged sword, the nasty edge of which members of the Bowdoin football team are all too acquainted with. Emerging from a second consecutive winless season, the Bears, on paper, are struggling. Over its last three campaigns, the team has a record of 2-23, during which period it has been outscored by a cumulative score of 341-776.
Faced with these stats, it's tempting to exaggerate the direness of the problems facing Bowdoin football. Although there is some cause for alarm—2016 and 2017 were the first back-to-back winless seasons in school history and twelve years separate the team from a winning season—Bowdoin's most recent gridiron struggle, for better or for worse, is not all that anomalous. Since football returned to the College in 1946 after a brief hiatus during the Second World War, the Polar Bears have accrued only 15 winning seasons and have failed to string together more than two in a row. (The last time they had two consecutive winning seasons was 1979 and 1980). In that period, the team has had an overall winning percentage of .339. Gulp.
And Wells knows his history. "Short-term fixes equal short-term success," he said. "We're trying to build for when we get the cruise ship turned around, which is sort of what it feels like sometimes."
Wells harbors no illusions about the state of the ship that he and his staff took the helm of three years ago. He knew all was not shipshape. "We needed to overhaul the culture of the program." He describes inheriting a team whose attitude toward the sport was more appropriate of a club or intramural team than a flagship varsity program. "It didn't seem like it was a very demanding culture. Football seemed to be something that the guys did as an extracurricular activity in a lot of ways. To be competitive in the NESCAC, to be competitive in college football, it takes more than that."
Now beginning his fourth season as the Polar Bears' head coach, Wells thinks the ship is beginning to turn. It started, he said, in the weight room.
"The number one thing we've been able to change is how we train the team," said Wells. Working with seven assistant coaches, two of whom are members of the College's strength and conditioning staff, Wells doubled down on the team's workouts, especially during the lengthy offseason. In that period, players lifted four days a week, ran three and attended unofficial captains' practices on Saturdays. These practices, per NCAA rules, were optional, but the choice was in name only. Everybody shows up. That's just the Wells way.
On the field, Wells believes the team is beginning to reap the benefits of his staff's recruitment efforts. "As we look at the growth over the last few years, there will be three fully recruited classes by this staff, combined with a senior class that wasn't recruited by us but has only been coached by us. [It] will bring a solidity to the program we haven't had yet."
Wells acknowledged that his previous teams had suffered from divided loyalties following the departure of Head Coach David Caputi in 2014. "Loyalty is a big thing. I think that all coaches are looking for that. There were a lot of guys who were still loyal to the previous coaching staff, and that's not a bad thing, but it's tough when you have split loyalties."
But most important to the season, in Wells' eyes, have been his efforts to remold the whole ethos of the team, beginning with his players' conceptualization of their status as student-athletes.
"The way that we've explained it to our guys is that whenever you say the word student-athlete, the word is hyphenated, but you always say it as one word—'student-athlete.' We want our guys to approach it that way, that they're students first, and they're here because of the education, but football isn't second, it's 1A,"  he said. "I think that was really kind of a key element of the cultural changes, not to use the high academic [standards] as an excuse, but to realize that you're at Bowdoin, and our efforts should be excellent at everything we do here."
When I asked Wells if his players have been receptive to the more demanding routine despite seeing no immediate payoff on the scoreboard, he minced no words. "The guys that weren't aren't with us anymore." And that, Wells gives the impression, is that.
There are more concrete reasons, however, to hope for a turnaround in 2018, and one of them is six foot, four inch, 225 pound quarterback Austin McCrum '21. It's not everyday that a former Division I prospect finds his way onto Whittier Field, and McCrum's path to Bowdoin is hardly typical. After being named the 2015 USA Today Player of the Year for Maine, McCrum received a number of offers from competitive Division I programs, ultimately landing at Lafayette College. When the Leopards cleaned house following a losing 2016 season, the new staff brought along four newly recruited quarterbacks, and McCrum, formerly a star recruit, found himself faced with the likelihood of three more seasons on the bench.
But why choose to migrate to the last-place Polar Bears? For one, Maine is home for McCrum, who grew up less than an hour south of Brunswick in Saco and attended high school at Thornton Academy. Yet more importantly, the struggling program is an opportunity for McCrum to shine.
"I think it's exciting to come in here at this time when they've been pretty unsuccessful for the past two years. I think that it would be really special to be a part of Bowdoin history and try to get back on the right track," said McCrum. "I think everyone's heads are in the right spot, it's just putting all the pieces together. I'm just really excited to be a part of that."
McCrum represents the Polar Bears' best hope for filling a quarterback slot that has been occupied by a constantly rotating cast of players over the past two seasons. "He's got great ability, there's no doubt about it," said Wells. Yet for all his promise, McCrum remains largely untested, and Wells has made clear that the starting quarterback position is very much up for grabs.
Also competing for the starting spot will be senior and four-year veteran Noah Nelson, who, despite suffering an injury in the Polar Bears' 2017 opener, recovered for the end of the season, finishing the year with a 57.9 percent completion percentage while averaging 135 passing yards per game. Sophomore Griff Stalcup will also be in the mix after taking snaps for the Polar Bears in Nelson's absence, during which time he posted a 52 percent passing average and threw for an average of 118 years per game in seven appearances. For an offense that has struggled to find its center of gravity in the past few seasons, being in the midst of a quarterback competition is hardly a bad spot to be in.
Whether this collection of factors will be enough to lift the Polar Bears to their first win in two years is still anybody's guess. For now, behind a feistier attitude, a promising new quarterback and a shiny new field, the Polar Bears have the ever so valuable athletic commodity of hope. What will come of it? Stay tuned.