Women's rugby creates an inclusive varsity experience
September 7, 2018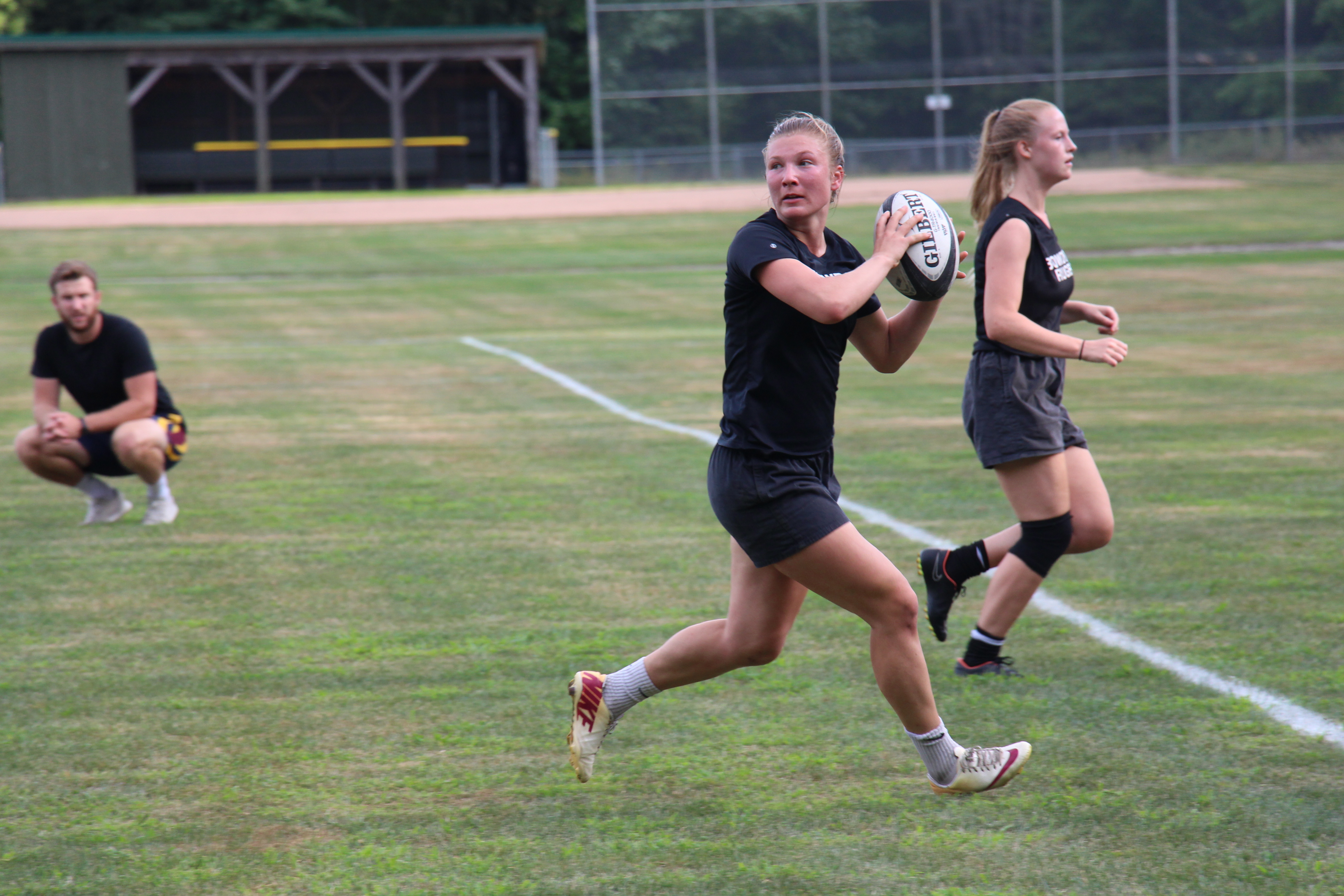 Pinned to every wall and corkboard around campus is a recruitment poster for women's rugby, seeking members of all body types and every athletic ability. In recent years, Bowdoin's rugby program has expanded, welcoming first years to the team even before they step on campus. The team's inclusion of players from all skill levels and identities is a major aspect of the team's personality, but in comparison to other varsity sports on campus, it seems to be an unusual way to recruit talent.
Captain Liz D'Angelo '19 was originally skeptical of the team's seriousness as a varsity sport.
"Because we recruit from the entire college we don't seem like a very competitive team," D'Angelo said. "Coming from an athletic background, [that] was a big concern of mine."
Although women's rugby may not seem as competitive as other varsity teams because of its welcome posters, the regularity and intensity of its training schedule is comparable to any other sport.
"We practice four days a week," said D'Angelo. "Games are on Saturdays and we lift two days a week."
Rugby players do not consider themselves only "student-athletes." Team members are encouraged to participate in activities such as the orchestra, student government and Bowdoin Climate Action in addition to the team.
"We are very flexible with first years who want to try other things," said captain Dana Peirce '19. "A varsity sport is a commitment, and we want to be respectful of everyone's interests."
While many first years join the women's rugby team to try something new, the sport also attracts college students looking to relive their high school days on an athletic team. Exercise is a great way to counteract classroom stress, and current team members are committed to recruiting from all corners of campus.
"We strike up conversations in everyday spots like the classroom or the gym," said D'Angelo. "If we see someone who mentions they played [a sport] in high school but doesn't anymore we say try [rugby] out."
Just a week away from their first match, the team is looking to wrap up their recruitment process and focus on workouts. The team is young, and while it has at least 15 strong returning players to rely on, this season is expected to be the most challenging yet.
"We have a tougher schedule this year than we have had in the past," D'Angelo said. "Being able to balance getting everybody ready to compete with difficult teams and going into the season knowing that this competition is going to be a little harder than it has in the past will be one of the bigger challenges for us this season."
Even in the face of tougher competition, the future of women's rugby is in good hands.  In addition to a large rookie class, the team just hired James Read—a former semi-professional rugby player in the United Kingdom—as an assistant coach. This new group has already traveled to scrimmage at Brown University in preparation for the season. Away games are also a great way for the team to strengthen their bond, the foundation of their inclusive community.
"We have a really open atmosphere," Pierce said. "We welcome people from all sorts of different backgrounds: socioeconomic, sexuality, gender identity and body type. It creates an environment [to] meet people who come from different backgrounds than you and really enrich the Bowdoin experience."
Ella Chaffin contributed to this report.