End of the line: journeys on the Downeaster
March 30, 2018
This piece represents the opinion of the author.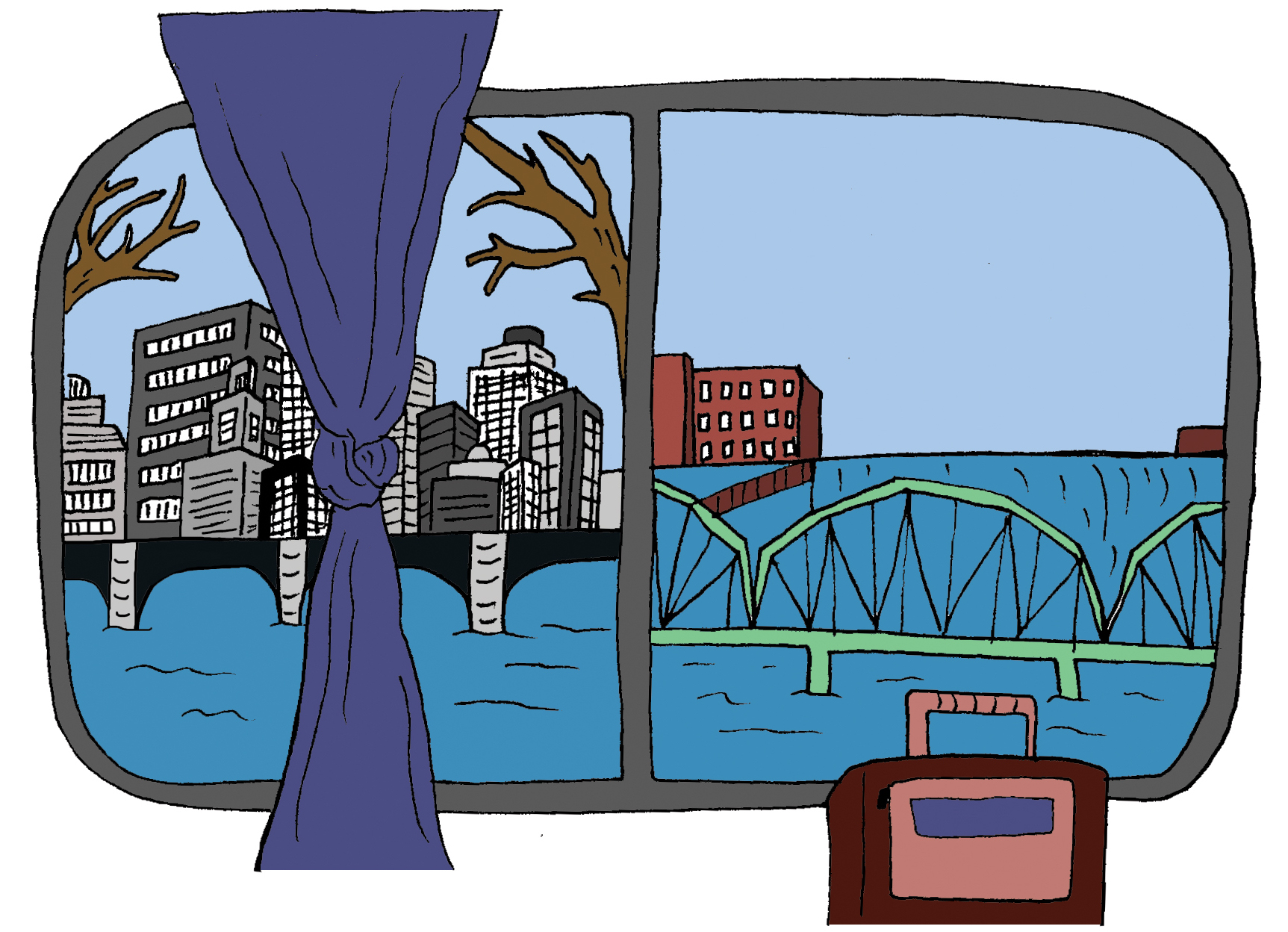 I love my Amtrak Downeaster six-trip college pass. For 86 dollars, I can take three round trips from the doorstep of campus to Woburn, the gateway to JOB (Just Outside of Boston) land. My three—or four or five, depending on weather and track repair—hour rides have punctuated my seven semesters on campus, bookending Thanksgiving and spring breaks. My six-trip pass ticks down the train rides until the end of each year.
The Amtrak has been an extension of my life at Bowdoin, bringing me to and from the College. Its familiar seats have become as comfortable as my regular perch in the Moulton Light Room, although I still don't know where to sit if I want to be facing forward once the train turns around in Portland.
I see many familiar faces as I pace the aisles on my way to the dining cart, fantasizing about taking advantage of my legality to buy orange juice and a mini bottle of champagne to make a mimosa (my looming deadlines urge me otherwise). Some are classmates and fellow JOBs that I frequently see on these trips—my travel companions, if you will. And others are bleary-eyed, fresh off a redeye from the west coast, making the sacred pilgrimage back to campus.
Last Sunday, three friends and I boarded at North Station and scouted out a four-seater. (Two of us are semi-proud JOBs; the other two flew in and spent the previous night at my house, a refuge for Logan arrivals.) We settled in and immediately pulled out our laptops, getting to work on theses or graduate school applications before the train even pulled out of the station.
As we left the Boston skyline behind us, the train attendant approached our seats and I scrambled to pull up my Amtrak app on my phone. He scanned my electronic barcode and informed me that this was my last ride. "I know," I replied. It's fitting that my pass ran out on this trip, my last train back to campus.
I took periodic breaks from my work, glancing out at the bleak New England landscape that I've come to know through these trips. March is ugly. Everything is naked and gray and Maine's spring is still weeks away. I remembered the brilliant oranges and yellows over Fall Break and the bareness and dark skies of Thanksgiving Break and even the lush green and inviting tidal inlets from that one summer I spent on campus.
Across the aisle sat a group of excited first years. Looking for distractions from our work, my friends and I casually eavesdropped on their conversation. One of them was nervous about College House decisions—"I think Burn would be really quirky and fun," she said. A few minutes later, the conversation turned to study abroad, and they all agreed that Spain or New Zealand would be so cool, or maybe England because they already knew the language. As jaded College House alumni and study abroad veterans, we listened in on their conversation and silently remarked via text message how old we felt.
Bright-eyed and excited, these first years returned to campus awaiting College House decisions and internship offers. Dreading a full Sunday evening of work and two months of goodbyes and see-you-laters leading up to a life of uncertainty, my friends and I couldn't have felt more distanced from these peers.
As we disembarked, I zipped up my jacket and braced myself for a blast of cold Maine air and several feet of snow. Instead, I was met with bright sunshine and could discern patches of grass beneath piles of dirty snow. Dead grass, but still an improvement.
Just two weeks earlier as my housemate and I departed for Spring break, our suitcases accreted sludge as we trekked down Union Street. We muttered curse words at Maine's weather and breathed a sigh of relief, excited to escape for two weeks. I was reminded of how long two weeks is, of how much the weather can change in a short period of time.
But I also remembered how quickly two weeks pass, that I only have four-and-a-half two-week periods before I am gone. By that time, all the snow will be melted and the artificially green seed that Facilities lays down for graduation will have begun to assimilate into its surroundings.
My house is a three-minute walk from the train station. I hear the Amtrak arriving at 11 p.m. or sometimes at 2 a.m. on those rare occasions when I am still awake. Gone is my chapel bell alarm clock that would wake me at 8 a.m. when I lived in Hyde Hall. Further removed from the nucleus of campus, I do not hear its familiar toll every 15 minutes. Instead, I hear the Amtrak and am reminded of the world beyond campus, of Freeport and Portland and Saco and Wells and "last stop, North Station!" and everything else beyond this sleepy town and its train whistles that sometimes wake me up at night.