Bowdoin Weightlifting Club hosts 2nd Annual Lift-A-Thon
October 20, 2017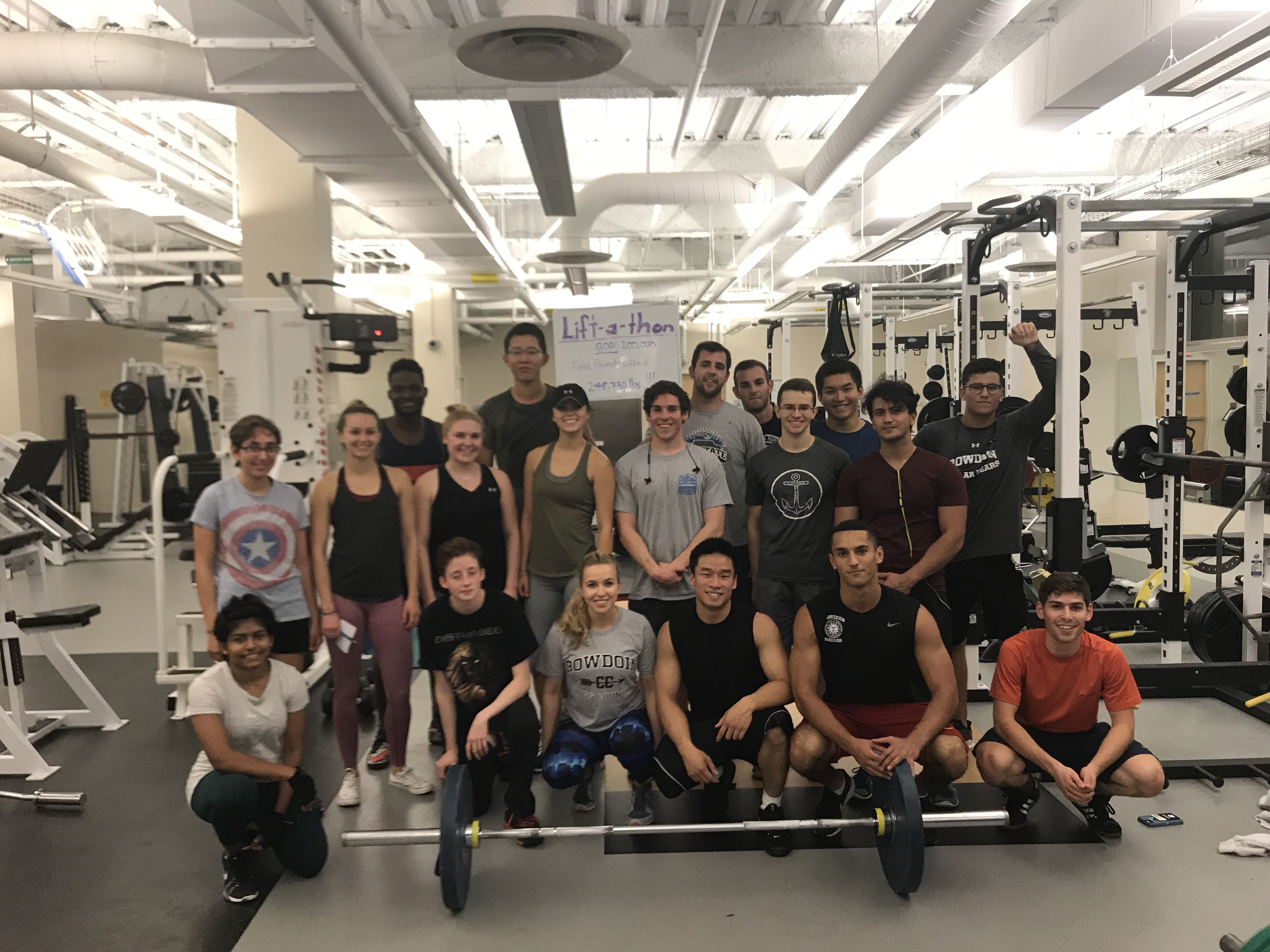 The Bowdoin Weightlifting Club held its second annual Lift-A-Thon on Sunday, an event that promotes the club's philosophy of inclusivity and raises money for a cause of its choosing. This year, the club donated to Unidos por Puerto Rico, a charity started by the First Lady of Puerto Rico to collect money for the victims of Hurricanes Irma and Maria.
The club pledged to lift 500 pounds for every dollar donated. Over the course of last week, the club raised $400, resulting in a goal weight of 200,000 pounds. Members ended up surpassing that goal, lifting 248,730 pounds instead.
"I would call it a non-traditional form of community service," said Noah Grubman '18, treasurer of the club. "We're not essentially helping people with our lifting, but our lifting is a result of the charity of other people. And I think everybody in the club donated some amount of money. It's a great way to bring together our club for a common cause that I think a lot of people at Bowdoin are concerned about and eager to contribute to."
Club president Kevin Trinh '19 had originally planned to hold the Lift-A-Thon later in the year but decided to push it forward after the string of natural disasters. He worked with Director of the McKeen Center Sarah Seames and Sylvia Jimenez '19 in order to choose a charity, and members of Bowdoin Climate Action and Eco Reps contacted him asking to co-sponsor the event.
"I have a lot of friends from Puerto Rico," Trinh said. "I have friends from Florida and Texas, too, but I figured since a lot of other McKeen Center groups are focusing on Texas and Florida, then someone can stand up for Puerto Rico."
The Lift-a-Thon was started last year after Trinh wanted to do something for the broader community, raising $200 for the Mid Coast Hunger Prevention Program. The team originally pledged to lift 100 pounds per dollar donated, but increased the number to 1,000 pounds. He drew inspiration from his high school wrestling team's Push-Up-A-Thon fundraiser and adapted the event for weightlifting.
"[The Weightlifting Club was] thinking that we could use this money to donate to a local non-profit mainly because a lot of the school values the common good," he said. "It adds more depth to why we're a club. We love lifting, but we also recognize that lifting is not the only thing we're involved in as students in the overall campus."
"Our club at the time was a lot smaller last year, so this year's effort was a lot more successful," Grubman said. "We increased the amount of weight we'd lift per dollar, expecting similar results to last year, but it was a little bit better this year."
The Weightlifting Club also holds the Lift-A-Thon to attract new members to the club.
"Anyone can go to Buck [Fitness Center] whenever they want, but the whole point of Lifting Club is to have an inclusive environment where everybody feels really motivated to lift," said club member Olivia Giles '20. "[The Lift-A-Thon] is a really great time [to join] because we didn't have a set workout, so if somebody wasn't really good at doing a certain lift, they didn't have to do it. So it was a good way for everyone to be in there together doing their best."
The clubs aim to reduce people's fears when they go to the gym and to give people a space where they can learn to lift safely in a supportive environment of peers.
"Big sports teams are working out [at Buck] all the time, so you might not necessarily feel the most welcome if you're not a part of those teams," Grubman said. "Our goal is to make people feel comfortable down there and encourage them to have fun with this and know how to do the lifts safely so that you can take what you learn in the club and do it on your own."
The club also wants to promote an inclusive environment by increasing gender diversity in the club. Giles, one of the first women to join and actively attend club workouts, is spearheading this effort to diversify the club.
On top of leading a "girls' lift" on Saturday, Giles attends Wednesday and Sunday workouts to help correct female members' forms, provide direction on choosing weights and lead more workouts oriented toward body-building.
"We wanted to break the stereotype that lifting is a masculine thing," Trinh said. "The fact is that if you look at more a competitive level, there are plenty of guys and plenty of girls. We want to make sure that at Bowdoin, it's not a gender-exclusive thing. And now, almost half of our regular attendees are girls and half are guys, which is a tremendous improvement for us."
Giles believes that working out in a group can help motivate people to work out and can create a more supportive environment.
"Sometimes if you're by yourself, you just won't have the motivation to keep going," she said. "But if you're with someone that lifts a similar weight as you and you guys work together … you want to be able to lift as much as that person next to you. So it gives you that extra motivation."
Jason Cahoon contributed to this report.