New group supports minority STEM students
September 29, 2017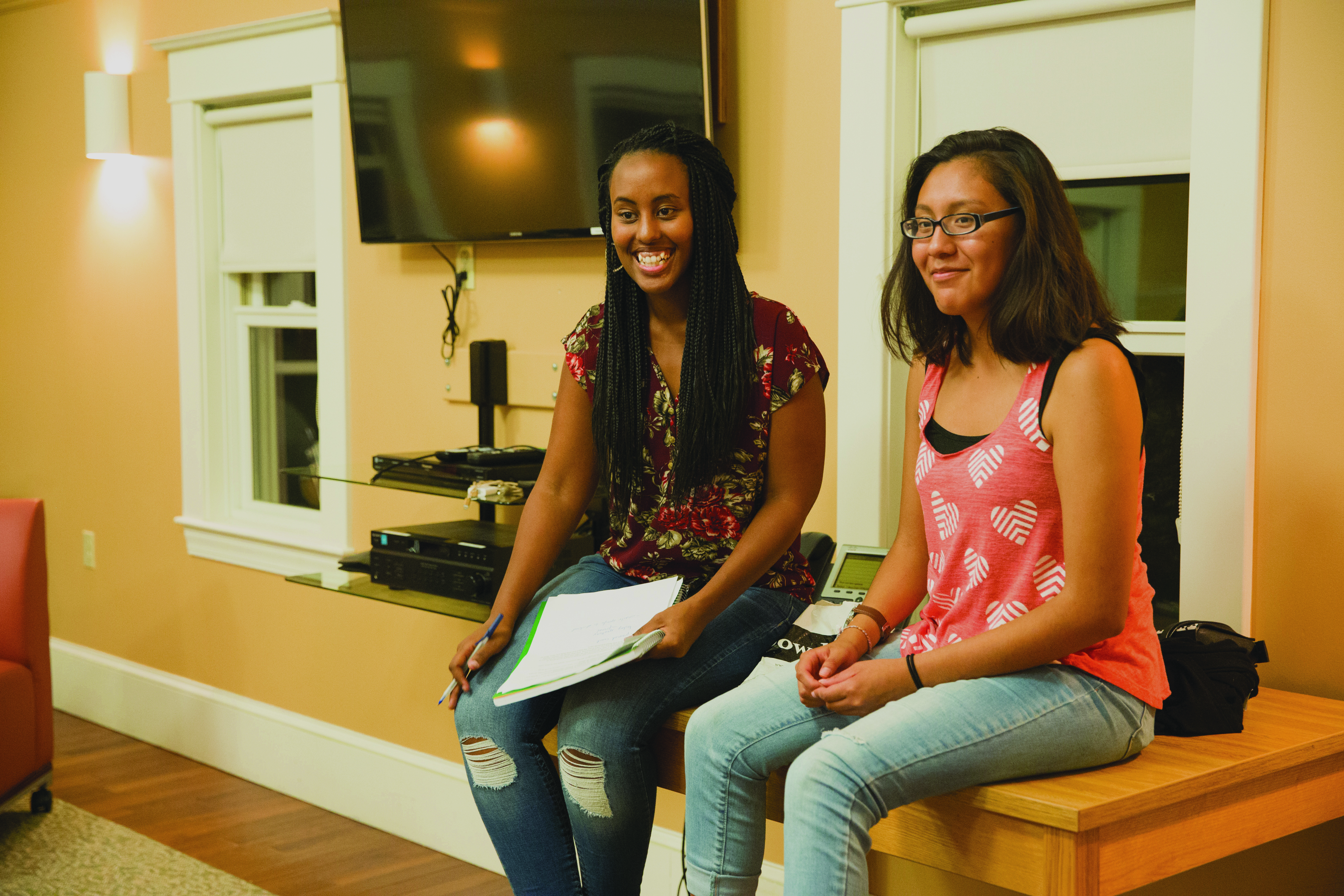 Pursuing Our Purpose (P.O.P.) is a new student group formed by Rebeca Perez '20 and Eskedar Girmash '20 to foster diversity and provide a supportive community for underrepresented students interested in the science, technology, engineering and math (STEM) fields.
Girmash and Perez came up with the idea to start P.O.P. last spring following a 1102 Chemistry class they took together. Girmash, who is interested in biochemistry, and Perez, who wants to pursue a career in public health and medicine, noticed the lack of systems on campus for minorities in STEM and were interested in creating a network of students and faculty for support and guidance pursuing careers in STEM.
"We quickly noticed how different we thought as students simply because of our race, being like two of the only students of color in that class," said Girmash. "If we feel that, we know that other people are feeling that too. So we wanted to create a supportive system for those people."
Currently there are only two other existing groups on campus that provide support for students interested in STEM: Bowdoin Women in Computer Science (BWICS) provides support for people who identify as women and trans people in the computer science field, and the Bowdoin Science Experience (BSE), a three-day orientation trip allows underrepresented groups in STEM to get a jumpstart on STEM careers.
Every month, P.O.P. will have a meeting focusing on a various topic related to students in STEM. In October, the group is planning upperclassmen panels on internships, and in November, the group is inviting Bethany Walsh, assistant director of Career Planning, to discuss how to build a resume, write a cover letter and look for internships.
Along with Elizabeth Stemmler, professor of natural sciences and chemistry, who was Perez and Girmash's chemistry professor last year and who now serves as P.O.P's advisor, Girmash and Perez have received encouragement from the chemistry, biology and math departments to help get P.O.P. started.
The group's first meeting was held on Wednesday at 30 College where they introduced the leaders of the group, discussed potential programming ideas and gave the 20 student attendees the opportunity to meet each other.
One student who attended the meeting, Brenda Macias '20, is interested in pursuing a career in engineering and is hoping P.O.P. will help her form a community with other students interested in STEM.
"I'm really interested in sciences, and I feel like I'm getting into a field where aspects of my identity aren't very represented," said Macias. "Joining this group will help me feel as if I can network and build a community of people that feel the same way."
Angel Ramirez, a sophomore interested in neuroscience, attended the meeting as a way to surround himself with other students pursuing STEM related careers, especially those from underrepresented groups.
"As a first-generation Mexican student, I think it's really important to seek out other resources," said Ramirez. "I think by being part of this group, it makes it easier for me to be successful at Bowdoin."
P.O.P. is also hoping to collaborate with other groups on campus, like the African-American Society and BWICS, to reach a broader audience.
Although the group is focused on underrepresented students, including women, people of color, low income and first-generation students, Girmash and Perez stressed that the group also welcomes all those who are interested in increasing diversity in STEM.