ACC hopes to address race in athletics
September 29, 2017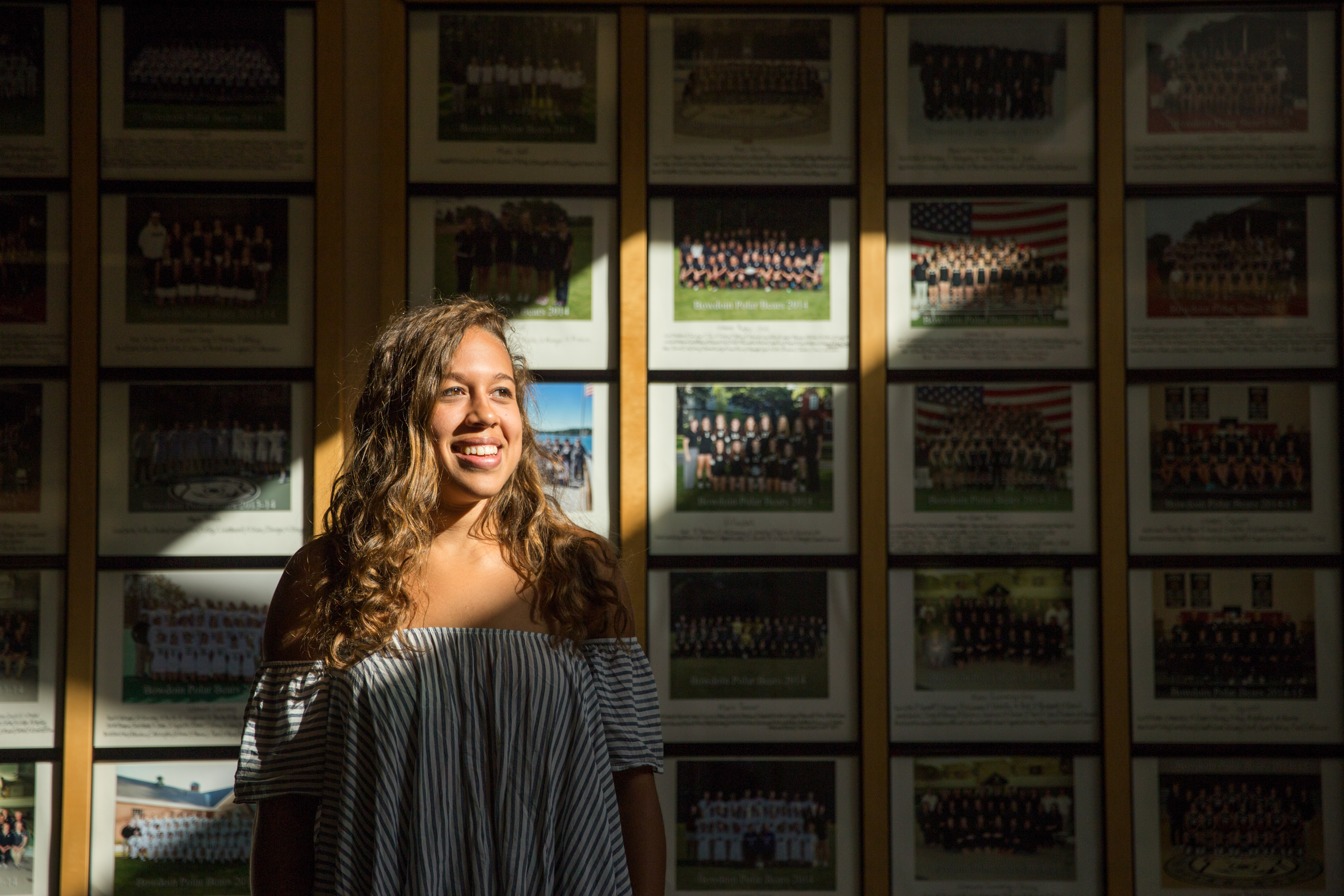 For Hannah Cooke '18, a current member of the squash team, feeling supported and comfortable is essential in order to reach your fullest potential, especially when it comes to a team environment. That is part of the reason why she created the Athletes of Color Coalition (ACC) last year: to create a space for people of color to talk about their experiences on Bowdoin's sports teams.
"The two main goals [of ACC] are to establish a community of people of color who experience being an athlete a bit differently," she said. "We want to bring some issues or challenges out into the open and figure out a way to work on those challenges and ultimately create a more welcoming and inclusive athletic department for everyone."
At the beginning of her junior year, Cooke contacted Ashmead White Director of Athletics Tim Ryan '98 in hopes of creating a support system for athletes of color. Since then, the two have met frequently to focus on supporting and developing the group.
"It provides an opportunity for students to come together and talk about their own experiences, which provides both a support network and an opportunity to make friends from across athletic programs," Ryan said. "I think the more ways in which people can come together from across our campus community, the better our students will be for having a rich experience on campus."
Bowdoin's student body is predominantly white. According to Ryan, however, there is still even more work to be done by the athletic department to reflect the diversity of the greater Bowdoin population within the student-athlete community.
According to football player Yuejay Reeves '19, this lack of representation can lead to athletes of color feeling ostracized and, in some cases, even lead to them quitting their sports team. ACC is trying to combat this trend.
"I think we're really trying to work on the retention rate, as well as reaching out to first years and comforting them and saying, 'Maybe you don't feel comfortable on your team, but we're here, and we're your support system outside of that group.'"
Despite growing up in Portland, Maine, where the population is approximately 83 percent white, Cooke recalls her earlier basketball teams being much more diverse than that at Bowdoin. In her first year, she was the "token person of color" on the team.
"I thought about being a first year and coming into a team that was all white and into a completely new institution. The whole community is different here for some people," she said. "Being 'used to' white people never really took away from me being person of color in a predominantly white space. I always had some sense of otherness. This coupled with my studies here caused me to be more reflective. I started to think about the fact that I was experiencing my sport a bit differently than I [had] before I came to Bowdoin."
This experience pushed her to think about race more critically. Although she may be "used to" white people since she comes from a mixed race family and grew up in Maine, Cooke realized that if race affected her experience, it likely impacted others' experiences as well, especially those of students coming from different backgrounds.
Two years ago, rules regarding athletic department spending changed across the NESCAC, allowing conference schools to spend more money on athlete recruitment and visits. According to Ryan, this has allowed Bowdoin to work with the Office of Admissions to recruit athletes from places they may not have been able to reach in years prior.
"We've been very fortunate to partner with the admissions office to visit a number of different cities in the country: Memphis, New Orleans, Chicago, Atlanta, Denver, San Francisco," he said. "It's been a true partnership with the admissions office to work to attract more interest from students from more diverse areas than we may have been able to in the past."
Although the ability to increase spending has helped Bowdoin's recruitment process, Cooke believes that the College still faces many challenges.
"Schools like Tufts have more diverse teams, but they live near a city in a very urban area. Historically, they haven't been forced to spend as much money as other NESCAC schools since their location gives them greater access to a more diverse pool of athletes of color," she said. "Now that that history has been established, it's even harder to attract people of color to come here. The lack of diversity on teams can be discomforting for prospective students of color, who question how this absence might impact their experience here."
For Reeves, Bowdoin was much less diverse than both his hometown, Washington, D.C., and his high school in Pennsylvania. Although the football team has become much more diverse after the new coaching staff was brought in his sophomore year, these differences made his first year transition to college difficult.
"My freshman year, I went through a phase where I felt like I had to change my behavior to be accepted by my teammates of different cultures," he said. "I didn't feel very welcome. I felt as though it was too private-school centered. I felt like I was forcing myself to be a certain way I'm not."
Another difficulty for Reeves was interacting with the coaching staff.
"Initially, I think it's an adjustment, getting to know your coaches and speaking up about things that you don't feel comfortable with," he said. "As I got to know them more, I knew they were just joking most of the time and that they didn't mean any harm. They're always trying to make us feel comfortable and welcomed. Once you tell them to stop saying something, they'll stop."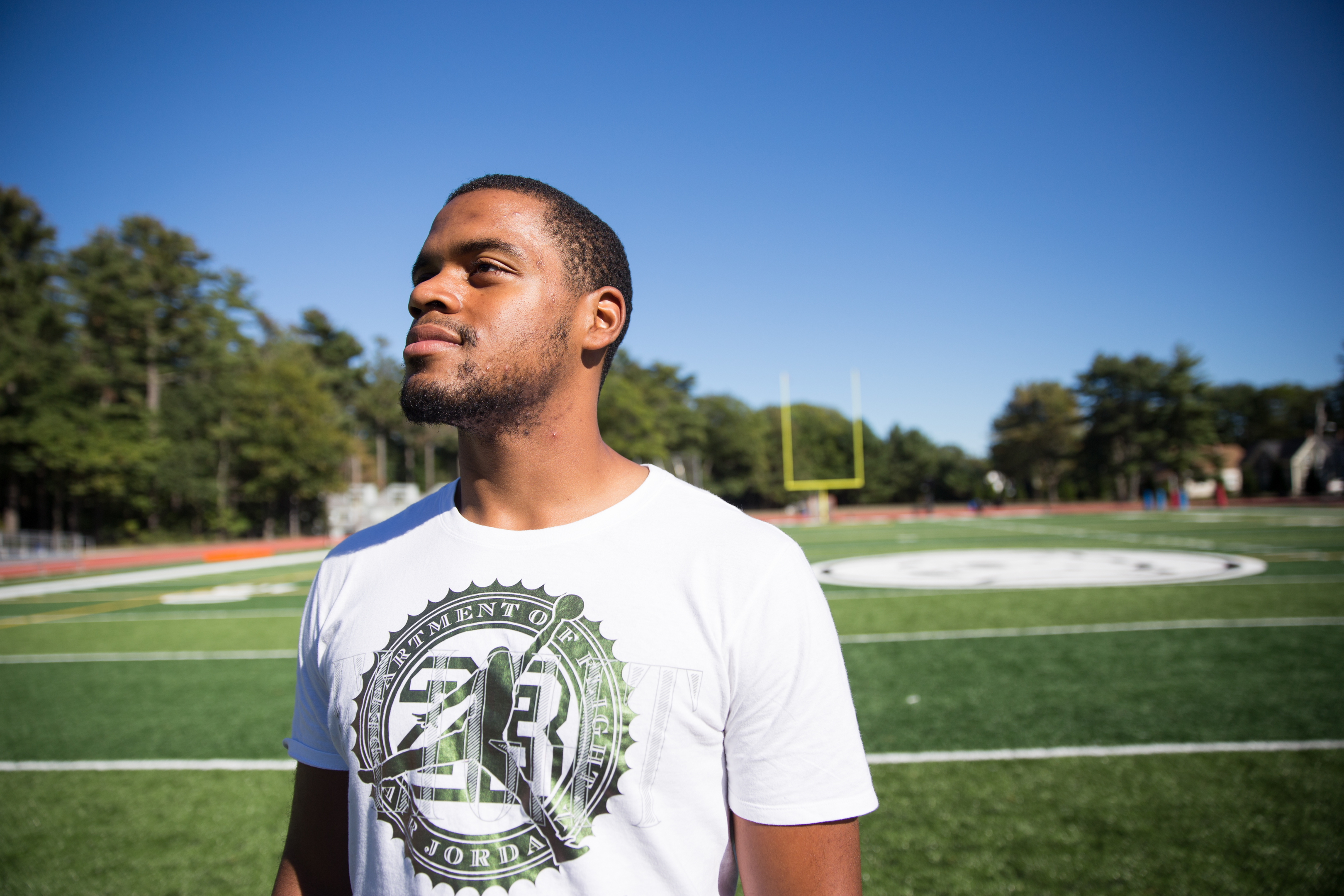 Cooke believes that, while the coaching staff at Bowdoin is strong, it can sometimes be intimidating to come into a space where most of the coaching staff and team captains are white.
"How might this impact a first year coming in and not having anybody on their team be a person of color or a captain or anyone to seek out as a mentor?" she said. "How does that impact someone's experience?"
Cooke has worked hard to make ACC a casual space where people feel supported.
"It's not very formal, it's casual and intimate. It's really nice. The group has made a lot of relationships and it has been really meaningful to have in my life," she said. "Since we've been having meetings starting second semester of last year, it has been so nice to have a group of people to talk to and bounce ideas off of about something that is really hard to talk about to just anyone."
Over the course of this year, both Cooke and Reeves want ACC to embrace whatever the members think is necessary and to focus on group activities. The group kicked off the year with a brunch held in Baxter House on September 17.
"I thought the brunch went pretty well, but we do lack more team gatherings," Reeves said. "It would be something positive if there were more group exercises. A lot of people even said they wanted to do yoga, which was surprising. But I mean, this school is pretty stressful, so I could see why."
The ultimate goal of ACC, Cooke believes, is to stimulate tough conversations about race within both the group and the wider athletic community.
"When people have never had those [conversations]—and I think there are a lot of people who have never had those at our school and in our athletic department—they sometimes need a little extra push and that's kind of what I'm trying to do through the coalition," she said.
"[I want people to be] talking about challenges and having those people go out and encourage others to get involved, bringing in younger team members into the group or just letting people know that we are here to support them or just to talk about the transition."
Hopefully, by challenging sports teams to engage in these topics and conversations, it will help bridge the gap between athletics and the rest of the Bowdoin campus.
"I want [the athletic teams and Bowdoin] to be intertwined with whole Bowdoin community, but … that hasn't happened yet," Cooke said. "I think that [for] other people who are not athletes, seeing athletic teams engage in these conversations is meaningful and important."