Women's soccer beats Middlebury, starts win streak
September 29, 2017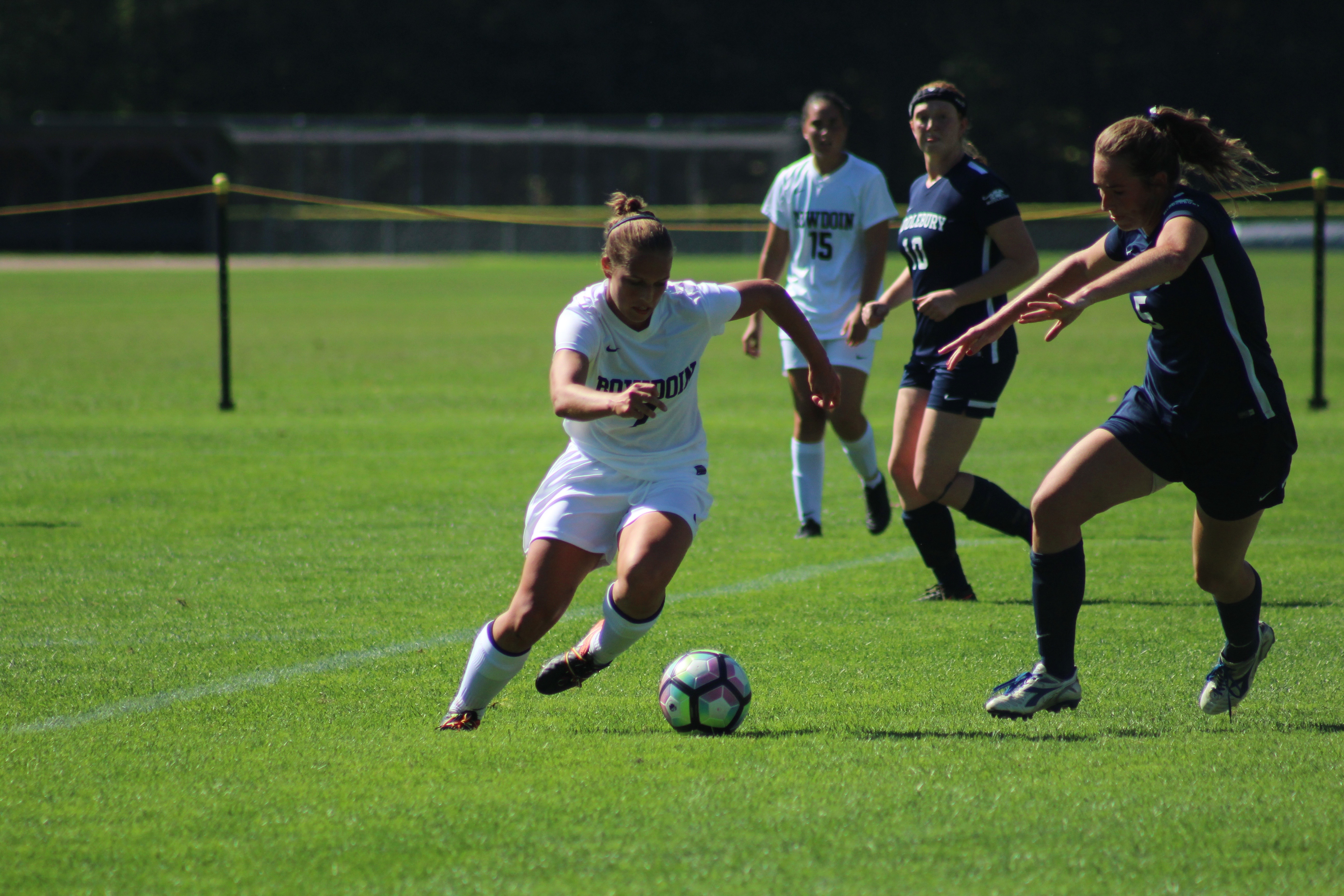 This past weekend, the Bowdoin women's soccer team (4-2-1, NESCAC 1-2-1) had a big win against Middlebury (4-2-1, NESCAC 1-2-1) who knocked Bowdoin out of the NESCAC Championship last year. Despite several challenges, the Polar Bears' hard work and dedication led them to victory on Saturday.
The Polar Bears then increased their winning streak to three games after beating the University of New England (5-4) 2-0 on Tuesday and Maine Maritime (2-8) 3-2 on Thursday in two non-conference games.
In the Middlebury game, Brigit Bergin '18 and Emma Beane '20 each scored a goal to secure the 2-0 win over the Panthers. Head Coach Brianne Weaver was very happy with the team's performance.
"I'm super proud of the team," Weaver said. "They had a lot to overcome. It was hot, and we had a tough week of practice, and everyone played a role in putting together the outcome we had."
According to captain Rachel Stout '18, the Polar Bears were at a disadvantage due to multiple injuries on the team.
"We have a lot of injuries right now," Stout said. "So that was something that we were struggling with, even in the Middlebury game. But everybody stepped up and really played for the people who couldn't play."
Stout believes that the nine first years on the roster are helping the team overcome this challenge they face with this season.
"We have 17 people who are able to play right now because so many people are injured," Stout said. "So a lot of the first years are stepping up into those shoes to fill which is awesome for them."
Three of the first years—Lynn Farquhar, Claudette Proctor and Ana Lozada-Smith—scored their first career goals during the two midweek games, and all three goals in the Maine Maritime game were scored by first years.
As a result, Stout was pleased with the outcome of last weekend.
"I think going into the game we knew that we needed to win," Stout said.  "So I think we were all pumped up and very excited and passionate about coming out with a win. We definitely met our expectations and came out and played just the way that we wanted to and were successful in doing so."
Weaver agreed with Stout's assessment that the team did exactly what it was supposed to do on the field.
"We hope to go in and execute the things we have been working on all week," Weaver said. "And that's exactly what [the players] did."
Both the coach and Stout believes that this victory will give the team momentum to be successful in upcoming games.
"I think winning always creates positive vibes," Weaver said.  "So it never hurts to have a win."
The women's soccer team has performed well so far this season. The players and coaches hope to continue this strong start.
"Last season didn't go as well as we had planned," said Stout. "So we spent a lot of last spring and this fall really working on team culture and working together to make a really good team culture that would push us through and help us play and perform well on the field, and I think that's what we did."
"We have a lot of growing to do, but we have been really happy with the season," Weaver said.
The women's soccer team will travel to University of Maine-Farmington on Sunday at 2 p.m. in hopes of earning another victory.